How Microsoft HoloLens will aid thyssenkrupp elevator engineers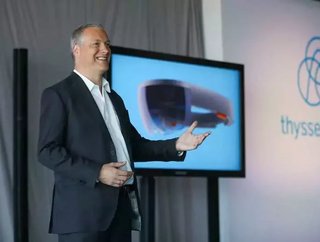 Dwarfing the Empire State Building is no mean feat. Standing at 541 metres, the One World Trade Centre is the tallest building in the Western Hemisphere...
Dwarfing the Empire State Building is no mean feat. Standing at 541 metres, the One World Trade Centre is the tallest building in the Western Hemisphere. Gazing out from the observatory at the summit, New York is packaged neatly into a scale model. The Empire State, a matchstick. The Statue of Liberty, a fingernail.
The mode of travel to the top is equally impressive – a high speed lift from the ground taking less than a minute, travelling faster than Usain Bolt and somehow without popping any ears. The One World Trade Center then, if ever there was doubt, was the perfect setting to unveil a game changer in the elevator industry.
A quick 40-level descent to floor 63 and executives from thyssenkrupp Elevator, installers of the Bolt lift, and Microsoft address eagerly gathered members of international and trade press. The not-so secret was formally revealed – we had found out the night before.
Downtime
"More than 50 percent of the global population are living in cities already. To keep up with that we have to build a city the size of Manhattan every day," muses Andreas Schierenbeck, CEO of thyssenkrupp Elevator.
The numbers keep on coming. Schierenbeck tells me the numbers of buildings standing at 200 metres and higher has tripled in the space of 15 years, while the number of elevators transporting a billion people up and down buildings every day numbers some 12 million – the One World Trade Center alone with 71.
"An average elevator stops working around four to six times a year, and all of this means as a worldwide industry we are responsible for 190 million hours of downtime annually," he adds. "We can certainly do better, and we are saying here with our partners in Microsoft that we will do better."
More than 24,000 thyssenkrupp engineers will be equipped with HoloLens, a mixed reality device that will allow them to visualise and identify problems with elevators ahead of a job and have remote, hands-free access to technical support when on site.
Given that a headset retails to American and Canadian consumers for $3,000 dollars, this is no small investment being made, although training 24,000 engineers will not be as daunting a task as some might think. A quick demonstration later, and even the less-technologically gifted attendees were online ordering spare parts from Germany via a few virtual nudges and points. 
Mixed reality, one result
Although a German company, thyssenkrupp's elevators are sourced and made up of parts and machines from all over the world, painting a complex picture for engineers.
"We have parts from Memphis, New York, Georgia, machines from Germany, equipment from Brazil, Canada, Italy, China and Korea," Schierenbeck says. "That is a lot of complexity so you can imagine if you need to fix a German machine with the help of an expert in a different time zone, it can be time consuming.
"This is where HoloLens comes in. It is a completely new way for technicians to work faster, easier and safer. There are three major use cases. Firstly, remote support. You don't have to fly in an engineer, you can connect over skype straight away and they can see what you are doing. The next element is training – the HoloLens will let you see the parts in 3D to help you understand and self-learn. The final part is preparation for the job, all hands free in augmented reality."
All the signs so far are showing that this leads to one result – an increase in uptime. Microsoft HoloLens's General Manager Sam George, having shown me how simple the device really is to use, goes into detail about the enormous scope of use cases and applications, which includes bringing live sporting events to life.
For thyssenkrupp, George reveals some early indicators of success: "For example, triaging service requests ahead of the visit and getting hands-free remote holographic guidance when on site has reduced the average length of thyssenkrupp's service calls by up to four times."
MAXimum impact
HoloLens will supplement a system already being rolled out across thyssenkrupp's elevator network. MAX, also developed with Microsoft, is a predictive maintenance solution powered by Microsoft Azure IoT. Already installed in One World Trade Center, it saves elevator passengers around the world the equivalent of 95 million hours of potential waiting time a year. 
Schierenbeck says that MAX will be connected with 180,000 elevator units by the end of 2017, having been successfully piloted in Germany, Spain and the USA last year. "Our service engineers know what is needed to fix a particular problem before arriving on site, meaning they can fix it much faster, but is that enough?," he asks.
Evidently not. But with HoloLens now being added to the company's digital portfolio, thyssenkrupp elevators will be online for longer than ever before; Schierenbeck determined to remain an industry pioneer.
"We remain focused on leading the transformation in this industry; introducing the latest technologies, processes and training to enable technicians to do a better job with less stress and more fun. Our goal is to dramatically increase efficiency, raise elevator uptimes and speed up service interventions to ensure mobility equipment is always running as it should, providing each passenger with the safest and most comfortable travel experience possible."