How Neuralink taught a monkey to play Pong with its mind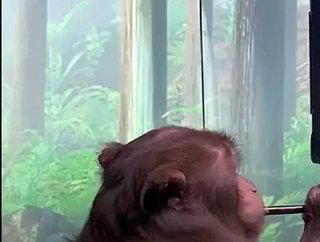 Potential real-world uses of Neuralink's brain-machine interface include enabling an individual with paralysis to operate a computer via brain activity...
Elon Musk's neurotechnology company Neuralink, which is developing an implantable brain-machine interface (BMI), has revealed it has taught a monkey to play the game Pong with its mind.
Initially controlling a cursor with a joystick, the nine-year old Macaque Pager's brain activity was monitored by two implanted neuralink devices, before the joystick itself was unplugged and control continued. The video's narrator explained: "We're wirelessly streaming in real time the firing rates from thousands of neurons to a computer. Using these data, we calibrate the decoder by mathematically modeling the relationship between patterns of neural activity and the different joystick movements they produce. After only a few minutes of calibration we can use the output from the decoder to move the cursor instead of the joystick."
Medtech applications
Potential of the technology include enabling an individual with paralysis to operate a computer or phone via brain activity alone.
Neuralink last in August of last year, with a progress update detailing some of its advances, including the live projection of a pig named Gertrude's brain activity via an implant. Some criticised the event for simply repackaging existing technology in a showier form.
Evolving technology in brain-machine interfaces
The company's overall ambition was laid out in a 2019 , which outlined the company's initial approach, which has since evolved to become wireless, saying: "Brain-machine interfaces (BMIs) hold promise for the restoration of sensory and motor function and the treatment of neurological disorders [...]. We have built arrays of small and flexible electrode "threads", with as many as 3,072 electrodes per array distributed across 96 threads. We have also built a neurosurgical robot capable of inserting six threads (192 electrodes) per minute."
Neuralink is far from alone in the space, with competitors including Facebook's . Their product - in contrast to Neuralink - is non-invasive, taking the form of an armband with potential uses as a virtual reality control system.
(Image: Neuralink)