Oxbotica: Providing software to bring autonomy to industries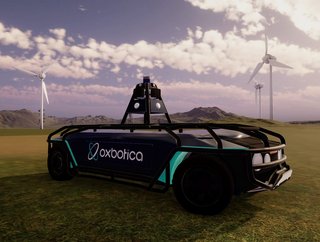 As the autonomous driving industry continues to grow, we take a look at Oxbotica, a company which is building vehicle software
Founded in 2014 by Oxford professors, Paul Newman and Ingmar Posner, Oxbotica is on a mission to 'make the Earth move'.
It is a leader in autonomous vehicle software for businesses, and builds software for real-world application, drawing on principles of physics, robotics, maths, AI and a dedicated team to perfect our technology.
The company's autonomous vehicle software is deployed across multiple sectors, and it is working to build an ecosystem that supports the adoption of autonomous vehicles, building partnerships to accelerate the deployment of Universal Autonomy.
Using AI in the metaverse to accelerate the safe and efficient deployment of AV technology
The autonomous software company has recently developed a suite of tools that includes virtual world simulation, automated discovery of challenging scenarios and real-time data expansion.
The goal is to use artificial intelligence (AI) in the metaverse to accelerate the safe and efficient deployment of autonomous vehicle technology.
Called MetaDriver, the tools are used to test and refine autonomous vehicle operations and behaviours without ever needing to physically drive. The technology also provides the ability to build a digital twin representation from real-world gathered data.
MetaDriver offers edge-case discovery rates at an average of 1,000 times faster than traditional testing methods and up to 35,000 times faster in some situations. The data can be tested in all conditions including rain, snow, fog and at night, eliminating the need to wait for various weather conditions to occur during real-world testing.
Paul Newman, founder and CTO at Oxbotica, said: "Oxbotica MetaDriver is a suite of tools that offers so much more than straight forward simulation. Using the metaverse in this way provides us and our customers with practically unlimited test challenges, revolutionising how we are accelerating AV commercial deployment to make the Earth move.
"Oxbotica MetaDriver allows us to do the hard miles without the conventional need to physically drive the miles. The autonomous vehicle industry has become over indexed on the number of miles travelled as a synonym for safety, but what we actually care about is coverage of hard cases, not the endless miles endured. Oxbotica MetaDriver addresses this in a new and exciting way."
Europe-first zero-occupancy autonomous vehicle journey on-road completed by Oxbotica
The launch of MetaDriver comes just weeks after Oxbotica announced that it had completed the first safe and sustainable deployment of a zero-occupancy, fully autonomous, new-type electric vehicle on publicly accessible roads in Europe.
Oxbotica Driver uses a combination of radar vision and laser-based sensors to provide the vehicle with a rich understanding of its surroundings, with multiple AI continuously checking and explaining decisions.This process is a foundational requirement for the safe deployment of zero-occupancy autonomous vehicles and underpins the development of innovative insurance solutions for the future of transportation.
Gavin Jackson, Oxbotica CEO, concluded: "This Europe-first trial positions the UK as the number one destination for autonomous vehicle development and leapfrogs us towards commercialisation and the subsequent economic benefits available in this hyper-growth technology category. Autonomous vehicles will create billions of pounds in new revenues and generate thousands of high-skilled jobs, while helping cities and businesses meet their targets for carbon reductions. Our zero-occupancy, all-electric, fully autonomous prototype is exactly the new-type vehicle that will form the mainstay of the transportation industry for decades to come."