Startup Spotlight: Who Is Bird?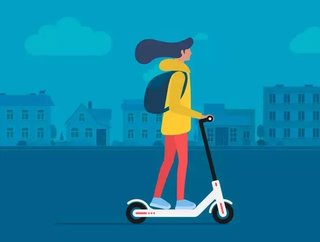 We take a look at the electric scooter and bike company, Bird, who was featured in our list of the top ten technology startups. Business Overview: Bir...
We take a look at the electric scooter and bike company, Bird, who was featured in our list of the top ten technology startups. 
Business Overview:
Bird is a micro-mobility company based in Santa Monica, California. Founded in September 2017 Bird operated shared electric scooters in over 100 cities in Europe, the Middle East, and North America with 10 million rides in its first year of operation. Bird was founded in September 2017 by Travis VanderZanden, formerly an executive at Lyft and at Uber. It had its first round of funding in February 2018, raising $15 million led by Craft Ventures; this was followed by a Series B round in March for $100 million, led by Index Ventures and Valor Equity Partners, and a venture round in May for $150 million from Sequoia Capital becoming the fastest company to ever reach the $1 billion "unicorn" valuation. In June 2018, Bird raised an additional $300 million, valuing the company at $2 billion
In September 2018, Bird's electric scooters reached 10 million rides.
Product portfolio:
Bird uses electric scooters for its rental service. It launched with a fleet consisting of three models: Bird Xiaomi M365 made by Xiaomi, Bird Ninebot ES2 made by Segway, and Bird Ninebot ES4 also by Segway.
Because the aforementioned scooters are a consumer-grade product, they wear down quickly and break, if handled without proper care. In response, Bird developed its own, more rugged scooter, the Bird Zero, launched in October 2018. The Bird Zero is specifically made for the scooter rental industry, with a longer lifespan. The Zero is better optimized for the ride-sharing business: extended range, suspension, airless tires, stronger motor and a more durable body. As of July 2019, Bird Zero scooters make up more than 75% of the company's fleets.
In May 2019, Bird stopped purchasing and distributing both Segway models and launched Bird One, the first Bird scooter made available for purchase as well as shared-use. Improvements incorporated into this model include longer battery life (up to 30 miles on a single charge), a more responsive brake system, and better lighting and stability features. According to the company, Bird Zero scooters have a lifespan of roughly ten months and Bird One scooters are designed to last in the sharing environment for over a year.
In June 2019 Bird unveiled the Bird Cruiser, an electric vehicle that is a blend between a bicycle and a moped. It seats up to two people and is designed to be part of Bird's shared vehicles fleet. In August 2019 Bird launched Bird Two This model includes improvements to battery life, 50% more capacity than Bird One, self-reporting damage sensors, higher traction and puncture-proof tires, as well as anti-tipping kickstands on both sides.
How it works:
The user installs the Bird app, on which are displayed all the scooters available (tracked by GPS) nearby. Before starting a trip, the user supplies payment information. The user then scans the QR code on the scooter, beginning the trip. To end the trip, the user must take a photo of the parked scooter to end the ride. The price of the trip is immediately withdrawn from the user's credit card. If any problems were encountered with the trip (like a malfunctioning vehicle) the user can report it through the app.
On the Bird app, the user can see the operating area of the service and also view a tutorial on how to use the scooter. Riding outside of the operating area is tolerated, but if the user leaves the scooter outside the operating area, they will be charged a fee. The fee changes based on the location. On the map, there are various red zones, in which users are prohibited to park. If the rider misbehaves, they will incur a fine. Bird has worked with various cities to launch a 100-city tour to work closely with local officials on policies. While Bird doesn't have set operating hours, the availability of scooters during nighttime is severely reduced because the scooters need to be recharged every night. Nevertheless, if a user finds a scooter outside during the nighttime, they can still unlock it. Bird operates every day of the week.
Bird in the news:
In 2018, Time Magazine named Bird as one of its "50 Genius Companies", commending its contribution to the "'first mile, last mile' problem in transportation. Because public transit stops are often a little too far from the places where people begin and end their journeys, they choose to drive, clogging up the roads and polluting the air. Bird is pioneering a new way to get those people to leave their cars at home." In both 2018 and 2019, LinkedIn named Bird one of the most sought-after startups in the United States. 
Find out more about the company here.