The Top AI Applications for Businesses in 2022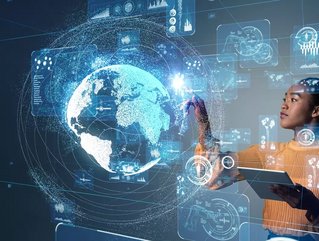 As digital transformation continues and AI becomes more accessible, we take a look at some of the top AI applications for business in 2022
Artificial intelligence is more accessible than ever — meaning a business doesn't have to be a tech giant to take advantage of new AI tools and platforms.
These are six of the top AI applications for businesses available right now — and how companies of all kinds are using them to improve efficiency, automate processes and drive more sales.
1. Shopping Personalisation
Online retailers have access to more data than ever. Most popular e-commerce platforms are built with data collection in mind, meaning it's easy for almost any business to gather large amounts of information on how their customers shop and browse the web. However, taking advantage of this data can be difficult, especially when so much is available. 
One of AI's biggest strengths is its ability to find patterns in massive amounts of information. Businesses can use the technology to analyse datasets that would be too large for human data scientists to manage on their own. 
This improves shopping personalisation strategies. AI can use the data a business may already collect to tailor purchase recommendations, email content and promotions to customers' desires.
Over time, AI personalisation can also help analyse customer behavior data. This information can provide deeper insights into preferences and online behaviours and allow companies to make more informed decisions about product development, site design and promotions. 
2. Automatic Fraud Detection
The same pattern-finding technology can also help businesses automatically analyse purchases and transactions — making it possible to catch fraud earlier. Fraudulent transactions often come with certain red flags that other automated systems may not be able to see. 
Gathering and analysing data on fraudulent purchases allows an AI-powered fraud detection system to help a business identify these transactions. It would enable the automatic flagging of potential problems for review by a team member.
3. AI Chat Assistants
According to a recent report from call platform developer LiveVox, 29%-31% of contact centers have had difficulties handling high volumes of inbound calls. Larger businesses with a greater number of full-time employees tend to struggle the most.
At the same time, expectations about support and customer service are becoming more intense. One 2019 study of 1,500 American consumers found that 80% expected a response within 24 hours, and 37% wanted one within just one hour.
Handling customer inquiries promptly can be a major challenge for any business. Automating support can be challenging with existing technology — frustrating, unintuitive phone trees or online help centers may make customers more confused than they were before they began searching for assistance.
One new AI technology, called natural language processing (NLP), can help. It enables computers to process words as they are spoken, meaning a chatbot can read plain-language sentences and requests from customers and respond with similarly natural-sounding answers.
These chatbots aren't intended to fully replace customer service representatives. Instead, they field new requests, gathering information and answering simple questions before sending callers to the support team. Agents can then use collected information — including the customer's problem, purchase history and even mood — to solve the issue as quickly as possible.
4. Collaborative Robots
AI is also helping make robot automation much more practical. Tools like machine vision — which allow robots to use AI to "see" their environment — can enable a wide range of new machinery. 
One example is collaborative robots (cobots), which are designed to work directly alongside human workers. They come with safety features like force limiters, padded joints and safety shutoffs that allow them to perform tasks like machine tending, quality assurance and packaging without putting people at risk or requiring a great deal of space.
These robots provide a valuable middle ground for businesses that want to partially automate their production line without investing in a major automation solution.
5. Autonomous Mobile Robots
Other robots use AI to move around warehouses, factories, fulfillment centers and other facilities, performing tasks like picking and packing without human oversight.
Autonomous mobile robots (AMRs) use machine vision and other AI technology to perform this work. Like cobots, they're typically designed to work alongside human workers, using machine vision to avoid obstacles and team members as they move around a facility. 
Amazon uses AMRs in some of its warehouses, but even small e-commerce, storage and logistics companies can take advantage of these robots.
6. Smart Office Devices
New Internet of Things (IoT) devices — like smart thermostats, light fixtures and HVAC systems — often use AI to make themselves even more effective. 
These office devices are responsive, capturing data on office conditions and adjusting their function to make the building as comfortable as possible. This can help boost productivity, morale and even employee retention.
For example, smart HVAC systems can adjust settings automatically based on information about office temperature, air quality, airflow and system power consumption. By opening or closing smart vents, changing the temperature or alerting managers to possible mechanical issues, the system can balance office comfort and HVAC efficiency.
Businesses of all sizes can use IoT to improve working conditions. IoT technology is even being used in hospitals to make it easier for staff to fight disease and provide patients with the best care possible.
How Any Business Can Use AI in 2022
E-commerce, facility management and office automation can be easier with the right AI platform. These six applications will allow most businesses to take advantage of the technology, regardless of size or budget.