EY's Mitch Berlin reflects on the 2022 EY US CEO Survey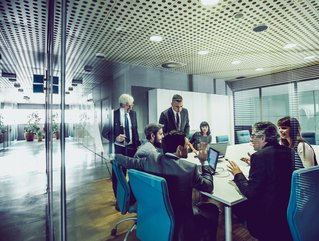 Vice Chair of EY Americas Strategy and Transactions, Mitch Berlin, joins Technology Magazine to discuss the latest findings from the 2022 EY US CEO Survey
The 2022 EY US CEO Survey has revealed that digital strategy is set to take the centre stage in 2022, with nearly half (49%) of US CEOs currently focused on implementing technology to protect and improve profit margins.

As Vice Chair - EY Americas Strategy and Transactions, Mitch Berlin leads a team of nearly 8,500 professionals across the United States, Canada, Mexico, Central and South America, the Caribbean and Israel. Strategy and Transactions is a practice aimed at helping CEOs and other business leaders drive corporate strategy, capital allocation and transactions advisory through execution to enable fast-track value creation and build long-term value in an ever-changing environment.

For more than 25 years, Berlin has worked at EY and strategy group EY Parthenon, where he enables clients to navigate today's complexity by reimagining their ecosystems, reshaping their portfolios and reinventing themselves for a better future.

Berlin discusses the inaugural survey, completed following the emergence of the omicron variant in December 2021, which polled 336 US CEOs and measured leaders' sentiment and expectations around future growth, sustainability strategy, M&A and portfolio optimisation for the next 12 months.

The purpose of the EY CEO outlook survey
For the past 10 years, we did a capital confidence barometer, which is really understanding what the corporation's view is on capital. How they were going to deploy capital? Were they going to invest? Are they going to try to raise capital?
But we found that while that was a great survey, understanding a firm's perspective on around capital, it was a bit narrowing, and that there was so much more that was on the mind of the CEO, other than capital deployment. And so we expanded this to really be more of a CEO outlook and survey to understand what's top of mind for CEOs this year.
And so in our inaugural year, we found that what's top of mind for CEOs is their supply chain challenges that they're trying to work through. They're all focused on accelerating their digital maturity. And then ESG is a big concern. So you can see that the topics that we're able to get views and opinions on are so much broader than than raising or investing.

Sentiment from CEOs on geopolitical and political tensions
Geopolitical concerns have been top of mind for CEOs, even prior to the pandemic. The current political situations have just made it even more top of mind. They are looking to really understand where raw materials are coming from and how an event in one country impacts the overall supply chain from the ability to acquire those raw materials. This includes the routes that their products go through geographically to get from raw material to finished production.
By looking at how disruptions in certain countries impact that overall supply chain and logistics, this has brought more of a risk focus and risk lens on their supplier base, and their overall manufacturing footprint, to make sure that they can ensure resilience through geopolitical disruptions.
With the risks of trade wars, and then you have the pandemic on top of it, CEOs have just doubled down on executing on those plans, but those aren't overnight.
It is truly shocking when you look at the concentration of the manufacturing footprint, in certain countries with high geopolitical risks.
Capital strategy when funding future plans
So the source of capital is relatively easier than it has been in the past. But it's really balancing the long term versus short term. Public companies need to hit their numbers, but you also have to invest in the future. So it's really balancing, so you're hitting your numbers now, but also making sure that you're going to remain relevant and top of your peer group in the future by investing in technology and modernisation.
Is the Great Resignation slowing down?
In terms of rising costs, based on our survey, labour was the number one cost increase, followed by energy. So from a labour perspective, we do see the Great Resignation slowing down a bit, as employers are really taking the time to understand what resonates with their employees. And it's not always compensation, even though this is certainly important and people need to be compensated fairly, but it's really about the fact that people have been at home for the last year and a half. And now you're asking them potentially, to commute into an office. For some people, that is two to three hours a day out of their life that they had for the last year and a half.
And so employers are working on figuring out how to work a hybrid model that works for them, and helps continue to build the culture of the organisation, but also allows some of the freedoms and luxuries that their employees enjoyed during the pandemic.
It's particularly acute with campus hires, whether it's undergrad or MBAs, because they know campus hires that have started in the last two years may have never experienced what it's like to work on site. Working remotely for your entire professional career, and now being asked to come on site two to three days a week is a big cultural change for them. It's a complete shock to their system. That's 15 hours of their week that they now no longer have to themselves. That's where we're seeing the biggest challenges.

The importance of innovation delivery systems and channels of customer interaction
The easiest examples of these innovations are really around retailers and the very quick shift they made to becoming a more omnichannel retailer. To be able to purchase online, deliver online, both at home or buy online, pick up in store.
There have also been a lot of advancements in healthcare. Being able to interact with a doctor via different apps or patient portals. Portals are all relatively new technology and really changing the patient/doctor experience. Doctors can provide much more information to their clients through portals, than they would during one on one sessions.


Risks associated with mergers and acquisitions
60% of US CEOs are actively pursuing M&A in the next 12 months to accelerate digital strategy and other strategic ambitions. The intensity of deals and the competitiveness of these deals has really picked up. CEOs have a bunch of dry powder, and they need to deploy it. The multiples are high, the stakes are really high. And so people are making sure that they're going to pay record breaking multiples, to make sure that the asset that they're buying is able to deliver on what it needs. Some of it is just price, like they just can't justify the multiple. And so they walk away from the deals then because again, these are very competitive bids.
Other reasons people leave deals could be ESG issues around impact to their carbon footprint, or through extensive diligence, you find that part of the business that you're buying has a sweatshop and you certainly don't want that on your record. And so it really requires extensive diligence to make sure that you're not going to do ESG damage to your brand as well for these acquisitions. But I would say most times, it's really that the ends just don't justify the means. And it's hard to justify some of the valuations now. And that's really why people are walking away, because they're high, the valuations are higher than ever.
When we look across the spectrum, the number of people participating in a deal or greater number of companies participating are higher and overall, sector by sector, the multiples are higher than people who've been paying in the past. And a lot of it is fueled by private equity; they just are sitting on so much dry powder that they can afford to pay more, but they still need to guarantee as best as they can that they're going to get the return on that investment.