Accenture research finds AI ushering in a bold new future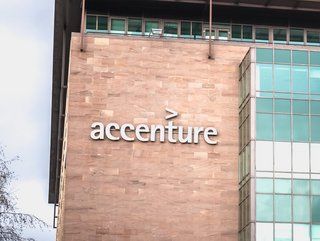 Accenture's Technology Vision 2023 report finds generative AI is set to usher in a bold new future for businesses
Almost all execs agreed that generative AI technology will spark significant creativity and innovation, ushering in a new era of enterprise intelligence
New research from Accenture finds that generative AI and other rapidly evolving technologies are ushering in a bold new future for business as physical and digital worlds become inextricably linked.
The Accenture Technology Vision 2023, "When Atoms Meet Bits: The Foundations of Our New Reality," explores the technology trends underpinning the convergence of the physical and digital, as businesses look to accelerate enterprise reinvention in the here and now.
Generative AI capturing the world's attention
The meteoric rise of ChatGPT has captivated the world's attention on the power of generative AI to augment human capability. Accenture estimates as much as 40% of all working hours will be supported or augmented by language-based AI. Among business leaders, 98% of respondents agree AI foundation models will play an important role in their organisation's strategies over the next three to five years.
"The next decade will be defined by three mega technology trends—cloud, metaverse and AI—which collectively will collapse the distance of our digital and physical worlds," said Paul Daugherty, Group Chief Executive of Accenture Technology. "While generative AI will have far-reaching impact, leaders must dive in now to achieve its full promise, as it will require significant investments in data, people, and customising foundation models to meet organisations' unique needs."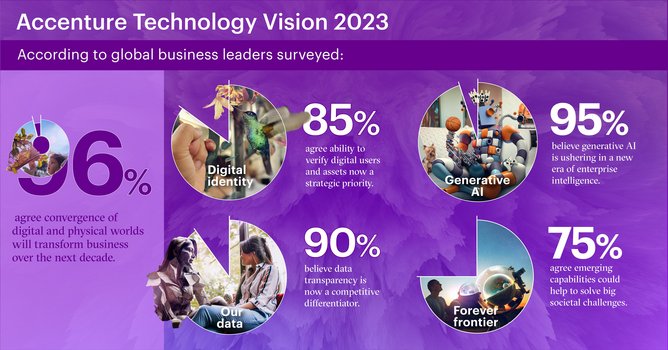 Accenture's Technology Vision report explores how technology will transform the way people work and live
Accenture's Technology Vision 2023 identifies four trends that are key to unlocking this new shared reality:
Generative AI: Advancing human capability as a co-pilot, creative partner or advisor, nearly all executives agree that generative AI will spark significant creativity and innovation (98%) and usher in a new era of enterprise intelligence (95%).
Digital identity: The ability to authenticate digital users and assets—the foundation for traversing digital and physical worlds—is now seen by 85% of executives as a strategic business imperative, not just a technical issue.
My data, your data, our data: AI cannot reach its full potential until companies figure out data. That means breaking down data silos and modernising their data foundations. In fact, 90% of executives believe data is becoming a key competitive differentiator within organisations and across industries.
Our forever frontier: Feedback loop between science and technology is getting faster, with each accelerating the advancement of the other, in ways that 75% of respondents believe could begin to unlock the world's grand challenges.
As Dharmesh Shah, Co-Founder and CTO at HubSpot comments, generative AI is going to be 'explosive' across the coming years, with the company launching its ChatSpot.ai solution.
"It's unlikely that ChapGPT and other large language models are going to replace traditional search anytime soon, but there are a set of use cases where people would rather have a conversation to arrive at the answers they're looking for, instead of typing keywords into a text box.
"Once people experience what's possible with this type of technology, or chat user experience (#ChatUX), it will be hard for them to go back to purely keyword-based, single-shot queries. Individuals are starting to have a dialogue with their data and what we're seeing is chat now becoming the new UX.
"But it doesn't stop there, generative AI is already transforming all sorts of jobs, including sales and marketing. As for workers, it is true that automation can displace jobs, but it is also important to note that ChatGPT can create new job opportunities too - all while making existing roles more efficient and less repetitive. Ultimately, as with all new innovations, organisations need to adapt and be willing to learn if they are to keep up."
Building on years of research and client work, Accenture has established a company-wide team—the Generative AI and Large Language Model (LLM) Center of Excellence, bringing together 1,600 professionals dedicated to generative AI and leveraging the depth and experience of more than 40,000 AI and data professionals across Accenture. To help guide and inform business leaders, Accenture has published "A New Era of Generative AI for Everyone," an in-depth study of generative AI/LLM that provides actionable insights on how leaders can best use this disruptive technology.