Amazon warehouse robot uses AI to handle millions of items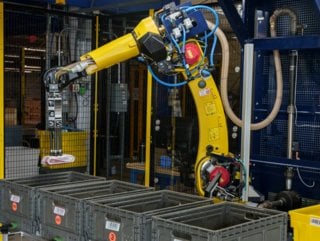 Sparrow, Amazon's latest warehouse robot, leverages computer vision and artificial intelligence to recognise and handle millions of items
Amazon has revealed its latest intelligent robotic system, Sparrow, which it says streamlines the fulfilment process by moving individual products before they get packaged.
Amazon says Sparrow is the first robotic system in its warehouses that can detect, select, and handle individual products in its inventory. The company says Sparrow represents a significant advancement in the state-of-the-art technology of industrial robotics, leveraging computer vision and artificial intelligence (AI) to recognise and handle millions of items.
Currently, once items are boxed up by employees, the company's existing Robin and Cardinal robotic arms redirect packages to various locations in the warehouse before they begin their delivery journey. Last year Amazon says its employees around the world picked, stowed, or packed approximately five billion packages—or over 13 million packages per day.
In a blog post, a spokesperson said: "Robotics technology enables us to work smarter, not harder, to operate efficiently and safely.
"Beyond the technological advancements of Sparrow, what we're truly excited about are the implications the technology has and the ways it will benefit our employees and customers.
"Working with our employees, Sparrow will take on repetitive tasks, enabling our employees to focus their time and energy on other things, while also advancing safety. At the same time, Sparrow will help us drive efficiency by automating a critical part of our fulfilment process so we can continue to deliver for customers."
Implementing automated robots to make jobs safer
The world's largest online retailer has shown a growing interest in robotics since founding its robotics arm, Amazon Robotics in 2003. The company acquired autonomous warehouse robotics startup Canvas Technology, which designs and develops mobile robotic technology for factories and warehouses, in 2020.
Amazon began using robotics in its facilities in 2012, and since then the company has added more than one million jobs worldwide while simultaneously deploying 350,000 mobile drive unit robots. Last year Amazon announced it was testing and developing new technologies in order to help to make employees' jobs safer, including technologies that help move carts and packages through its facilities.
Amazon says the design and deployment of robotics and technology across its operations have created over 700 new categories of jobs that now exist within the company.
"These new types of roles, which employ tens of thousands of people across Amazon, help tangibly demonstrate the positive impact technology and robotics can have for our employees and for our workplace," an Amazon spokesperson said. "Supporting our employees and helping them transition and advance their career into roles working with our technology is an important part of how we will continue to innovate."