IBM & Migros: Building the foundation for merging channels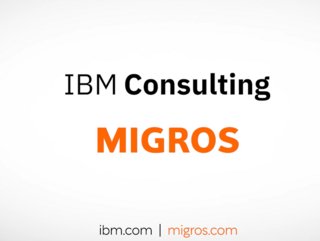 IBM and Swiss retailer Migros are building a new business process platform that helps unifying the customer experience across all channels
While e-commerce had dramatically changed the retail business in many areas over the past decade, grocery shopping was long regarded as a pure offline domain – until the outbreak of a global pandemic in 2020. Since then grocery retailers are confronted with a significant change of their business model, not only due to the growing online demand, but also through other megatrends like sustainability and a frictionless shopping experience.
``The large retailers – such as Migros in Switzerland –are beginning to embrace innovation and change at a pace and a magnitude that probably was not known in grocery stores since the invention of the supermarket', says Florian Melchert, Associate Partner with IBM in Zurich.
Being responsible for IBM's SAP consulting business in Switzerland, he confirms Migros chose IBM Consulting as an implementation partner for one of the largest transformation programs in its history in order to address this tremendous change.
Based on IBM's experience with more than 5000 successful SAP transformation projects, Melchert and his team are determined to support Migros harmonise and streamline core business processes and implement a 'state-of-the-art application platform that will lay the foundation for an intelligent merger of on- and offline business and facilitate continuous innovation on retail processes and offerings.'
While this transformation will eventually enable Migros to become more flexible and adaptable to changes in its business model, 'the same is required for the transformation program itself' he explains.
'Changing consumer priorities will also necessarily cause frequent changes in the scope and planning of this multi-year program.' In order to deal with this fact, Migros has decided to adopt an agile delivery model. While this has become common practice in IT over the past years, many large SAP implementations have so far still been conducted in a more traditional waterfall-based approach.
But exactly for this kind of project IBM's Ascend methodology offers what Melchert calls a 'hybrid-agile' delivery model. It allows to combine the agile way of working, i.e. delivering functionality with measurable business value in short intervals, with the long-term planning and careful go-live preparation that is required for complex and highly integrated solutions like SAP S/4HANA.'
While the implementation of a new business process platform may sound like a back office program, it will actually have a significant impact on the front office, too.
'What we are doing together with Migros is to define a single platform that will allow the seamless integration of traditional and online shopping and that is attractive to consumers.'
Why? Because the positive aspects of both models can be blended into one unified shopping experience. Melchert calls this approach 'No-Line Commerce'. He says this is the future in an ever-changing retail market in which the consumer does not really care or need to care where products and services are purchased or even returned to. Consumers can switch the channels as they like. And as Migros – a Swiss icon in grocery retail – also operates many other retail outlets for electronics, sportswear, hardware, furniture, etc. the No-line idea will not stop at the traditional supermarket assortment.
'Customers are getting more and more used to combining assortments, leverage multiple channels, and switch their buying behaviour frequently. And it is in these conditions large retailers like Migros need to offer services as solutions in order to retain and even extend their market position.'