Brain Corp: Deep learning rules in world of computer vision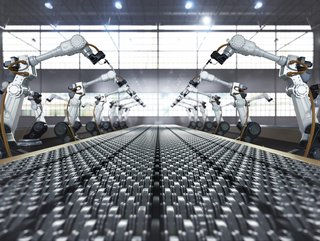 Michel Spruijt, Chief Revenue Officer of Brain Corp, discusses developments in computer vision technologies which are set to transform industrial robotics
Industrial robots are finding their way into a growing number of sectors, and advances in technologies including artificial intelligence (AI) have led to a global surge in investment and development.
And the world of consumer social media and mobile phones has played a part in this, having brought about huge advances in camera design and processing power to meet consumer expectations. These benefits are now being seen in corporate and industrial environments across the world.
"The use of artificial intelligence has enabled industrial robotic applications to process large amounts of images and data that previously was not possible at such a large scale," says Michel Spruijt, Chief Revenue Officer, Brain Corp. "It's opened the door to automation and has been integrated into a wide range of industries."
AI makes the collaboration between humans and robots safer and more efficient, says Spruijt. And autonomous robots not only allow people to do tasks that they would be unable to do without robotic assistance but they can also be used to support more routine tasks which allow human employees more time for other activities.
"For example, operations can leverage an autonomous robot that's dedicated to performing inventory management tasks so that human associates have more time to assist customers," explains Spruijt.
Machine vision speeds up decisions with data
Machine vision also provides greater flexibility in industrial robotics by speeding up the decision-making process in situations where data is used to make informed decisions, he says, which gives operations greater control of their workflows.
"Due to the exponential growth in the mobile phone industry brought on by the demand from the social media world, massive improvements in camera technology and computer vision techniques through improved cameras and processing power are having wide impacts across all markets now, including the manufacturing industry," explains Spruijt. "Additionally, Moore's law and the push towards cheaper and more specialised hardware for data processing has dramatically reduced the cost and accessibility for these applications."
The field of computer vision is now being dominated by deep-learning models. The majority of research in computer vision has shifted from traditional techniques to those powered by deep learning, and there has been a surge in interest and investment in this area.
"The largest and most well-funded research organisations are pushing the state of the art on a monthly basis," says Spruijt. In many cases, the software tools developed are open-sourced, and some organisations have open-sourced the completed deep-learning models.
Data analysis and scalability from the private cloud
Private clouds are expected to play an important role in the future of industrial computer vision applications, with scalability and the ability to carry out detailed data analysis being just two examples of the benefits to be expected, says Spruijt.
"Autonomous mobile robotics are able to collect a tremendous amount of data, but customers expect that data to be parsed into digestible and actionable insights," he explains. "The maturation of cloud technology will help expedite the process of pushing data from the edge to the cloud and then back down to the customer."
But there are technical challenges to overcome, including how robotics technology is implemented into existing processes, says Spruijt. "Operations can be eager to adopt autonomous robotic solutions, but antiquated workflows limit the effectiveness of new technologies. The earlier operations adopt an automation partner, the earlier they can start the process of transitioning manual processes into streamlined autonomous workflows."