Cisco delivers first app for hybrid work to Audi vehicles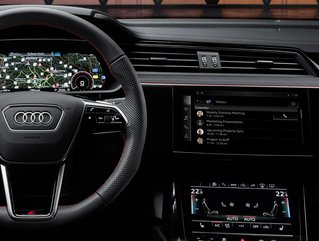 Drivers will benefit from increased flexibility in how they work, powered by Webex's full immersive collaboration experience
Webex will be the first collaboration app to come to select Audi vehicles, equipping vehicles with Meetings capabilities for seamless collaboration
Cisco and Audi have unveiled plans to enhance mobile car collaboration experiences for hybrid workers, with its Webex app to be available in the German carmaker's models from next year.
In partnership with Volkswagen Group's software company CARIAD and Samsung subsidiary HARMAN, Webex will be the first app for hybrid work available in select Audi models as 2024.
As hybrid work continues to evolve, the modern work environment is no longer confined to a single space or device. People increasingly demand flexible, frictionless ways to get work done on their own terms, requiring innovative solutions that empower this. To meet consumer demand and provide a safe, secure and easy-to-use secure mobile collaboration experience, the Webex automotive application will be available through the in-vehicle Audi Application Store. The Application Store is developed by CARIAD and HARMAN and designed for select Audi vehicles with additional Volkswagen Group brands to follow at a later time.
"We're on a mission to transform the connected car into another extension of the hybrid workplace," said Jeetu Patel, Executive Vice President and General Manager, Security & Collaboration at Cisco. "Our work with leading manufacturers like Audi will empower customers with a safe and seamless way to stay connected and be productive regardless of where or how you're working.
Accommodating flexible hybrid work culture
This partnership aims to accommodate flexible hybrid work cultures. It presents people with access to elevated work experiences that can be personalized to fit their lifestyles and enable work from any setting.
As of July 2023, the Application Store, from which the Webex App can be downloaded, will be available in new Audi production models of the Audi A4, A5, Q5, A6, A7, A8, Q8 e-tron, and e-tron GT in Europe, USA, Canada, Mexico, and Overseas markets.
Cisco works with over 32,000 transportation organisations in 169 countries worldwide and has 25,000 patents in the transportation space. This partnership with Audi, CARIAD, and HARMAN is part of Webex for Auto, which includes Webex Meetings for Apple CarPlay, and collaboration with automotive manufactures including Ford Motor Company and Mercedes-Benz.
"We are excited to offer Volkswagen Group's customers Webex meeting capabilities that make hybrid work more convenient and adaptable," comments Dr. Riclef Schmidt-Clausen, Senior Vice President, Domain Intelligent Cockpit & Body at CARIAD. "With our new Group Application Store we will offer customers a vast variety of essential and popular apps, seamlessly connecting their car with their digital life. Together with our VW Group brands and partners, we take the digital in-car experience to the next level turning the car into a smart companion for drivers."
"We are delighted to partner with like-minded leaders at the forefront of technology and automotive to bring Webex capabilities into the car for hybrid and remote workers," added Albert Jordan, VP and GM of HARMAN's Automotive Applications Business Unit. "The HARMAN Ignite Store, a white label solution for Volkswagen Group Application Store, makes it easy for developers to adapt their content and services for automotive, all while ensuring the experience is safe and optimized for the vehicle environment. It's collaborations like these that will transform the in-cabin experience, keeping drivers connected to what matters."