Delivering transformation in network services and beyond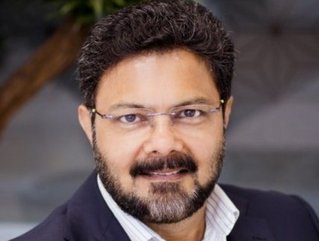 We spent five minutes speaking to Vivek Daga, Managing Director of NTT Ltd UK & Ireland
Vivek Daga leads NTT Ltd.'s UK & Ireland business. In this role, he is accountable for business strategy design and implementation, client relationships, the partner ecosystem, talent management, sales, marketing, delivery and operations. His focus is on driving outcomes that matter to NTT's clients, colleagues, and partners.
What is NTT's point of difference as a business?
It is a rare occurrence when the combined expertise of 50,000 people and over 30 companies are brought together to form a US$10bn global enterprise and business of the future.
85% of the Fortune Global 500 and 79% of the Fortune Global 100 companies are our clients. We are rated as the leader in Gartner's Magic Quadrant for Network Services.
NTT Ltd. helps clients accelerate and deliver digital transformation – as well as modern customer and employee experiences – through its secure-by-design assets, IP, platforms and services that enable modernisation, digitalisation and innovation.
Our purpose is to enable and accelerate the connected future for businesses, communities, and the planet. Sustainable development is central to NTT's purpose of enabling the connected future. NTT Ltd. therefore supports the UN's Sustainable Development Goals and is proud to be the Business Avenger for Goal #11, which is 'Sustainable Cities and Communities'.
Additionally, NTT Ltd. is part of the global NTT family, which is a US$112bn corporation, with 320,000 people around the world.
What technology are you most looking forward to using more of?
I am intrigued by the application of AR/VR/mixed reality technologies and their potential across both consumer and enterprise domains. I have tried different headsets over time, from cardboard to Oculus variants. I plan to track the evolution of this technology, the experiences it creates and the problems it solves.
What has been a career highlight prior to your current role?
Rather than call out a single highlight, I'd like to think that I've managed to reinvent myself over the course of my career by embracing change, taking on new challenges and being a lifelong student.
What has been the highlight of your current role?
Firstly, I must say it's been brilliant coming into an environment where people are super committed and hard-working, as well as caring and full of humour. A highlight in my current role has been the opportunity to shape and drive the transformation of the NTT Ltd. UK & Ireland business in the past year, building a more agile and 'match-fit' business.
What is your leadership style?
My personal and leadership approach is to have a razor-sharp focus on building strategic relevance and advocacy with clients, colleagues, and partners.
Trust and relevance are key parts of any equation of success, and advocacy is gained by delivering outcomes. That, of course, is easier said than done and needs strong and sustained internal alignment and collaboration across all parts of the organisation. That shapes how I think of my role, how I strive to lead and how I encourage others to lead.
In my view, leadership at its core is not about the leader. It's about how effective the leader is in creating conditions that enable success for others. My focus is on creating an environment in which individuals and teams can collaborate and thrive, create tangible impact and find fulfilment in what they do.
What exciting plans do you have coming up as an organisation?
It is a super exciting time to lead a platform, IP and asset rich business and drive the acceleration of our client's digital transformation and modernisation imperatives.
We recently announced that NTT DATA and NTT Ltd. will combine their IT Services organisations outside Japan into a new operating company. NTT DATA is combining its system integration capabilities in vertical industry expertise, digital consulting, application development, and managed services capabilities with NTT Ltd.'s 'Edge to Cloud' service operation capabilities. This will start mainly in the field of data centres, networks and managed services – combining the power to create with the power to connect. By developing this central service portfolio, one that supports digital transformation, NTT is able to respond to our clients' increasingly complex and diverse needs on a global level.