Ensign InfoSecurity: Asia's largest pure-play Cybersecurity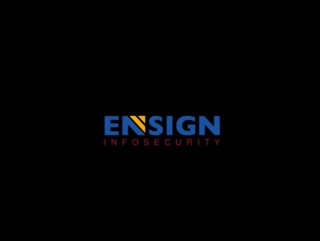 Charles Ng, Executive Vice President for International Business & Key Accounts for Ensign InfoSecurity, to talk about cybersecurity, R&D and Bukalapak
"Organisations across all industries have been undergoing digitalisation, adopting new technologies to transform their business operations, raise productivity, and innovate. This trend is further accelerated by COVID-19, which, in turn, has been driving a steady increase in the demand for cybersecurity as organisations' digital attack surfaces continue to expand. Consequently, we saw more organisations outsourcing their cybersecurity operations and needs as they find them too challenging and complex to manage on their own. These new trends drive new growth opportunities for Ensign, opening new ways we can work with organisations to secure their operations", says Charles Ng, EVP for International Business & Key Accounts, Ensign.
"One of the challenges in the cybersecurity world is that cybersecurity companies are transient, some of these boutique firms focus only on particular aspects of cybersecurity. It is different with Ensign. Our robust capabilities, and end-to-end portfolio of cybersecurity solutions and services, put us in good stead to help our clients enhance their security posture as they invest in digital technologies and accelerate digital transformation. As such, Ensign is able to stay ahead of the game and provide clients, like Bukalapak, with a holistic suite of capabilities and services to improve their cyber resilience".
Charles adds: "We invest a significant amount of our revenue in R&D, and this translates into tangible cybersecurity outcomes and benefits for our clients. It allows us to design and deploy highly customised cyber solutions not found in existing off-the-shelf products. Having released three patents which have been recognised as some of the best AI-powered Cyber Analytics innovations and technologies in the industry, we can address our clients' unique security challenges. By incorporating our innovation into their systems for more accurate and efficient threat detection, we enable them to adopt a more proactive, predictive security posture to stay ahead of threat actors."
"Ensign's footprint across Asia, covering Singapore, Malaysia, Indonesia, Australia, Hong Kong, and South Korea is an important differentiator, especially for Indonesia-based Bukalapak. The breadth and depth of our expertise and solutions is the key reason that organisations across different geographies and industries choose to partner with us".
"Once you combine capability with coverage, you get a global partner that has a significant capability that's able to give its clients great assurance," Charles says.
Ensign's partnership with Bukalapak
Bukalapak is one of the fastest growing and most recognised e-commerce companies in Indonesia, empowering many organisations to transact on their rich digital marketplace platform. An advocate of cybersecurity, the company searched for a trusted partner who could understand their threat environment and provide end-to-end solutions. Ensign stood out with its strong capabilities—i.e., consult, design & build, operate, and respond—along with its R&D and significant coverage in Asia.
Forging the partnership between Ensign and Bukalapak is a timely move, enabling the hugely popular all-commerce company to identify potential vulnerabilities in their systems, and take preventative steps so that they can continue to grow with confidence.
Ng adds: "Having to always be ahead of the game, we are committed to give our best to Bukalapak".
Read the full Bukalapak digital report HERE.