Google Cloud data tools to support Lionesses at World Cup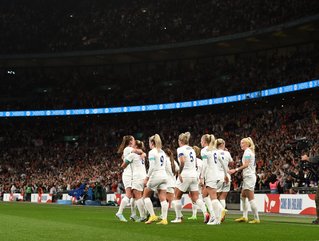 Google Cloud's BigQuery gives Lionesses coaches the tools to visualise and understand individual players' readiness at a glance
How The FA is using data science to support England's Lionesses at the upcoming FIFA Women's World Cup, supported by Google Cloud technology
Google Cloud is supporting England's national women's football team at the upcoming FIFA Women's World Cup, helping coaches make better decisions and turning data into insights.
With the tournament coming straight off the back of a domestic season, and following the Lionesses' success at the UEFA Women's EURO last year, it is crucial that each player has a tailored training program focused on their individual physical and mental requirements.
Enter the Performance Insights team. Launched in 2020 by The FA's Physical Performance, Medicine, and Nutrition department, the insights team's goal was to develop tools that help coaching staff make the right decisions in the shortest time possible.
To power this, the team turned to Google Cloud, an established partner of The FA, to gain better insights, faster.
"Fast forward to the preparation window for the World Cup in Australia, and the team is in full flight, using the cloud to generate detailed reports about each player's individual needs straight after each training session," writes Paola Olivari, Director, Data and Analytics, Google Cloud in a blog post. "Whether players were on the same pitch practising or not, the national coaching staff have been able to make faster, more informed decisions either way, helping give the Lionesses the best chance of success in Australia."
Google Cloud and The FA: From data to decisions
The training and game-time choices coaches will make rely partly on the reports provided by the Performance Insights team. These reports are based on a veritable mountain of data coming from a variety of sources.
"One source is detailed "match event" data — every pass made, tackle landed, shot taken, goal scored, and more," Olivari explains. "These are created by tagging match videos to each player in the squad. Over the course of a tournament, these videos add a whopping 220,000 data points across The FA's database."
The second source is captured during training. All players wear GPS trackers, which in total output around 1.3 million lines of squad data per session.
"And then there's the event data provided by the players' clubs, which allows the team to compare what each Lioness has been exposed to over the course of the season — measured by the volume and intensity of games they've played — and compare that with what they're expected to do at the tournament."
The fourth and final source is self-reported wellness data for every player. During international windows, roughly 20 data points are captured per player per day, with another 30 per player per day engineered from those 20 when combined with other data sources.
Turning all of this data into meaningful insights for the players and coaches is a sizable challenge.
For this, the Lionesses rely on BigQuery, Google Cloud's enterprise data warehouse. BigQuery acts as a storage and analytics layer, extracting actionable insights and delivering them as accessible visual reports in a matter of minutes.
"These reports help the coaching staff decide how best to support each individual player and maximise the physical and mental improvements they can make in their limited downtime between games," writes Olivari. "BigQuery gives the coaches the tools to visualise and understand individual players' readiness at a glance.
"The reports can also give detailed information on the different demands of each position, enabling the coaching staff to better prepare players for the intensity they are likely to experience during the tournament."

******
For more insights into the world of Technology - check out the latest edition of Technology Magazine and be sure to follow us on LinkedIn & Twitter.
Other magazines that may be of interest - AI Magazine | Cyber Magazine.
Please also check out our upcoming event - Cloud and 5G LIVE on October 11 and 12 2023.
******
BizClik is a global provider of B2B digital media platforms that cover Executive Communities for CEOs, CFOs, CMOs, Sustainability leaders, Procurement & Supply Chain leaders, Technology & AI leaders, Cyber leaders, FinTech & InsurTech leaders as well as covering industries such as Manufacturing, Mining, Energy, EV, Construction, Healthcare and Food.
BizClik – based in London, Dubai, and New York – offers services such as content creation, advertising & sponsorship solutions, webinars & events.