How IBM served up AI-powered fan tools for Wimbledon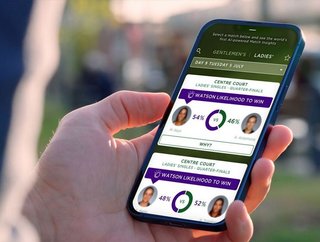 How IBM served up AI-powered fan tools for Wimbledon
For this year's Wimbledon tournament IBM developed exciting new features, leveraging foundation models and generative AI to enhance the fan experience
When, before this year's final, an AI tool predicted that Spanish 20-year-old Carlos Alcaraz would beat seven-time Wimbledon champion Novak Djokovic to the Wimbledon title, the announcement was met with some scepticism.
The prediction drew wide ranging criticism, from users on social media to former tennis pros: including seven-time Grand Slam winner John McEnroe, who when commentating for the BBC said he was 'astonished' by the prediction.
But, with Alcaraz defeating Djokovic 1-6, 7-6(6), 6-1, 3-6, 6-4 to become the first player to beat the Serb on Centre Court since Andy Murray in 2013, it was AI's bold prediction that turned out to be the winner of the day.
The AI predictor tool is just one feature Wimbledon partner IBM brought to this year's tournament, aimed at further improving the fan experience at SW19. Called IBM AI Draw Analysis, the tool used AI to define how favourable the path to the final might be for each player in the singles draw. A player's draw favourability was indicated with a rating along a scale, based on factors including the player's match-ups against potential future opponents and how the player's position in the draw compares to competitors.
To learn about this and the other AI tools Wimbledon introduced at this year's tournament, Technology Magazine was invited to tour IBM's technology bunker at the All England Club and speak to Kevin Farrar, the company's UK Head of Sports Partnerships, on the technology behind the tools and what it means for the fan experience.
AI-powered tools aimed at extracting insights from data and improving fan experience
As Farrar explains, IBM's AI Draw Analysis builds on a number of years of work with Wimbledon aimed at extracted insights. Its Power Index, launched two years ago, combines advanced statistical analysis and the natural language processing of IBM Watson to mine millions of expert opinions and performance metrics, quantifying each player's momentum from tournament to tournament, and match to match.
"Two years ago, we rolled out the IBM Power Index, which is the measure of a player's form and momentum in the lead up to and during a tournament," Farrar explains. "Unlike the ATP and WTA rankings, which are in a 52 week rolling window and don't allow fans to see what's happening now, our Power Index updates every day.
"From there you can start to put this data into a leaderboard, and you can start to see who is flying up a leaderboard and if they might be a player to watch. It shows where potential upsets could be in the tournament and that's used for this likelihood to win percentage."
For this year's tournament, the team at IBM thought to extend that capability across the whole draw, enabling further insights to help tennis fans uncover anomalies and potential surprises in the singles draw.
"When the draw comes out before the tournament fans are often looking to see how favourable or difficult their favourite player's draw is going to be and how fortunate to be in the draw where they landed. So what we've got now is a new tennis stat to actually quantify that. We've got a favourability rating that we are putting against each player for the whole tournament and then a further rating done round by round. So then you can actually go in and see if a player has a favourable round or if they come up against a potential hurdle.
"It's adapting all the time, so it's a very visual way of looking at it which is very engaging to see as the tournament unfolds, seeing how that plays out, and we've had some really good reactions to this from fans here at Wimbledon."

IBM AI Commentary provides fans with a more insightful experience
Another major AI-powered tool at this year's Wimbledon was IBM's AI Commentary feature, which brought generative AI commentary to all highlights videos on the tournament's official website.
The latest developments come off the back of work by IBM to produce AI-generated highlights packages by using crowd noise and contextual data to determine the most exciting points of a match. IBM first pioneered the use of AI to curate video highlight reels in 2017, using gesture recognition and crowd noise to help build highlights videos.
To develop the new feature, experts from IBM iX, the experience design arm of IBM Consulting, worked with The All England Club to leverage foundation models from watsonx, IBM's enterprise AI and data platform, to train the AI in the unique language of tennis.
Work began with watsonx.data, a data store that connects disparate data sources and allows developers to filter the data for things like profanity, hate speech or personally identifiable information. For AI Commentary, the team drew source material from nearly 130 million documents.
The data was then used to train a large language model chosen from watsonx.ai, a next-generation studio for building and training generative AI models for business use cases. The IBM team then fine-tuned the model, adding the specific domain expertise of Wimbledon, including the use of unique Wimbledon nomenclature, such as "gentlemen's draw" rather than "men's draw."
"We are teaching the large language model the language of tennis, we are making sure it knows what a forehand is, a backhand is, and then also training it in the language of Wimbledon," Farrar explains. "It's just the little nuances like that and then we tune the model, making sure things like player names are being pronounced correctly."
The final model boasts three billion parameters, and the team will continue to monitor its performance using governance tools, ensuring the model performs as expected.
As Farrar describes, technology could enable further possibilities for AI-powered commentary in future, using computer vision to provide richer experiences for fans.
"This is just based on the stats at the moment. But if you were to weave computer vision to this as well, that enables you to analyse what the players are doing. It's using 17 different limb movements to determine things like shot detection, but also things that go on around the court that the stats wouldn't pick up, such as a shot between the legs or how many times a player bounces the ball before they serve, or how slowly they are walking back to the chair.
"All of those things could be used to add colour and texture to the commentary."
The introduction of the AI commentary is a step towards making commentary available in an exciting way for matches outside of Wimbledon's Show Courts, which already have live human commentary, all with the goal of making the tournament more accessible to fans.
"These tools are actually not replacing the commentators that we know and love, but making matches that aren't as accessible like the juniors, the seniors, wheelchairs, accessible to fans in a new way.
"These are fantastic features that fans can experience for themselves and it's all just helping the club and their ambitions of growing a global fan base and engaging the fans in new ways."