HTC VIVE: How XR makes military training more effective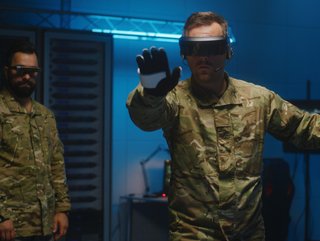 XR makes military training and simulations more effective, according to a report by HTC VIVE
Research by VR and XR company HTC VIVE details the important role of extended reality in military training and simulations
Extended reality (XR) technology is making military training and simulations more effective, according to research by VR and XR company HTC VIVE.
The report on the use of XR by the five United States military branches – the US Army, Navy, Air Force, Marines and Coast Guard – titled 'The State of Extended Reality (XR) Training in the US Military' found that 81% of respondents said that XR increases confidence and cultivates the required muscle memory for successful application. Nearly 80%, meanwhile, said that XR enhances their education plans and empowers trainers to be more effective.
"The findings from this survey confirm what we've heard from our partners, who are increasingly relying on XR training to prepare for the rigours of active duty in a safe, effective, and scalable way," comments Dan O'Brien, GM of Americas at HTC VIVE.
XR augmenting personnel training and boosting recruitment
As explained by HTC VIVE, the military is constantly searching for new ways to augment personnel training, enhance retention, and increase recruitment. XR training offers a safe, cost-effective way to expose recruits to complex training scenarios at scale, immersing them in detailed, highly repeatable scenarios.
These simulations can empower trainees to exercise critical thinking, quick reflexes and soft skills while reacting to high-stress situations. They also offer recruits the opportunity to perform complicated procedures without the need for expensive hardware.
Other findings from the report include:
The primary utilisation of XR in the military includes immersive combat training (54%), simulated training exercises (52%), and technical training (47%).
76% of respondents said that XR allows trainees to complete training programs faster, and 77% said it helps prepare them for dangerous real-world situations because they've had the opportunity to practise in a simulated environment.
74% of respondents said that the implementation of XR training gives them a recruitment edge, and 70% said it helps them retain top talent.
75% of respondents not currently using XR for training plan to implement an XR-based training solution by 2028.
Nearly 80% of respondents said XR enhances education plans and empowers training coordinators to be more effective.
"HTC VIVE is the industry leader in secure XR technology and services for a reason," says O'Brien. "We ensure our devices are TAA-compliant – a requirement for many government departments – and we're always innovating. Our newest headset, VIVE XR Elite, features lifelike colour passthrough which opens the door to a new level of realism and retention in training."
******
For more insights into the world of Technology - check out the latest edition of Technology Magazine and be sure to follow us on LinkedIn & Twitter.
Other magazines that may be of interest - AI Magazine | Cyber Magazine.
Please also check out our upcoming event - Net Zero LIVE on 6 and 7 March 2024.
******
BizClik is a global provider of B2B digital media platforms that cover Executive Communities for CEOs, CFOs, CMOs, Sustainability leaders, Procurement & Supply Chain leaders, Technology & AI leaders, Cyber leaders, FinTech & InsurTech leaders as well as covering industries such as Manufacturing, Mining, Energy, EV, Construction, Healthcare and Food.
BizClik – based in London, Dubai, and New York – offers services such as content creation, advertising & sponsorship solutions, webinars & events.