Major League Baseball and Zoom announce new partnership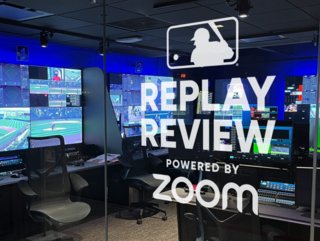 As the new Official Unified Communications Platform of MLB, Zoom Contact Center and the Zoom platform technology will power new elements of Major League games and broadcasts
Zoom has become the Official Unified Communications Platform of MLB, helping deliver more transparency to the fans and enhancing league communications
Major League Baseball (MLB) and Zoom have announced a first-of-its-kind partnership for the league, aimed to enhance MLB games and boost the fan viewership experience.
As the new Official Unified Communications Platform of MLB, Zoom Contact Center and the Zoom platform technology will power new elements of Major League games and broadcasts.
"We are always looking for innovative ways to leverage best-in-class technology to advance the MLB experience and deliver more to our fans," MLB Chief Operations and Strategy Officer Chris Marinak, said. "Partnering with Zoom, a category leader that reinvented the way we connect, was a natural next step for us. We are excited to integrate Zoom Contact Center and other Zoom platform technology into our gameday operations and continue to modernize experiences in a secure, reliable, and innovative way."
Zoom platform integration drives MLB innovations
Among the benefits to MLB, Zoom Contact Center will transform the process of replay review. In the 2022 MLB season, there were more than 1,400 replay reviews. Historically, the league's replay review was reliant on disparate technology and audio-only communication with umpires on the field, resulting in fans being disconnected from the decision-making process.
Beginning with the 2023 Season, the Crew Chief, the most senior member of the four-man umpire crew, will connect to the Zoom Replay Operations Center using Zoom's Contact Center solution during any replay review. During national broadcasts on MLB Network and Apple TV+, fans will also see the Zoom Replay Operations Center in action live during replay reviews and hear from an expert rules analyst who will discuss replay reviews with the broadcast team. MLB's goal with this new setup is to create a more transparent and engaging review process.
Zoom will also be used to securely deliver sensitive information in one of the most high-pressure and high-profile MLB Events, Day One of the 2023 MLB Draft, while a broader league-wide integration of Zoom's platform will advance collaboration across several MLB clubs, platforms, and broadcast outlets. In addition to Zoom Meetings, many MLB teams are using Zoom Phone to stay connected with colleagues and customers, as well as Zoom Contact Center to deliver prompt, accurate, and highly personalized customer experiences to their fans. MLB's corporate offices use Zoom Meetings, Zoom Rooms, Zoom Phone, and Zoom Webinar to connect, collaborate, and communicate.
"MLB brings together tens of millions of passionate fans every season," added Zoom Chief Marketing Officer, Janine Pelosi. "Zoom's rapid pace of innovation and obsession with making human connection easier and better, is crucial to help MLB evolve its experience and deliver unprecedented transparency and access to its fans. With MLB leveraging Zoom Contact Center and Zoom's all-in-one collaboration platform, we are able to truly show the world how a historical brand can continue to innovate and unlock new possibilities."