McLaren Racing, BBC,Bank of England & more join Big Data LDN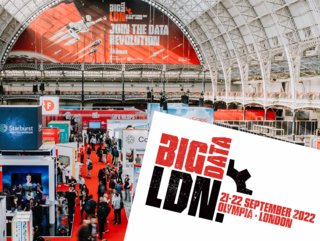 12 specialist theatres will play host to more than 200 industry luminaries and experts from major brands
Richmond, Surrey, UK; 13 September 2022 – Masters in the data field from McLaren Racing, the BBC, the Bank of England and Specsavers will be joining the free-to-attend conference programme at Big Data LDN (London) – the UK's leading data and analytics event, organised by RX (Reed Exhibitions Ltd). The event will run from Wednesday 21- Thursday 22 September 2022 at Olympia, London. Visitors can register to secure their free ticket now.

Andrew McHutchon, Senior Data Scientist with McLaren Racing, will reveal how the team uses data to accelerate performance in his presentation on Wednesday 21 September in the AI and MLOPS Theatre. During his time at McLaren, Andrew has developed analysis tools to maximise the benefit of data, and now focuses on how to extract deeper understanding from data using smarter tools.

Abel Aboh, the Bank of England's Data Management Lead, is a self-confessed Data Management Influencer and Champion. In the Data Strategy Theatre on Thursday 22 September he'll be speaking on Thriving and Winning – beyond knowing the why of data management. Abel says: "The pressure on data management practitioners to deliver value is increasing, but an estimated 65-85% of projects fail. Based on my experience in the data trenches, working across various sectors, I'll share the secrets of how to set a project up for success, and the key capabilities needed to become a great data management leader."

Jules Marshall, the BBC's Director, Product Data has also worked for major brands including Nestlé and Just Eat. She has a track record in building out data platforms, experimentation and Machine Learning and scale, with experience in embedding data across large siloed organisations. Jules will be taking part in the Keynote Panel Debate on Data Mesh – What You Need to Know on Wednesday 21 September.

Helen Mannion, Global Data Officer with Specsavers, will be taking part in an exclusive Fireside Chat: Building the Lakehouse on the Big Data LDN Keynote Stage on Thursday 22 September. She will be joined by Clémence Burnichon, ITV's Director, Digital Innovation and Courtney Jucht, Solutions Architect Director with Databricks.
Visitors to Big Data LDN will have their pick of 12 technical and business-led conference theatres, 11 of which are dedicated to delving deep into specific topics and disciplines. The extensive and curated programme features must-see experts sharing unique stories, peerless expertise and real-world use cases that visitors won't hear anywhere else. Highlights include:
In the Modern Analytics Theatre, experts from organisations including Deliveroo, LNER, Kurtosys, Pyramid and Alteryx speaking on topics including the power of unified data, using spatial data science, and developing analysis architectures.
In the Data Mesh Theatre, representatives from companies including Starburst and BlaBlaCar sharing insights on topics such as getting started with master data, data governance for data mesh, and piecing together the modern data stack.
The Data Strategy Theatre will feature speakers from the likes of A.P. Moller, Microsoft UK Solutions and Marklogic, talking about topics including democratising data with a logical data fabric and managing egos to deliver value.
In the Fast Data Theatre specialists from QuestDB, Confluent, Clickhouse, Redis and more will explore topics including breaking barriers in real-time with data streaming, funnel analysis in mobile gaming, and real-time analytics
Ascent, Wherescape and Deloitte will be among those taking to the stage in the Data Driven Culture Theatre to look at topics including bringing causal decision-making to the enterprise, how to operationalise data analytics at scale, and building a data science team.
Bill Hammond, Big Data LDN's Event Director, says: "The breadth and depth of the subject matters covered across our 12 conference theatres reflect the diversity and dynamism of the data industry today. We owe it to our visitors to provide opportunities to learn about these topics from the sector's most exceptional leaders and specialists. This is why our high-calibre speaker programme is packed with the best of the best – from aspirational blue-chip brands to young businesses at the vanguard of innovation."
VENUE: Olympia London, Hammersmith Road, Kensington, London, W14 8UX
DATES: 21 September 2022 | 09:00 – 18:00; 22 September 2022 | 09:00 – 17:00
CONTACT: bigdataldn@rxglobal.com
JOIN THE CONVERSATION: #BIGDATALDN


About Big Data LDN (London)
Big Data LDN is the UK's leading free-to-attend data and analytics conference and exhibition, hosting leading experts and providers from across the sector, from both the technical and business spheres. The event brings together the data and analytics community with a focus on how to build dynamic, data-driven enterprises. The superior end-user led conference programme features industry pioneers, experts and real-world case studies, equipping visitors with the tools and techniques to deliver maximum business value from successful data projects. Delegates also have the opportunity to discuss their business requirements and challenges with more than 130 technology vendors and consultants.

About RX (Reed Exhibitions)
RX is in the business of building businesses for individuals, communities and organisations. We elevate the power of face-to-face events by combining data and digital products to help customers learn about markets, source products and complete transactions at over 400 events in 22 countries across 43 industry sectors. RX is passionate about making a positive impact on society and is fully committed to creating an inclusive work environment for all our people. RX is part of RELX, a global provider of information-based analytics and decision tools for professional and business customers. www.rxglobal.com.

About RELX
RELX is a global provider of information-based analytics and decision tools for professional and business customers. RELX serves customers in more than 180 countries and has offices in about 40 countries. It employs more than 33,000 people, over 40% of whom are in North America. The shares of RELX PLC, the parent company, are traded on the London, Amsterdam and New York Stock Exchanges using the following ticker symbols: London: REL; Amsterdam: REN; New York: RELX. The current market capitalisation can be found at http://www.relx.com/investors.