Mentors wanted to help close the cybersecurity gender gap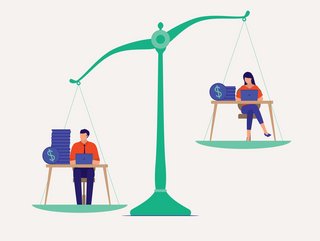 At current recruitment levels, the cybersecurity industry won't see gender parity at work until the middle of the 22nd century. That won't do, say experts
The cybersecurity industry is crying out for more women to join their ranks if global businesses are to be protected from a huge growth in cybercrime. And female mentors already working in the industry could help meet this crucial need, according to a new report.
Women account for a quarter of the cybersecurity workplace, but this compares poorly to the 39% figure for women in the general workforce, which many would argue is also lower than it should be. But the global cybersecurity industry must move fast in order to meet current and future demands and will need to grow by 80%, according to a joint study by Boston Consulting Group (BCG) and The Global Cybersecurity Forum (GCF).
The report, Empowering Women to Work in Cybersecurity Is a Win-Win, is based on a global survey of 2,000 female science, technology, engineering, and mathematics (STEM) undergraduates in 26 countries and also included interviews with 20 experts.
The report discovered a number of positive trends: 78% of respondents developed an interest in STEM in middle school or high school, 58% had access to cybersecurity education, 68% had already taken a cybersecurity-related course, and 82% said they already had "some or a lot of knowledge" about cybersecurity. The report also found 70% of respondents said a role model encouraged them to join the cybersecurity industry.
But challenges include stereotypical ideas about gender-specific education and combining work with homelife - about 37% of respondents think cybersecurity does not offer a good work-life balance, one of the top three factors for women choosing a job, according to the report.
Closing the cybersecurity gender gap strengthens cyber resilience
The report also found each region had specific challenges and trends: 94% of respondents in the Middle East and North Africa, 89% in Europe, 84% in Africa, and 82% in Asia-Pacific said they would be keen to qualify for a cybersecurity degree, compared to 77% in Latin America and only 61% in North America. The report also discovered 45% of North American respondents were likely to participate in targeted STEM programming in school, compared to 72% in Europe and 79% in the Middle East and North Africa.
"Closing the gender gap in cybersecurity would fulfil an urgent demand in the field that is only going to get bigger," said Leila Hoteit, coauthor of the study and a BCG managing director and senior partner. "It would also strengthen cyber resilience by bringing in diverse perspectives and would improve business performance.
"But at the current pace, it will take 130 years to achieve gender parity in the industry. The escalation in cybersecurity threats and their economic impact make it imperative that urgent action is taken to address this mismatch."
Actions that can be taken to close the cybersecurity gender gap include targeted STEM engagement for school students, ensuring a good work-life balance, and providing access to mentors, sponsors, and women's networks.
"The results of this report have shown that women are ready and prepared to fill the talent gap in the cybersecurity workforce," says Alaa M. Alfaadhel, Initiatives & Partnerships Lead at GCF. "With the right encouragement from a young age, women can not only begin to enter the industry but can also become leaders in their field."