Microsoft begins to roll out AI-powered Image Creator tool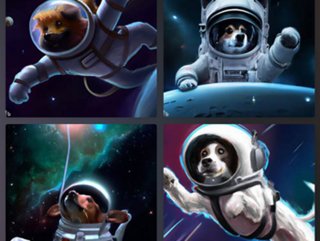 "Dog astronaut launching into space, digital art," powered by Image Creator
The new Image Creator tool, powered by Open AI's DALL∙E 2, allows users in select markets to create AI-generated images from Microsoft's Bing search engine
Microsoft has announced it is released its AI-powered Image Creator tool, which is powered by DALL∙E 2 by OpenAI, in what it describes as a limited preview in select markets.
According to a blog on Microsoft's website, Image Creator allows users to create an image that doesn't exist, limited "only by their imagination".
"Simply type in a description of something, any additional context like location or activity, and an art style, and Image Creator will make it for you," the blog reads.
"Users have always been able to search Bing Images for an image that exists on the web, but with Image Creator, they're now able to create the images they want to see. Within Edge, users can use Image Creator in their sidebar. They're able to create an image to share a life update with their friends online and drag and drop it within their main working page, all without losing focus on their workflow.
More than two million images created a day
Last month OpenAI announced that it removed the waitlist for its DALL-E AI image generator service, meaning anyone can sign up and use it.
According to the company, more than 1.5 million users worldwide are now using DALL-E to create more than 2 million images a day.
The tool is rolling out to Bing in selected markets, with integration with Microsoft Edge to come later this month. Microsoft says it will be free to use, but has outlined a content policy to prevent misuse.
"It's important with early technologies like Image Creator – which is powered by AI technology DALL∙E 2 by OpenAI – to acknowledge that this is new and that we expect it to continue to evolve and improve," the blog adds. "We take our commitment to responsible AI seriously. To help prevent the delivery of inappropriate results across the Designer app and Image Creator, we are working together with our partner OpenAI, who developed DALL∙E 2, to take the necessary steps and will continue to evolve our approach. We will regularly take the feedback we have and share that with OpenAI to improve the model as well as applying to our own mitigations work."
Microsoft last week revealed Microsoft Designer, which uses AI technology, including DALL∙E 2, meaning users are able to instantly generate a variety of designs with minimal effort.
According to Liat Ben-Zur, Corporate Vice President, Modern Life, Search and Device, the new tools will help users ignite their imaginations and express themselves.
"With Designer, there's no need to spend time building cards or social media posts from scratch," he said. "And you no longer need to search through thousands of pre-made templates.
"Designer invites you to start with an idea and let the AI do the heavy lifting. For example, with 'start from scratch' within Designer, you can simply describe an image you want to see, and the app does the work for you to create something totally unique. As you work in Designer, every surface of the app is powered by AI to help ensure consistent, aligned, properly scaled, and beautiful designs, even with or without any inherent design ability."