Oracle Red Bull Racing deliver an unrivalled fan experience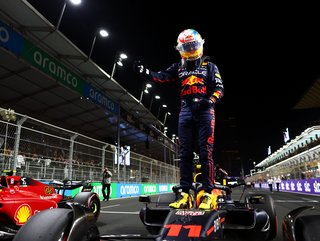 With fans and customers key to racing organisations, Oracle Red Bull Racing are taking the next step to create a unique engaging fan experience
A data rich industry, Formula 1 pushes the latest technological boundaries as well as speed. Oracle Red Bull Racing recently had one of its most successful seasons in recent years, achieving 23 podium finishes and Max Verstappen winning the driver's championship in 2021.
During last season, the team took advantage of Oracle Cloud Infrastructure (OCI), which helped them to increase the number of simulations they ran by 1,000x to improve the accuracy of their predictions and sharpen their decision-making.
An important part of the sport is decision making, allowing race strategists more time to make the right call, the team also accelerated simulation speed by 10x. OCI helped to reduce the cost of running billions of simulations, allowing the team to improve performance on the track, which is critical for success under F1's stringent spending regulations.
This season, OCI will enable the Oracle Red Bull Racing Team to expand the volume and variety of data they analyse and increase the speed at which simulations run in order to better predict tactics that will hopefully lead to the podium.
"The presence of Oracle, one of the world's largest cloud technology companies, as title partner not only signals huge confidence in Red Bull Racing's ability to lead the technology race on track, it will also enable us to drive forward our ambitions for fan engagement, a core tenet of our marketing strategy," said Oliver Hughes, chief marketing officer, Oracle Red Bull Racing.
"We want to take fans with us on our competitive journey in F1, putting them right at the heart of the racing action and Oracle's world class innovation and technology will help us achieve that goal."

Engaging fans on and off the track
Oracle Red Bull Racing has a vision to deliver the best fan engagement experience across the entertainment industry in a way only Oracle Red Bull Racing can, explained Amr Elrawi, Director, Sports Marketing and Business Development, Oracle.
With over 20 years of experience Marketing & Sales within the Telecom, Technology, Financial Services, and Sports industries, Elrawi is an award-winning commercially focused and data-driven business leader. In his current role, he helps sports organisations and partners to use data and technology to win and drive performance.
"At Oracle Red Bull Racing we're looking to shake things up in Formula 1 and set an example in sports and entertainment. They wanted to find ways, never before explored, to innovatively engage and reward fans, the lifeblood of their team," explained Elrawi.
In order to deliver value, they are developing a 'Win:Win:Win' strategy, for the fans, partners and the team. "A strategy that centred on a clear and compelling value exchange for fans to connect and engage with us. One that really emphasised the "partner" aspect of partnership. That boosted the team's energy and propelled us to win, on and off the track," he added.
Building a 'first of its kind' loyalty programme
Focused on understanding their fans at a micro level, Oracle Red Bull Racing is working to give them a personalised experience.
"We are not just looking to help Red Bull Racing deliver the best fan experience in F1 or in Sports, we are looking to deliver the best experience across all alternatives to that of fan's time and attention," said Elrawi.
Red Bull combines a number of Oracle products with the existing Red Bull Racing ecosystem, all interconnecting, to deliver what they have labelled the Fan Experience Platform. The aim is to increase the number of touch points Red Bull has with their fan base, to gain a 360 degree view of the fan, and build tailored experiences based on what the fan wants, when they want it and how they want it.

The creation of The Paddock
Along with its innovative on-track initiatives, Oracle Red Bull Racing is continuing to deliver off-track experiences to its global fan base. Last season, Oracle and Red Bull Racing launched a first-of-its-kind fan loyalty platform powered by OCI — The Red Bull Racing Paddock.
"The Paddock is for the fans, built from the ground up to thank the fans for their support. The Paddock is a completely free loyalty programme designed to engage and reward fans obsessed with Red Bull Racing and F1. No one in F1 has ever succeeded alone and The Paddock is the place for fans to feel a part of the community, part of the team and to feel acknowledged," commented Elrawi.
According to Red Bull, this new direct line of communication between fans and the team has created increased engagement, with registered fans submitting thousands of questions to the team and redeeming 35,000 digital rewards.

Elrawi explained how in sports it is important to reward fans for their engagement with your brand and how gamification is one of the key success factors of The Paddock.
"Last season Oracle Red Bull Racing ran a social treasure hunt by hiding codes on social media posts, and using those codes, you could redeem loyalty points. 18,703 codes were found hidden in our social treasure hunts by fans"
The Paddock has fans from all over the world from 189 countries. In the first week after launch, Oracle Red Bull Racing saw strong engagement with the platform with an increase in website accounts.
In 2022, the team is planning to incorporate new features and capabilities, including the ability to create user-generated content, to bring an even deeper layer of personalisation to fans.
Ariel Kelman, Executive Vice President and Chief Marketing Officer, Oracle. "Our commitment to this partnership reflects our belief that OCI is a strategic weapon on race day. It helps create the most exciting fan experience in sports, and can define the future of F1. Oracle Red Bull Racing is, and will continue to be, the most forward-thinking and innovative F1 team in the world."