T-Mobile and SpaceX announce satellite service partnership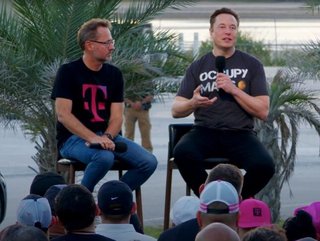 Two of the biggest names in technology - T-Mobile and SpaceX - have announced a new partnership, to develop a new, enhanced mobile connectivity service
Tech partnerships don't get much bigger than this.
T-Mobile and SpaceX have announced plans to partner, and create a satellite solution that will enhance connectivity for mobile users across America.
The plans for SpaceX and T-Mobile's new wireless connectivity project
The new direct-to-cell phone satellite services - which are due to be introduced next year - will use SpaceX's Starlink broadband satellites to bring better, more reliable connectivity to rural areas of America.
Mobile users that sit beyond the connectivity range of U.S. cell towers will soon be able to establish a direct connection - through ordinary mobile phones - with a fleet of around 30,0000 upgraded Starlink satellites.
Once launched, the solution will bring high-speed and reliable connection to America's current "mobile dead zones".
And, alongside the opportunity to greatly expand its outreach, this partnership may also help T-Mobile to improve the reliability of its services, by eliminating the risks of natural disasters that threaten cell towers.
According to T-Mobile, it is hoped that the beta phase of this new service should launch "as soon as late next year."
Currently, the vision is to use second-generation Starlink satellites to beam the frequencies, using 25 square metre antennas.
However, SpaceX has already come across a number of hurdles. Firstly, the Starlink V2 satellites are too large to be launched from the Falcon 9. So, according to Elon Musk, one solution might be downsizing the satellites to "a sort of Starlink V2 mini".
Alongside this, the Federal Aviation Administration also requires SpaceX to implement the required environmental measures, and the company will also need to be granted permission from the FCC.
"We have it working in the lab and we're confident this will work in the field," commented Elon Musk, the CEO of SpaceX.
And, if successful, the satellite-enabled nationwide coverage is likely to be included in the majority of T-Mobile's phone plans.
However, according to Musk, this project is primarily focused on bringing connectivity to isolated areas, rather than replacing existing cell towers.
"It's not a substitute for ground cell stations," added Musk, as "especially in urban and suburban areas [those] will definitely be superior to what we're talking about here."
"This is really meant to provide basic coverage to areas that are currently completely dead."