Tech CEO named in The Powerlist of influential Black leaders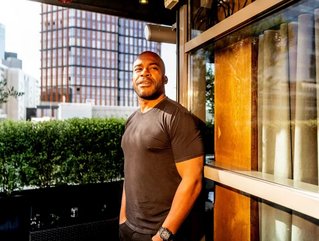 Swapping sports for business, Forterro CEO Dean Forbes has been recognised in an annual ranking of the most influential Black business leaders in Britain
Forterro Chief Executive Officer Dean Forbes has been named one of the three most influential Black people in Britain in an annual ranking of the most powerful individuals of African, African Caribbean and African American heritage working in British business, politics, technology and science.
Forbes secured second place on The Powerlist 2023, published by Powerful Media in partnership with J.P Morgan. He is joined in the top three by Dame Sharon White, Chair of John Lewis Partnership, who secured first place; and by Anne Mensah of Netflix. Steven Bartlett, entrepreneur and a Dragon's Den "dragon", also features in the top 10.
Twice homeless in London as a teenager, Forbes was driven by his early experiences to work his way from a junior call centre sales executive to his current position with European provider of software solutions Forterro.
"I describe the start of my career journey as a twice homeless failed footballer who found himself doing telesales to service a mountain of debt that he'd accumulated to keep up with football friends," Forbes told Business Chief in September.
"I have been lucky and I've been helped by a lot of people, but I've worked very hard," said Forbes. "I've done the hours because I don't want to be back in that situation. It taught me that you get up, you go to work. You don't spend time feeling sorry for yourself. I learned to be resilient – not to stop and ponder bad luck and misfortune and things that happen. So I get over difficult situations extremely quickly. I learned that it's a privilege to work."
Forbes' philanthropic work helped more than 1,170 young people
Forbes has delivered over US$2 billion in exits - most recently, Forterro changed hands in March 2022 for €1 billion, joining Europe's growing numbers of so-called Tech Unicorns, and making Forbes one of only a handful of Black leaders to run a billion Euro company.
The award also recognises Forbes for his philanthropic work with his foundation, Forbes Family Group (FFG), which provides investment, networking and development support to young people and entrepreneurs from under-represented backgrounds. FFG has helped more than 1,170 young people move from difficult situations into education or promising careers.
"To be recognised so highly in this year's Powerlist, amongst such esteemed talent is an incredible honour for me," says Forbes. "Minorities of all descriptions should elevate and celebrate their successes and be examples and guides to those coming behind them. For those of us who've found our way, let's now be there to offer coaching, support and opportunity for those starting out."
Forbes' earlier business transformation success stories include the international growth of US software firm Primavera, which was sold to Oracle; French software firm KDS, which was acquired by American Express; and CoreHR, which was bought by The Access Group. Forbes has also been named one of the UK's 50 most ambitious business leaders by Lloyds Banking Group and The Daily Telegraph. In October he was also named in The Best of Africa Awards, winning the prestigious Best in Business award.
Forbes is a board trustee of the London-based African Caribbean Leukaemia Trust and also a partner at Corten Capital, where he advises on European technology acquisitions and is also a member of the company's deal review committee. Corten Capital has said it will increase its support for founders and entrepreneurs from under-represented communities.
The Powerlist is published by Powerful Media and recognises and celebrates the most influential black people in Britain. It is produced in partnership with J.P.Morgan and sponsored by PwC, BP, the Executive Leadership Council, The London Stock Exchange Group and MasterCard and Meta. This year's Powerlist was chaired by former High Court Judge Dame Linda Dobbs, and the awards will be presented at the annual Powerlist Black Excellence Awards at The Savoy, London, today.