Webinar on how Production Health can protect your business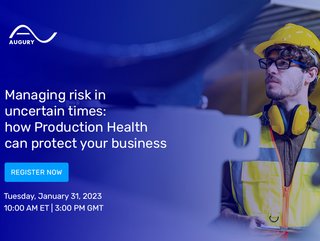 Experts from Augury and LNS Research discuss how businesses can manage risk in uncertain times through the power of Production Health
The economic outlook for 2023 is anything but certain. As financial conditions tighten, how will you manage the risk to your business? Is there a way to protect your people, the planet, and your profits during times of economic instability?
Join Bizclik in this webinar to discover how Production Health can help eliminate the biggest risks energy-intensive industries are facing, by combining AI-driven insights across machines, processes, and operations to create a more holistic view of production lines than ever before.
Called 'Managing risk in uncertain times: how Production Health can protect your business', the webinar will focus on the main drivers of Production Health: Machine Health and Process Health, how manufacturers are tackling the Production Health challenge, from pilot programs to successfully scaling up, and how Production Health can boost sustainability.
Speakers include:
James Newman, who is Director of Market Strategy at Augury. With over 20 years of experience across engineering, manufacturing, and technology adoption, James brings a customer-focused outlook to understanding how technology impacts organisational outcomes. James' experience has spanned numerous industries, including energy, water, manufacturing, marine and mining; focused on understanding the real challenges within organisations and how digital solutions can augment and accelerate organisational and cultural transformation.
Bob Francis, a Research Analyst and Advisor with LNS Research, focused on several Industrial Transformation (IX) coverage areas, including, Autonomous Operations, Asset Performance Management (APM), Risk Management, Artificial Intelligence (AI) and Machine Learning (ML), Automation, Operational Excellence, and more. Bob has more than 25 years of experience in industrial technology and software and has held executive positions at companies, including AspenTech, Meridium (now GE Digital), Asset Performance Technologies, QiO, Lloyd's Register, and Uptake.
Allison Kuhn, who is a Research Analyst and Advisor with LNS Research. Her research focus within IX includes Environmental, Health and Safety (EHS), Sustainability, and Future of Industrial Work. Allison has over 20 years of experience in process/project engineering from her time with Riverwood International and the US Air Force, emergency crude oil management at the US Department of Energy Strategic Petroleum Reserves, and chemical industry leadership at companies such as Dow, Olin Corporation, and Huntsman Corporation. Throughout her career, Allison has helped process manufacturing companies with strategy development, Digital Transformation initiatives, and employee development.
The webinar will take place on Tuesday, January 31 2023 at 3:00 pm GMT.