Webinar on the Top Tech Trends for IT Leaders in 2023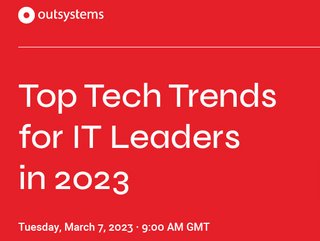 Experts at OutSystems and Gen Re Insurance will be sharing their predictions about the top enterprise IT and software development trends to watch this year
With a new year comes strategic planning, budget allocation, and selecting technology to support your 2023 roadmap. What are the top tech trends of 2023 that can help guide these decisions?
Join us in this upcoming webinar, 'Top Tech Trends for IT Leaders in 2023', for an inside look into our expert's predictions for the top enterprise IT and software development trends that can make a difference for your company.
Some of the topics we'll discuss include:
The top 5 technology trends impacting enterprise IT and what they mean for your organisation
How IT teams can lean in and positively impact their organisation's bottom line
Why the future of application development is high-performance low-code and how it can complement your tech strategy
How other IT leaders are thinking about their priorities for 2023
Seakers include:
Miguel Lopes, who is Vice President, Platform Strategy, OutSystems. A passionate product owner, Miguel is focused on creating value for enterprise customers through business-focused technology. After 20 years in software in the US, Europe and South America, he is currently crossing the chasm for RADically faster technology that revolutionises the creation and delivery of enterprise applications for mobile or web.
Tiago Azevedo, Chief Information Officer at OutSystems, has more than 20 years of experience, the first 10 in Management Consulting with Accenture, and the latter as a CIO across bluechip companies in several industries. Today, as CIO at OutSystems, he is responsible for leading the Digital Team to build a world-class business architecture that secures a frictionless experience for our customers.
Ragu Srinivasan, Head of Rapid Delivery Services, Gen Re Insurance. Ragu Srinivasan is a head of rapid delivery services managing low code application development platform along with DevOps and Robotics automation for Gen Re. He has extensive experience in designing, architecting, and building solutions to meet customer needs. He is with Gen Re since 2015. Ragu lives in Howell, New Jersey and holds Bachelor's degree in Computer Engineering from M.S University, India.
The webinar will take palace on Tuesday, March 7th at 9 am GMT.