5G, IoT and the near future of mobile technologies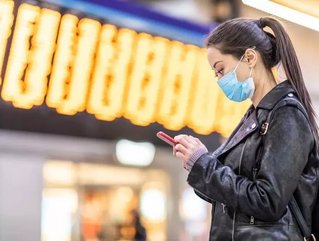 As 5G and IoT technologies edge closer to the mainstream, we take a closer look at the next five years for mobile technologies...
The COVID-19 pandemic has in small part been mitigated by the maturation of mobile technologies which have enabled the social distancing necessitated by the virus. Whether that's internet of things (IoT) devices being used to sense (a key indicator of infection), or the continued rollout of next generation 5G communications technology enabling lower latency and high-speed connections useful for video communications.
Many point to technology as being, aside from a vaccine, one of the key methods of emerging from the pandemic. Take Apple and Google to contact tracing, using the bluetooth capabilities of mobile phones to track proximity and provide notifications to those who have spent significant time near someone later confirmed to have COVID-19. As the importance of mobile technologies is reiterated by the pandemic, it's worth considering the directions such technologies are taking through COVID-19 and beyond.
5G
5G has been a constant in the public conscience for a while - at least since the announcement of the first 5G-enabled smartphone by Samsung in early 2019. The recent reveal of a suite of 5G iPhones from Apple has brought the mainstream advent of the technology a step closer, but even now consumers remain sceptical. A recent for simulation firm Ansys shone the light on customer attitudes towards 5G, with key findings including the fact that only 13% of UK consumers own a 5G-enabled device. Meanwhile, 47% said that 5G's benefits will be overblown and 37% said it would be too expensive. Despite these tidings, the faster connections enabled by 5G were 5G's most appealing feature to 58% of consumers.
Like all technology trends, however, overuse has led to devaluation of the term, as Chris Newall, Chief Commercial Officer, Indigo Telecom, explains: "The 5G currently being rolled out today (known as "NSA – Non Stand-Alone Mode) is effectively just an upgrade to the radio interface on the existing 4G network. The real benefits are only realised when we move to true 'SA – Stand-Alone' mode with a new 5G core and link that to a massively 'densified' cell-site infrastructure." Implementing SA demands far more infrastructure, due to 5G radio frequencies decaying over short distances as a trade-off with their high speed. "True SA requires the deployment of thousands of new compact base stations in buildings, on lamps-posts, on rooftops - in fact, just about anywhere where we need a high-performance signal. It also requires connecting them over fibre-optics to new compact 'Edge Data Centres' where the smarts to process the signals will be housed."
That endeavour has been made more difficult by the removal of market leader Huawei from many nation's 5G networks, with , due to concerns about Huawei's perceived closeness to China's ruling party compromising national security. Before that, the UK, which originally decided to allow Huawei into non "core" elements of its 5G network, mandated that all Huawei technology be removed by 2027 at the latest.
That's led Western companies to rapidly build up their own 5G infrastructure capabilities to fill the gap. Nokia and Ericsson, for instance, by French telecom company Orange to manufacture its 5G network equipment in France. And in July, Ericsson delivered its first ever US-manufactured 5G base station to telecom giant Verizon.
IoT
It's hard to discuss 5G without also mentioning IoT technology, with the two feeding into one another. As the lower-latency and higher speeds of 5G proliferates, IoT devices from drones to medical devices to are making use of the technology to do more than ever before.
An increasingly connected world is, however, leaving the door open to new forms of cybersecurity threats, particularly when it comes to IoT. Nokia's recent found that 33% of infected devices are part of the internet of things, up from 16% in 2019. Bhaskar Gorti, Nokia Software President and Chief Digital Officer, said: "The sweeping changes that are taking place in the 5G ecosystem, with even more 5G networks being deployed around the world as we move to 2021, open ample opportunities for malicious actors to take advantage of vulnerabilities in IoT devices. This report reinforces not only the critical need for consumers and enterprises to step up their own cyber protection practices, but for IoT device producers to do the same."
This new age of technology requires a new level of vigilance, as Boris Cipot, senior security engineer at Synopsys, explains: "We are now entering a new era of technology; that is the 5G era, which brings along with it another set of threats. The world of IoT is evidence that we are still a long way from achieving this. Breached baby monitors, video cameras, cryptocurrency mining… all of these are recent incidents we have faced and continue to face."
With the COVID-19 pandemic accelerating the rollout of mobile technologies, the problems that remain are all centered around security, whether national or personal. Regardless, 5G, IoT and other mobile technologies will be a key force in creating the post-pandemic world.