At-Bay partners with Microsoft to improve SMB security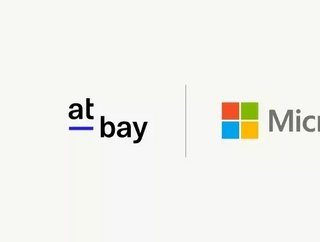 This collaboration between At-Bay and Microsoft will help businesses mitigate the most common cyber risks and encourage stronger SMB security
Microsoft and At-Bay's partnership will strengthen the cyber security posture of its customers in a time when cyber attacks are becoming more common. By partnering together, Microsoft and At-Bay are improving security for their customers.
Insurance company, At-Bay, combine world-class technology with industry-leading expertise to create an insurance company that empowers businesses to thrive in the digital world.  Customers can now save up to 15% on their At-Bay cyber insurance policy premium by utilising Microsoft 365's built-in security controls and comprehensive security services.
With the aim to encourage stronger server message block (SMB) security, customers will also be able to manage cyber risk with At-Bay's free active risk monitoring.
"An insurance policy is an effective tool to articulate the impact of cyber security choices on the financial risk of a company. By offering better pricing to companies who implement stronger controls, we help them understand what matters in security and how best to reduce risk," said Rotem Iram, co-founder and CEO of At-Bay. 
"Working with Microsoft enables us to educate customers on the powerful security controls that exist within Microsoft 365 and reward them for adopting those controls," he continued.
Mitigating simple cyber attacks with Microsoft and At-Bay
SMBs are targeted by opportunistic hackers exploiting common vulnerabilities. It is on rare the occasion that they face more complex attacks.
Simple attacks can often be mitigated by implementing a handful of high priority security controls available within Microsoft 365. 
"Being at the forefront of technology and innovation for more than four decades, Microsoft has watched cyber security grow from a highly specialised and niche topic to a daily concern for every business in America," said Ann Johnson, corporate vice president of Security, Compliance & Identity (SCI) Business Development at Microsoft.
"As innovators in their own industry, At-Bay is in a unique position to help Microsoft drive meaningful change in consumer behaviour and help more businesses stay secure."
Raising the bar on SMB security 
To protect users from SMB attacks At-Bay actively monitors the network security of every business it insures. This is at no additional cost and throughout the life of the policy.
When a new cyber vulnerability is identified, At-Bay's security team notifies the insured and provides actionable recommendations to swiftly mitigate the risk. 
Companies insured by At-Bay experience ransomware claims seven times less frequently than the industry average. This is due to the company's combination of technical underwriting and active risk monitoring.
To encourage uses to adopt At-Bay's services to reduce the risk of cyber crime, customers using Microsoft 365 are eligible for savings on their At-Bay cyber insurance policy premium. 
This is if they implement certain security controls and solutions, including multi-factor authentication and Microsoft Defender for Office 365 Microsoft 365 Business Premium.
With a mutual understanding that businesses now need holistic strategies that address both cyber security threats and business risks, At-Bay and Microsoft are actively working together to identify additional ways to improve the digital risk exposure of their customers.