Facebook and Google to submerge internet connectivity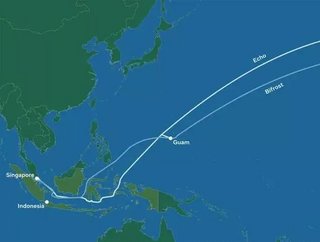 Tech firms Facebook and Google are funding two new undersea Internet cables from the West Coast to Singapore and Indonesia...
For once, rather than dropping waste into the world's oceans, we're putting something productive down there. Tech giants Facebook and Google are waiting on regulatory approval to pour money into the pacific ocean in the form of subsea internet cables. 
On Monday, the companies announced that they're funding two new cables ─ named Bifrost and Echo, respectively ─ that will link America's west coast with both Indonesia and Singapore, with a brief connection at Guam, a United States overseas territory in the region. The two cables, which connect Southeast Asia's biggest economy with North America, are set to increase the data capacity between the two regions by approximately 70 per cent and will improve Internet reliability as a whole, according to . 
"We are committed to bringing more people online to a faster internet," Facebook's Vice President of Network Investments, Kevin Salvadori, and Network Investment Manager Nico Roehrich wrote in a joint blog post. "As part of this effort, we're proud to announce that we have partnered with leading regional and global partners to build two new subsea cables — Echo and Bifrost — that will provide vital new connections between the Asia-Pacific region and North America."
Let's Talk Money 
Although the cost of the projects has not been disclosed due to unsigned regulatory approvals, details given during the announcements revealed that Facebook would be plunging money into both cables, while . 
According to Bikash Koley, VP of Global Networking at Google Cloud, "Infrastructure investments such as these can have a substantial, measurable impact on regional economic activity. For instance, according to a between 2010 and 2019, network investment there led to 1.1 million additional jobs and an extra $430 billion (USD) in aggregate GDP for the APAC region.
"Echo's architecture is designed for maximum resilience: Its unique Trans-Pacific route to Southeast Asia avoids crowded, traditional paths to the north and is expected to be ready for service in 2023. We look forward to the expanded connectivity that Echo will bring to Southeast Asia, enabling new opportunities for people and businesses in the region," Koley adds. 
Not Their First, Not Their Last
While it's an amazing technological feat, we'd be amiss to claim that it's a first or an exclusive project. Facebook and Google have both been under the sea for quite some time now and most recently abandoned another cable project back in September 2020, when the Trump administration announced national security concerns around laying cables between North America and China. At the same time, Facebook gave up on its plan to link Hong Kong and San Francisco with the very same cables ─ eventually leading to the complete on March 10th of this year. 
While that seems like doom and gloom, I should add that Facebook is currently working on a project that involves laying a huge undersea cable around the entire African continent. On the other side, Google recently announced that the , connecting the US and mainland Europe, is ready for service; the tech behemoth is also working on the , which will run from Portugal to South Africa. 
Below, provided by the , is a map that allows you to explore the hundreds of subsea cables that lay at the bottom of the oceans, all around the world. 
The Overarching Narrative
Subsea or submarine cables are, in essence, one of the most crucial components of the modern world's tech infrastructure. In an increasingly digital age, where mobile phone and data usage are peaking to heights never seen before, and companies strive to adopt cloud operations across business processes, subsea cables provide powerful, change-enabling Internet access to people all around the world. You could argue that their development and installation is one of the most revolutionary developments since the Internet ─ as we know it ─ first came into existence.
So when your Internet slows down a little, just remember that companies like Facebook and Google are doing their very best to ensure that in the world of tomorrow, there is no lag at all.