Facebook's WhatsApp to offer business cloud hosting services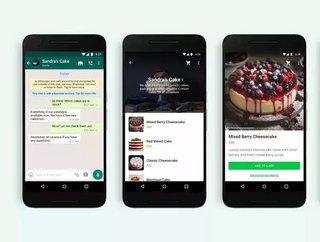 Messaging app WhatsApp has announced a number of upgrades to its WhatsApp Business offering...
Messaging app WhatsApp has announced a number of upgrades to its WhatsApp Business offering.
WhatsApp was acquired by Facebook in 2014 for $19bn, and has remained a popular choice for messaging, stemming in part from end-to-end encryption. 
Now, Facebook is moving ahead with plans to monetise the service, providing businesses the option of managing WhatsApp messages via Facebook cloud hosting services. The announcement came alongside news that it would also begin to offer in-app purchases via Facebook Shop straight from a chat.
According to , the shopping feature is slated to rollout this year, while message hosting is to become available in 2021, initially being offered for free.
WhatsApp has provided a Business app and API for the last two years in recognition of the number of businesses that utilise WhatsApp for different purposes. According to the company, more than 175 million people message a WhatsApp Business account every day, with it being one of the preferred methods of customer support.
In , the company said: "The global pandemic has made clear that businesses need fast and efficient ways to service their customers and make sales. WhatsApp has become a simple and convenient resource in this time. More than 175 million people every day message a WhatsApp Business account. Our research shows people prefer to message a business to get help and they're more likely to make a purchase when they can do so."
The move also builds on that Facebook may be trying to build its own cloud business. Facebook is alone among American big tech firms in not offering such a service, with Microsoft's Azure, Amazon's AWS and Google GCP all being highly lucrative. This initiative is a baby-step compared to those offerings, however, simply offering clients the capability of storing messages on Facebook servers.
(Image: WhatsApp)