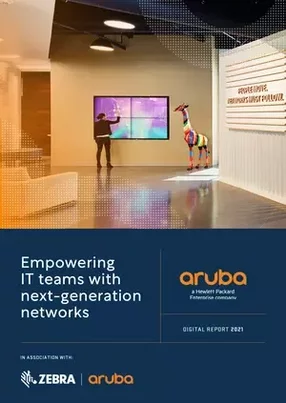 Aruba: empowering IT teams with next-generation networks
In a time of accelerated digital transformation, Dobias van Ingen of Aruba discusses how the company has adapted to meet the needs of its clients
With leading expertise in Edge technology, Aruba, a Hewlett Packard Enterprise company, is dedicated to supporting industries as they digitalise. As more and more companies look to Edge and cloud solutions to improve their operations, Aruba aims to facilitate a seamless edge-to-cloud journey. 
To do this, the company makes networking equipment such as wireless access points, switches, gateways and controllers for security. Adding to this portfolio of technologies, Aruba also designs and develops software to drive new and innovative connectivity experiences for its customers.
Dobias van Ingen, Europe, Middle East and Africa (EMEA) Chief Technology Officer and Systems Engineers Senior Director explained how the company is keen to create a digital future for the "next generation" within the industries Aruba supports. He explained: "We achieve this with best-in-class hardware and top of the line security." 
Discussing the company's merits, van Ingen added: "What is special about Aruba is that we have a very unique culture, which is customer-first customer-last. There is the opportunity to try new things and when people make mistakes, they can just try again. The culture is unbelievable – I've never experienced anything like it."
Building strong customer relationships to improve services 
Undoubtedly, being a technology supplier comes with its challenges, especially in a time where the landscape is rapidly changing, and new innovations are constantly coming into play. 
As his role involves unpicking the needs of Aruba's customers, van Ingen understands how essential it is to ensure the company listens to its audience to ensure its products are always up to speed with the latest developments. 
With salespeople working with customers, managed service providers that implement Aruba's products and technology partners who adapt its products for certain industries, van Ingen works closely with all stakeholders to uncover valuable insights: "I can use the information they provide to find a common denominator between all the industries to improve our products more efficiently." Doing this also allows for faster issues resolution. 
Van Ingen said: "We need to make sure we solve any problems with our products quickly, whether the solution is simple or complex, as it impacts our customers' businesses. We build strong relationships with our partners and end users so we can work together on this. This aligns with our customer-first, customer-last approach."
Adapting to the new technology landscape
Having recognised a sizable shift toward digitalisation and rapid increase in innovation, particularly in the education, built environment and healthcare industries, Aruba is keen to adapt its products to keep them fit for purpose.
"As a company we need to make sure that we build flexibility within our products, adding new functionalities to allow for fast digital adoption, whilst ensuring they are of high quality," said van Ingen.
Adding to this, van Ingen explained the company wants to reflect IT's growing relevance with this flexibility: "If digital transformation continues to accelerate at pace, then IT will become increasingly important. It's not just a back-end function anymore. All of a sudden, IT is part of the go-to-market and core business of the company. IT needs to provide the same flexibility that the end user expects and that is what Aruba is trying to enable."
"I think we've been successful in doing this and making IT relevant. We have grown massively over the past few years. We empower IT teams to provide flexibility and accelerate digital transformation within their organisations," he continued.
Strategic partnerships for success
Dedicated to its "customer-first, customer-last" approach, Aruba has invested in a strategic partnership with Zebra Technologies to ensure its customers receive the best service possible.
Zebra Technologies is a global leader in mobile computing, barcode scanning, RFID, thermal printing, plus location, temperature and motion sensing technologies that elevate the shopping experience, track and manage inventory as well as improve supply chain efficiency and patient care. Zebra empowers the front line in retail/ecommerce, manufacturing, transportation and logistics, healthcare, public sector and other industries to achieve a performance edge - delivering industry-tailored, end-to-end solutions to enable every asset and worker to be visible, connected and fully optimised.
The company connects its customers to the data they require. Additionally, Zebra's services optimise workflows, operations, and decisions in real-time to support digital transformation in business.
This collaboration is essential to Aruba's operations. Discussing it, van Ingen said: "We have a very strategic relationship with Zebra and we build things together. Zebra improves our services. They can help our customers with issues we might not be able to, and vice versa. This creates a mutual support experience that benefits our customers."
And the partnership doesn't just improve the company's customer operations, but by using Zebra's technology, Aruba can also ensure it has best-in-class products. 
van Ingen explained: "Zebra's scanners are used in many of the industries we work in – especially healthcare – so it is vital the data they provide is accurate. We test our devices with Zebra to ensure they operate perfectly with each other and that the data they produce is correct."
Meeting the needs of the customers now and in the future
Aruba is constantly evolving and adapting to meet the needs of its customers. With this mindset, van Ingen explained how the company plans to expand its services further: "We have so much knowledge in networking. Now we want to consider how we can improve and adapt our services. We're looking into self-driving networks, and networks that provide better advice to administrators on security, optimisation and efficiency."
"We are even investigating a closed-loop approach so if we see a problem, we can automatically fix it. We already have a few of these things in our infrastructure, but the amount of these technological advances we use will definitely accelerate over time," he continued.
Despite these ambitious goals for improvement, van Ingen shared that Aruba is committed to ensuring its services maintain the same high standards the company has always strived for. Expanding on this, he explained: "Aruba wants to deliver best-in-class hardware, so quality will continue to be important to us. We also need to make sure that we have networks that are flexible for certain lifestyles and allow for fast upgrades to facilitate different industry needs. When we can do that, we can make it easier for organisations to add this new hardware at the edge of the infrastructure. That's where the hardware works fastest most of the time."
By enabling industries to incorporate Edge technologies into their operations, Aruba is facilitating digital growth with significant benefits. Edge computing can futureproof the new digitised workplace, making businesses more agile and putting computing power closer to where people can use it, in order to enable organisations to offer more services at a lower total cost.
To ensure the company remains competitive and successful van Ingen explained Aruba wants "to build hardware for the future."
"To do that, we monitor and invest in a lot of standardisation to make sure that we build networks at the right time at the right cost. We also want to ensure the networks are so flexible that you can keep adding new innovations at the edge of the infrastructure," he concluded.