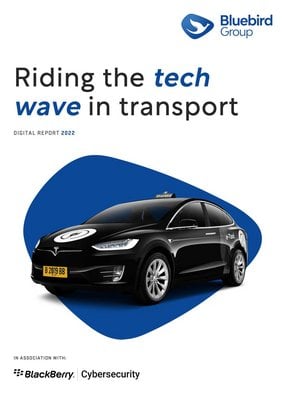 Blue Bird Group: riding the tech wave in transport
Andoko Wicaksono, CIO of Indonesia's leading transportation company Bluebird Group, explains how 50 years of technology built a world-class business
With well over a quarter of a billion residents and a capital city housing more people than London, Indonesia is a market primed for rideshare startups.
These new arrivals are, however, overshadowed by one company that's been instrumental to the nation's development, synonymous with both taxicabs and technology.
Jakarta-based Bluebird Group celebrates 50 years in business this year. Beginning life as a startup in 1972, founder Mutiara Djokosoetono had a specific vision from the outset: to generate a culture that would fully embrace technology.
The company can point to a number of historic firsts – in the 1970s, Blue Bird Group was the first transport provider with a call centre in Jakarta. And, making use of one of the earliest mobile tech platforms, the Group worked with BlackBerry's parent company, Research in Motion, in 1997 to allow people to call for transport using the handset as a data device, rather than simply phoning in the call.
Today in 2022, the company is continuing this technological journey and heading off competition from more recent startup rideshare companies.
"We are a provider of taxi services, above all, so we make sure the clients receive privileged service," explains Andoko Wicaksono, CIO of Bluebird Group. "This starts with the ease of ordering a taxi, the promptness and cleanliness of the car, the courtesy of the drivers when they greet the customer, and more.
"In Indonesia, we are very famous on that front – for clean, honest and high-level service."
Blue Bird Group puts people first with technology
Wicaksono explains that Bluebird Group's modernisation plans place people firmly at the forefront. With more than 20,000 vehicles and drivers working for the company – in addition to millions of customers – people are an important part of its continued success.
"We are also committed to being secure by design; we're always thinking about security, how it's done, and how it works with policies and controls," says Wicaksono. "Furthermore, we're agile and committed to continuous improvement. We need to maintain the investment in our people, and the team has to embrace the job."
Placing trust and reliability at the centre of Blue Bird Group's transformational plans, though, presents a challenge: finding the right balance between customer integrity and providing the best possible services.
"People should be able to trust us to handle their data in a secure manner," says Wicaksono. "For example, when you submit data on our website or in our apps, we should handle the data correctly and not share it; if we move the data from different environments, we have to be secure."
Blue Bird Group already utilises cloud platforms for data storage, but it also has 40 physical sites across Indonesia that must be networked into the company in a secure manner.
"As you can imagine, there are a lot of challenges in managing communications between the sites – particularly the remote sites where communications systems might not be as advanced as in Java," explains Wicaksono. "So the priority is still security, even though we may sacrifice, for example, speed. But that isn't that much of a sacrifice, as the infrastructure is improving."
A passion for programming drives technology ambitions
Wicaksono hails from a technology background – he co-founded London-based Switchlab, which focused on the R&D aspect of telecom technology, then went on to take a range of influential CIO and CTO roles in telecom companies and startups, before joining Blue Bird Group in June 2022.
And his love for technology extends beyond the office, as Wicaksono has built his very own home IT lab to test hardware and software, while having fun at the same time.
"I have a passion for robotics, so I have a number of small robots at home," grins Wicaksono. "I also have a passion for programming on Python, so I have some Raspberry Pis to help with home automation."
While the home lab initially grew out of Wicaksono's curiosity about tech hardware and software, he found that it also helped to effortlessly maintain his excitement for programming and coding, despite the considerable demands on his time from other business areas.
"But family and friends don't go in my lab," says Wicaksono with another smile. "It's my den."
During a storied career, he's faced his fair share of challenges – but one of the most significant came when he was compelled to understand a great deal more about the business processes required to keep a company on the road to growth.
"It's always changing, always evolving," says Wicaksono. "I've watched the process of seeing simple ideas grow into a sustainable business. Every day is different, and it's a constant adventure."
Wicaksono describes his leadership style as direct, leading by example; so, while he confidently delegates tasks for greater corporate efficiency, he still takes the time to lead projects in a hands-on way to inspire his team.
"For example, we had an emergency situation where our taxi dispatch system went down at three in the morning," explains Wicaksono. "I quickly jumped on a conference call with the senior management team to discover the progress, then passed on the information to stakeholders and customers. When my team saw me working hard to fix this, it made them realise the importance of working hard on all of these issues."
The challenges of taking tech into the boardroom
While Wicaksono may spend a lot more time in the boardroom than he did previously, he remains excited about technology and strongly believes it offers the solutions required by businesses looking to compete, survive and thrive..
"AI and automation are liberating employees to perform higher-value tasks than before, which means a company can become more strategic, more creative and identify more ways to meet business goals," explains Wicaksono.
"If you have some tasks that are freed up by using AI, people can be more creative via increased strategic tasks, rather than the routine tasks that will have been replaced by AI."
But it's not just employees who need to learn to love technology, says Wicaksono, considering it a worthy goal to ensure C-suite executives also know the important details of complex technologies.
"The ability to demystify technology is, I think, crucial for a CIO," he states. "I must demystify the subject for other leaders to make sure that the business becomes a catalyst for tech adoption."
This is important because more IT decisions are being made by business executives, rather than the IT department that may have had that responsibility in the past. It's right that IT purchases are made with business goals in mind, but these executives need to understand the technologies to be able to apply this to the right tasks and business processes.
"For example, a decision to have a CRM is not made by the IT team but, more often, by the marketing team," says Wicaksono. "And I think this is a very good thing – now, we understand more about our customers. The employee at the front of the business is a leader of the business in their department and is unlikely to be part of the IT team."
Disruptive technologies at the forefront of cyber security
Due to its exposure to external networks and consequent points of vulnerability, cybersecurity is a fundamental part of the company's daily operations. Such measures have become a critical part of the business, preventing infiltration and data stealing from bad actors
Other disruptive technologies – including artificial intelligence and edge computing – are being integrated into the company as and when required, according to Wicaksono.
"The exception is for the Internet of Things (IoT), which we implemented years ago," he explains. "All our taxis are equipped with IoT devices that, for example, monitor the fatigue of the driver; if a driver shows fatigue, we can see that to then alert both the driver and the system itself, allowing action to be taken."
Customer expectation has never been higher in the transport and taxi sector. People are looking for personalised services alongside the ability to make bookings without speaking to a human support worker.
"One of the clearest advantages of digitisation that we've been able to implement are robust digital tools and strategies – and this will lead directly to increased customer satisfaction," explains Wicaksono.
Bluebird Group engages with a range of partners in marketing, distribution and technology to aid in its mission. Technology transformation presents a new challenge: combining these multiple elements and the unavoidable complexity that results.
"It's the end of the 'one-stop shop'," says Wicaksono. "One of the most important trends is to have specialties. Our preference is for partners that have a speciality in their own domain."
BlackBerry's AI software keeps malware at bay
Bluebird Group knows the leading-edge security features in Blackberrys' mobile platform from the time they implemented Indonesia's first taxi reservation Blackberry app in 2011. Bluebird Group has continued this relationship, working with the Canada-based technology provider to combat cyber threats. "We are leveraging BlackBerry's AI software to protect and prevent malware, using enforcement of device policy," says Wicaksono. "BlackBerry is a very valuable partner and gives us peace of mind while conducting business.
The next 12-18 months are going to present challenges – some of which will also be seen across various industries around the world, while others will be unique to the company or industry's geographic focus.
"Here in Indonesia, we have new competition in terms of mobility and ride-hailing," he says. "There are newcomers here already; more will arrive in the next year and a half. But we already have a very strong foundation, and we're looking to innovate with disruptive technologies in the future.
"Now, we are planning the next five-10 years. We're very satisfied with the foundation we've laid down, but we're not complacent; we need to be vigilant to meet future competition in the market as well as anticipate changes to regulations by the government."
Electric vehicles and mobility as a service are the future
Within his role as CIO, Wicaksono is also charged with keeping a close eye on emerging trends in the industry, identifying two that are of particular interest to Bluebird Group.
"One is electric vehicles (EV) and growing demand from the public that public transport should make use of EV to reduce greenhouse gas emissions," explains Wicaksono. "We already have some EV electric vehicles in our fleet and that number is growing."
The second trend is servitisation, where customers pay for a service rather than buy the equipment, and this is affecting all industries – including the taxi sector.
"Increasingly, people are using what is called mobility as a service (MaaS) to meet their transportation needs," he says. "MaaS operators will be the future, and that will be the same for us."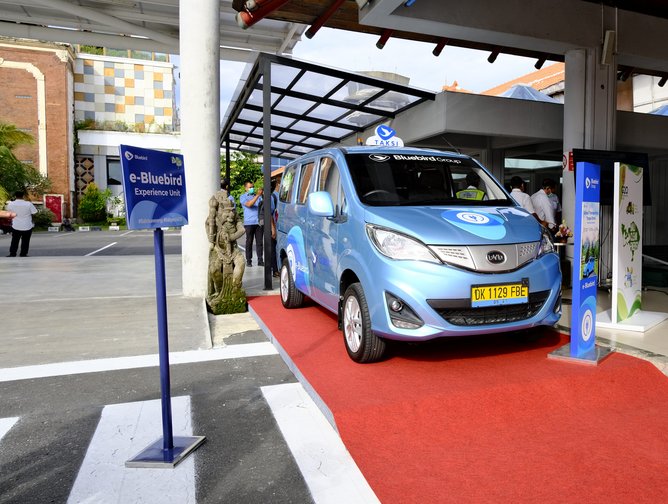 PT Blue Bird Tbk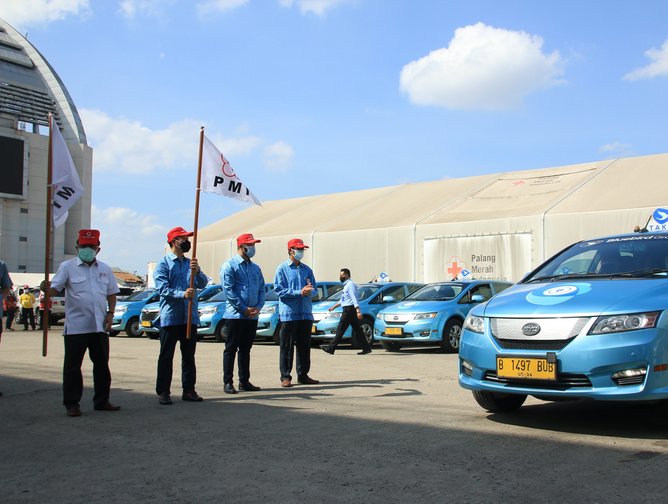 PT Blue Bird Tbk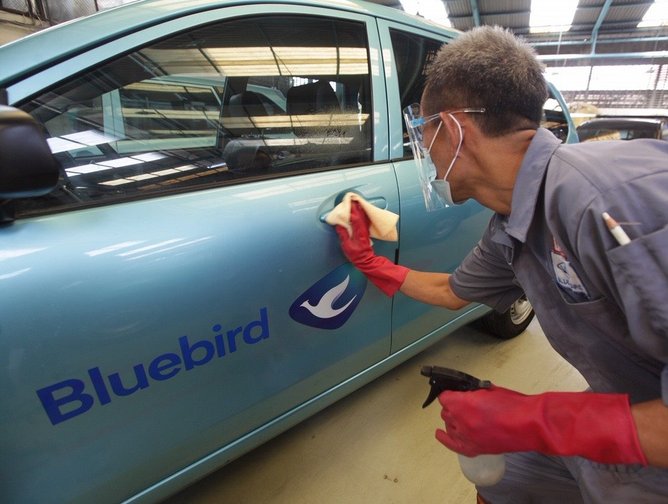 PT Blue Bird Tbk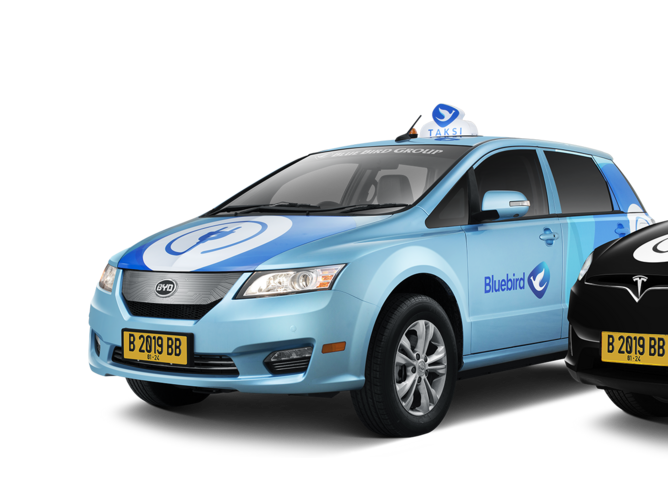 PT Blue Bird Tbk