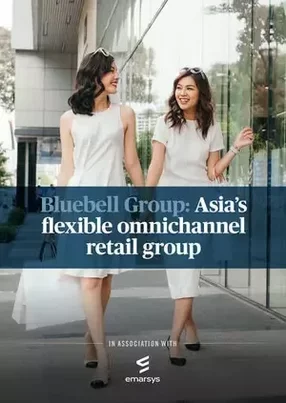 Bluebell Group: change management and digital transformation of omnichannel brand curation
Alex Misseri, Head of Digital Transformation and Revenues at Bluebell Group, discusses how the company is using digital transformation to enable cutting...
Since 1954, Bluebell Group has become a name synonymous with Asian retail. Having successfully launched a broad array of European, American and other global brands in the region, Bluebell has amassed over 150 brand partners with more than 700 online and brick and mortar stores across 10 Asian countries. Responding to the advent of the digital age and the concept of New Retail – the need for retailers to have both an offline and online presence to maximise the prospects of their offering – is an ongoing endeavour that requires dynamism and market expertise to accomplish successfully.
"It's a challenge to conduct a digital transformation with one brand in one country, but it's quite a different challenge when you have as many brands across as many countries as we do at Bluebell," says Alex Misseri, Head of Digital Transformation and Revenues at Bluebell. "It's a bigger challenge, but it's also a bigger opportunity. The value of being a multi-brand distributor in so many countries is that we have so many points of view and ideas that can be taken into account both on a local and group level." Seamless integration of online and offline presences, Misseri adds, has become vital to launching and growing brands in Asian markets. "The mission is to enable the group to curate the brands we work with in a modern way. We nurture these brands and help them develop their presence online, both from a marketing and sales point of view."
Bluebell has positioned itself to achieve these aims through constant evolutions in both its back-end and front-end technological capabilities. "Over the last few years we have introduced a number of new customer-facing technologies: from handling our brands' social media presence to managing ecommerce and customer relationships," explains Misseri. Emarsys, a leader in the B2C marketing automation space, has provided its state-of-the-art marketing software in addition to Bluebell's customer relationship management (CRM) engine, optimising the group's capacity to leverage data to understand its customers and personalise its communications. These solutions complement the group's integration of its preferred ecommerce platforms, Shopify and Magento, along with other Asia-specific ones. "Most of, it not all of, the consumer-facing tools that we use are in the cloud," says Misseri. "For back-end applications, however, we manage the hosting by ourselves across various data centres in Asia." In fact, Bluebell Group has adopted an in-house approach to many facets of its digital transformation, including its overhaul of back-end operations and change management. "We have not engaged a consulting firm to assist us with the transformation," says Misseri. "We decided to organise, lead and execute it completely internally."
One example of this has been in managing internal culture shifts involved in the application of new technologies. Recognising the importance of developing a positive change-oriented culture, Bluebell has conducted a range of workshops to ensure that staff at all levels, from executives and leadership teams to sales and store employees, understand and embrace the digital transformation. Misseri notes that these workshops have taken on a collaborative element, enabling staff to share ideas and identify areas for adaptation and growth. "We know that the people serving customers – sales people, retail managers, marketing managers – are those who can best identify and express the need for change. The workshops between the staff and top management create a common understanding of what we perceive to be the evolution of the market and customer needs, and how we believe those needs should be addressed." Misseri highlights the success of this strategy as a key component of the wider transformation's achievements, emphasising how vital it remains to the ongoing process. "Everyone in the company acknowledges the need for change and has aligned with the vision," he says. The most difficult part of a digital transformation is the people aspect. Having people accept the situation, the need for change, and contributing to developing the strategy and to executing it will lead us to where we need to be."
This people-driven attitude permeates Bluebell's digital transformation strategy, with a particular focus on establishing solutions internally that maximise the value of consumer information and insights. "We are investing more resources and money into analysing customer data, but are still at the beginning of our journey," says Misseri. "We have the main building blocks in place, and have begun analysing data to inform business decisions. For instance, our work with Emarsys, through the CRM component, is helping us to better understand our customers. We are also trying to incorporate social listening based on AI." Artificial Intelligence is starting to be leveraged in various parts of the business: "We are currently doing a proof of concept with Chain of Demand in order to predict demand for various products based on historical primary data and various types of public data, in order to improve what we call 'our buys': which products, and in what quantity, we buy from the brands we work with." The aim, Misseri says, is to optimise the merchandising of the stores, both online and offline, based on intelligent, data-driven selection conducted by an automated platform.
For Bluebell Group, the next steps are focused on taking full advantage of the technologies and strategies that have been put in place so far. "The next stage of the journey will be scaling the initiatives that have been piloted on specific brands and territories," says Misseri. "This will involve bringing those successful pilots and learnings to our other brands, and making it the default to any new brand we bring onboard in the future." This measured approach is not stifling the company's adaptability, however, with Misseri noting that the landscape demands a constant eye on the latest changes and technologies. "Asia, and retail in Asia, is constantly changing," he says. "Successful retailers, distributors and brands have to constantly adapt to these changes and reinvent themselves every few years, if not months. Understanding these changes and adapting to them is mission critical." With its flexible and positive internal culture in place, Bluebell has established an exceptionally stable model for this versatility in the industry and region. Misseri concludes: "To accelerate the growth of our brand partners, we must always acknowledge and understand local cultural diversity whilst creating efficient functions and proficiencies that enable faster roll-outs and seamless operations."