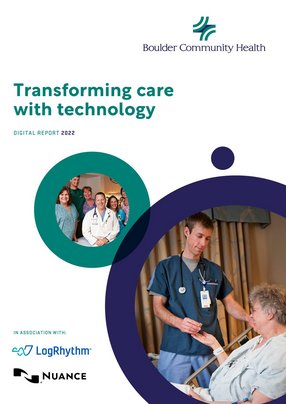 Boulder Community Health: transforming care with technology
As the pandemic forced people to move to a remote way of life, Boulder community Health used technology to help keep connected with its patients
Entering its 100th year of providing care, Boulder Community Health (BCH) is on a mission to deliver the highest level of patient-centric healthcare with innovative technology, within its community.
Throughout the COVID-19 pandemic, there has been tremendous pressure on healthcare providers to adapt and continue through the worst health crisis in the 21st century. For many, this has meant moving to remote work, introducing new systems to carry out daily tasks, and relying on a good team spirit to keep the company going.
A community-owned-and-operated not-for-profit health system, BCH has one main campus with a hospital and mental health pavilion, and roughly 25 clinics in the region, primarily servicing Boulder County, Colorado. It is dedicated to providing local access to high-quality medical care to people and businesses in Boulder and surrounding areas, and during the pandemic, this did not change.
Discussing some of the challenges facing the organisation during this time, Teresa Cole, Associate Vice President of Technology and Value Chain, said: "So much like other organisations, when the pandemic hit a lot of workforces went remote, we were just the same. In fact, almost all of our team went fully remote and they actually still remain that way today. But in doing so that really enabled our staff to do what they felt they needed to do best for their family. And they were able to feel like they were keeping themselves safe."
Implementing technology to deliver the best healthcare possible
Technology can be used in multiple ways in the healthcare industry, from helping diagnose a problem, to collecting data and keeping patients connected with their provider. The pandemic really highlighted the importance of technology in delivering services that customers expect.
When speaking about technology, Cole commented: "I would say it's been critical to the organisation, especially in light of the pandemic. Epic has been a significant and terrific partner to us. We actually went live on the Epic electronic health record in 2019. So shortly after going live, we were in the throes of the pandemic. Leveraging that tool during COVID helped the organisation immensely because we were able to provide a tool that enabled workflows that are efficient and effective in dealing with and responding to the challenges of the pandemic."
Founded in 1979, Epic develops software to help people get well, help people stay well, and help future generations be healthier. Its employees code, test, and implement healthcare software that hundreds of millions of patients and doctors rely on to improve care and ultimately save lives around the globe.
As the country shifted into a remote way of working and living, staying connected was important to Boulder Community Health in order to deliver the best healthcare.
"Telehealth gave us yet another tool that we could still connect with our patients, even though when the pandemic began in 2020 there was the large shutdown and access was still really important so that we could care for our patients. Having telehealth as a tool really enabled us to stay connected to those patients and provide care, even though we couldn't physically be in contact with them," added Cole.
Telehealth allows organisations to provide appointments virtually. A benefit that Boulder Community Health experienced was that it enabled them to still provide a personal connection, and access to individuals that may not be in a position to come in person during a pandemic.
Joining the company in 2016, Michael Jefferies, Chief Information Officer, is responsible for implementing technology solutions that advance provider capabilities and operational efficiency at BCH.
"I'd say the biggest development within my career around technology has really been a focus on patient-facing technology where we've historically been focused on our internal tools for patient care," commented Jefferies.
The healthcare industry has seen an explosion of innovation in the adoption of patient-facing technology applied across research, routine care and personal wellness. Patient-facing tools give patients the opportunity to be more responsible for their care by providing them with the ability to access health information, choose providers, and manage their healthcare.
In April 2020, just after the pandemic hit, overall telehealth utilisation for office visits and outpatient care was 78 times higher than in February 2020, McKinsey found. Around 40% of surveyed consumers stated that they believe they will continue to use telehealth going forward, up from 11% of consumers using telehealth prior to COVID-19.
Jefferies added: "We've had to retain all of the previous responsibilities, but we've really had to expand into consumer technology, which healthcare was not focused on years ago. But I think more recently we've made that shift and now we look at our technology and consider our patients the primary user of those technologies."
Using technology to help navigate the COVID-19 vaccine rollout
An unforeseen challenge facing Boulder Community Health in the past year was the COVID-19 vaccine rollout. This relied on huge amounts of data, presenting a new technological hurdle to overcome.
"Our key strategies have really been to move quickly and prioritise accordingly. The vaccine rollout came very quickly and then evolved as we added boosters. And logistically, if you think about the technology that is needed there are things that you have to build out in the systems such as pediatric dosing and matching the vaccine manufacturers correctly," Jefferies said.
Adding to these rapid changes, Cole noted: "During this time, it was critical to be able to have the agility to get a lot of these tools changed. This allowed us to respond quickly and by enabling our staff to be remote, our productivity increased in many ways."
With an IT team of 100 people, values are very important to BCH. The employees created a list of values which are commitments to each other and the management team's commitment to the team. A key commitment is practising innovation, being creative problem solvers, ready to implement big picture strategic thinking to address organisational needs and challenges.
"The secret to our great success has been hiring, developing, and keeping the most talented people. This isn't easy as a non-profit organisation without all the perks of other industries, but we have been successful by leveraging our mission as a benefit to employees. The fulfillment that they get from helping our community is priceless in the quality of their professional life," Jefferies commented.
Utilising technology partners
Boulder Community Health works with a number of partners within the technology sector, which helps them to innovate and transform services.
Speaking on their partnership with Epic systems, an electronic health record company, Jefferies said: "When we have a problem to solve, they're right alongside us to solve that problem. During the pandemic, they waived any services that they provided related to the pandemic, like ramping up our online scheduling, utilising telehealth, they waived fees for all of that. So that's been really an outstanding, and true partnership where we really appreciate them."
Cisco, a leader in technology that powers the Internet, supports BCH's networking and communication needs, which have been especially important over the past year with remote working and a lack of face-to-face meetings. Cisco aims to reimagine applications, secure data, and transform infrastructure. The company offers a wide range of networking products and services related to the communications and information technology industry.
LogRhythm is a security partner, which helps the company identify and surface threats, in an ever-growing landscape, making sure personal data is secure is vital. The security partner reduces cyber and operational risk by rapidly detecting, responding to, and neutralising damaging cyberthreats. It offers a platform that combines advanced security analytics; user and entity behaviour analytics (UEBA); network detection and response (NDR); and security orchestration, automation, and response (SOAR) in a single end-to-end solution.
Nuance has been another key partner to BCH in improving patient care. With staffing challenges and cost pressures in the healthcare system, BCH has worked with Nuance to find solutions. BCH is implementing Nuance PowerScribe Follow-Up Manager technology that uses natural language processing (NLP) to identify abnormalities that were detected in the patient's diagnostic imaging reports and ensure they are monitored over the following years to return for treatment.
Partnerships can allow companies to help each other with their strengths and weaknesses, and form a larger clientele. Jefferies added: "It's important to identify the things that we're really good at and that we're going to keep doing because our community needs us to, and then the things that other people are doing well and we are able to refer out while maintaining high quality."
The pandemic has provided a silver lining
Reflecting on the past year, the biggest advancement the healthcare company has made is adapting its remote workforce and keeping its employees engaged.
The pandemic has caused major disruption to services but has also given way to new technology features or driven the adoption of existing tools. Jefferies noted that Telehealth and online scheduling are both something the company has had available for a while, but providers and patients did not always see the value to it.
"Telehealth was a technology that was sitting there underutilised and the demand from both patients and providers alike has really increased during the pandemic. And I think that we're now ready to adopt it more in the mainstream across society. That's going to be great at reaching people that need specialty care that are further away, and more rural or hard to access communities will get access to better care," added Jefferies.
Looking at the next 12 months, BCH wants to make sure it avoids burnout and resignations among staff, as the pandemic has really taken its toll on people, especially in the healthcare sector.
Observing that what it thought was going to be a sprint, has now turned into a marathon, the company wants to focus on exploring ways to take care of both the physical and mental health of its staff, even more than it has in previous years.