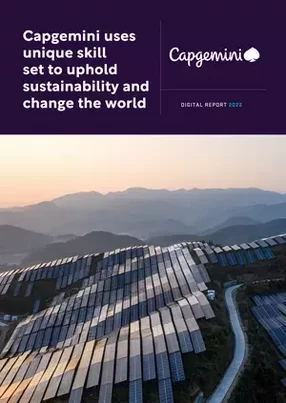 Capgemini uses unique skill set to uphold sustainability
Capgemini boasts an expansive history of delivering information technology and consultation.
As a pioneering information technology service provider and essential partner to global companies, Capgemini employs 300,000 people across about 50 countries. Make no mistake, however, sustainability is right at the top of its agenda and it is using all of its experience and unique skills to address climate change.
Dr James Robey is Global Head of Corporate Sustainability at the company and is under no illusions about the scale but also the all-encompassing potential of the sustainability challenge.
He explains: "We have hundreds of offices and data centres which consume large quantities of energy. We also have a large number of people, many of whom have been very mobile in terms of the way we deliver services to clients. So the first focus we had was the reduction of operational impacts within the business. 
"As early as 2016, we set science-based targets for Capgemini in terms of reducing our environmental impacts and – alongside that – we've been seizing the opportunity to inspire our clients."
Indeed, Capgemini also uses IT consulting and engineering skills to help its clients with their business transformations. It is very clear that the company sees 'sustainability culture' as a massive opportunity, particularly from a decarbonising perspective. Many of its clients have carbon footprints – which can be upto 200 times greater than Capgemini's – and the company views action on climate change among those partners as a major priority. 
That's why alongside its operational strand, it has systems in place which are all about helping clients reduce carbon emissions and recognise that it's one of the most fundamental contributions we can all make. 
Change is coming
Sustainability is a 'business imperative' throughout Capgemini. "We recognise the dangers associated with runaway climate change," James explains. "And we also recognise that there are positive opportunities that come with being a more sustainable business. We know that the best people want to work for organisations which have a purpose – organisations which are making a positive impact on the world."
"It is essential that we are here to help partners with their own transformations, many of whom need assistance in that journey. From that perspective, sustainability goes far beyond image and much more into the substance of what we can deliver for our clients," he adds.
Amid the international pandemic, the company has also been able to focus on one of the major environmental impacts of the business – travel. Now that travelling is beginning to return, Capgemini is striving to apply the principles it began pre-COVID; measures that were hastened by lockdown. Consequently, virtual collaboration and efficient remote delivery have gained considerable traction as a new era unfolds. 
James says: "The whole industry has had a collective awakening in terms of what is possible. In that sense, I think the pandemic has really accelerated the potential speed of the transition to a low carbon delivery model."
Capgemini has several programmes in place around energy – in data centres and offices – and that includes investment in renewables. It is signed up to RE100 and it is committed to 100% renewable electricity by 2025.
"In some countries that's easier than others," notes James. "Our largest country by far is India, where we have over 150,000 people working, and we've been investing extensively in solar and renewable generation, both onsite and offsite."
In another move, the company has been running an internal global awareness campaign – Capgemini Climate Circles Campaign – in the run up to COP26. It involves business leaders participating in discussion circles with groups of about 10 people. There are two pivotal topics involved – the first is around the race to net zero and decarbonisation. The second is around how innovation and technology is applied to the challenges of climate change. 
"It's proving a really effective way of engaging many thousands of our people in a conversation around climate change," says James. "The discussions are really getting people to think about how they can make a difference on a personal level, but also at a business level."
Culture club
Ultimately, sustainability is a business challenge and Capgemini has been aware of this for 15 years. James reflects: "I always describe sustainability as a business change problem, possibly the biggest business change problem we've ever seen. Given the size of our business, the level of change is significant, but we have a fantastic level of engagement from our people. 
"This is a sustainability programme people want to engage with – they can see why we need to act and they want to be part of that cultural transformation. The biggest aspect around that transformation is the mindset around delivery."
This approach is changing mindsets; encouraging people to develop the art of what can be achieved and what can be delivered remotely. Key to this transformation has been the onboarding of senior leaders and building the right governance structures around the wider journey to carbonisation and the milestones the organisation wants to reach.
Underpinning these ventures is the digital age. So much of the sustainability roadmap has been reliant on companies adapting to the new world; the digitised landscape. While the solution relies on digital, however, it is digital itself that has also been part of the problem, as James recognises.
"When we talk about the digital era or technology, we need to start acknowledging that technology itself has a very significant environmental impact. If you look at the global emissions from the IT sector, it's about 4%. So therefore we have to take responsibility for that impact and recognise the mitigating environmental effects of other sectors.
"From a Capgemini perspective, it's vitally important that we see the responsible use of technology as absolutely critical in terms of achieving sustainable outcomes."
One for all
Diversity and inclusion is – alongside environmental sustainability and digital inclusion – one of the three pillars of Capgemini's approach to responsible business practices. 
It is all about community outreach, empowering people to be included and, ultimately, transforming the performance of the company. 
As well as a global programme, there are also a host of local programmes specifically focused on diversity and inclusion. And, as James is keen to point out, this means diversity in terms of diversity of background and also in terms of diversity of thought. 
"We recognise that that diversity of thought brings real creative value to us as an organisation," he says. "Inclusion is clearly critical in terms of getting the best out of people and, in turn, it is the catalyst for being the most sustainable and responsible business we can be."
Major global organisations are recognising that leveraging partnerships is a fundamental element of the sustainability drive. Capgemini is at an advantage in this respect because collaboration has been the foundation stone of its business for decades. 
The company has various ecosystem or alliance partners that it works with across the whole technology industry in order to deliver the best solutions to clients, and this terrain has changed very noticeably in recent years.
"Increasingly we are seeing big transformation programmes with our clients," notes James. "We're increasingly seeing the complexity of systems, complexity of platforms and complexity of solutions. The only way you can deliver that is by having those close relationships with partners. We are working with those partners on sustainability as well, trying to figure out how we can most effectively impact the client's needs by bringing together the right combinations or alliances of suppliers."
Future proofing
Capgemini was one of the first in its sector to set science-based targets in 2016. These were aligned with the two degree climate science, and were achieved ten years early – a reduction in emissions across the business of about 30% per person. These were actually achieved before COVID lockdowns at the beginning of 2020.
The achievements prompted the company to reassess the aspirations of the business in the future – it realised that if the strategies were in place and mobilising was encouraged it could set much more ambitious targets across energy, travel, commuting, waste and water by 2020, with a view to include all supply chains by 2030. 
Along with a range of offsetting projects, these represent the company's headline goals, but there are also a range of more tactical ambitions. 
"We are part of RE100, so we are committed to 100% renewable electricity by 2025 and we've also joined EV100 and, therefore, we are committed to running a 100% electric fleet by 2030. This year, we have also taken the first step of removing all pure petrol and pure diesel vehicles from the company fleet list earlier this year."
During the sustainability process James and Capgemini have, above all else, been inspired by driving change; through the company, through partners, through the wider population and, critically, through individuals. 
Having recognised the scale of the sustainability and climate change mountain, the company is determined to begin the climb by instigating positive change. And while the summit seems like a distant dream, the direction has been established and motivations have been calibrated. These constants will remain until the mission accomplished – and that's the reality for Capgemini.