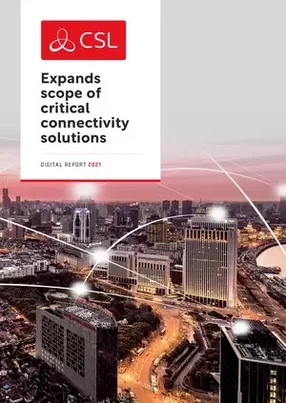 CSL Group expands scope of critical connectivity solutions
Hiran Ravat, Head of IoT Business Development and Partnerships at CSL Group, explains how it broadens critical comms reach to meet continuity demand
Most of us have a fairly good idea about what constitutes critical comms – or at least, in the pre-pandemic sense. Your mind would think of fire prevention, security cameras and the whole host of applications that are essential for ensuring public and staff safety. Today, critical comms has expanded to include the vital nature of business continuity, which in part has been exposed during the COVID-19 pandemic.
No sector has been unaffected by COVID-19 and in the critical comms space, there has been soaring demand for business continuity solutions as lockdowns swept the world and remote working has become the norm. It is this new and emerging area which Hiran Ravat, Head of IoT Business Development and Partnerships at CSL Group, which has 25 years' experience, is now actively targeting for growth. 
"One of the biggest changes over the past 18 months is people are viewing connectivity differently.," he says. "People are working from home, away from their offices or factories, so we're getting lots of unique critical connectivity cases outside our core heritage business. As we've started to delve into this new area, we've found more and more examples where critical connectivity can enhance existing solutions. It's not something the MNOs can support as to be a critical communications supplier you need added resilience and our solutions incorporate connectivity from 2 independent network operators in the event a particular operator has an outage, where network operators naturally wouldn't offer services in partnership with their competitors."
Hiran has experienced the changing dynamics only too well, having moved to CSL Group in March 2021. Previously he worked at Vodafone for 18 years and ticked off a wide range of roles – covering consumer, enterprise and IoT – and then moved to O2, where he worked for two-and-a-half years, setting up their IoT Solutions Partner Ecosystem.
"It's been a massive eye-opening experience," he says. "I've been working in the mobile network space and always thought the value of connectivity sticks with the network – but what we do at CSL is work with the network operators, and then convert that connectivity into an added value solution."
 
To that end, he is keen to emphasise three unique propositions that can drive value to the IoT market.
"The first is a dual SIM managed router. The market has lots of dual SIM routers, so that's not unique, but what is different is we will manage, configure, fully support and encrypt it for the customer. It's literally a plug and play solution that is offered as a service.
"We have another managed router offering, but this one takes the fixed line broadband, which we provide or it can be an existing line, and the resilience element is a SIM that roams on any network, and again, we do all the management and security.
"In an IoT world where the market is built on platforms and portals, the myth is that all end users want to self manage via these tools. However, speak to a retailer who on a busy Saturday has a network issue, they then have to call their IT department who will log into these tools and spend what can be hours doing diagnostics to get back up and running, or worse, still they have no IT department and have to log in and do this themselves. We are that simple alternative where in that same situation the retailer simply contacts us and we get them back up and running whilst they focus on their trade."
"Another great offering we have is our signal analysers, which don't really get the attention in the market they deserve considering the value they provide. They monitor wireless broadband and mobile SIM signals so you know that you've got the strongest signal wherever you're placing your device, so it improves the customer experience considerably. Imagine how many IoT devices are assumed to not work simply down to where its positioned, this offering ensures that is not the case."
CSL Group, which has just opened a new headquarters in Watford, has over one million connected devices globally and handled over four billion 'events' last year via their Gemini Global Platform. Funded through private equity, the group is on a sure financial footing.
Ravat explains that CSL aims to drive growth in a broader IoT market through these managed solutions that are scalable whilst also still being affordable. CSL takes the complexity out of adopting communications solutions, handling all diagnostic checks, configurations and service continuity. 
CSL owns and manages its own infrastructure with a massive focus on security built into their propositions. The 'here and now' of IoT covers a wide remit where CSL see the need for Critical Communications, such as Smart Street Lighting, Asset Monitoring, Access Control, Construction Site Monitoring, EV Charging, Retail Library Kiosks, to name a few.
"We provide an end-to-end solution, so the customer doesn't really have to do anything," added Ravat. "We will charge a small connection fee for the router, and a monthly cost, including the connectivity, which gives the managed service and security we supply." 
Complementing Telecoms is another key sector firmly in CSL's sights. With the end of PSTN lines in the UK and Ireland in the next five years, there will be plenty of upgrade opportunities as many security systems utilise this legacy network and we are already helping the market to move to mobile. 
"So we've got a massive opportunity there and it's just another example of capitalising on what we've done for years," he said. "We work with all the leading mobile network operators – who want more consumption of their network and we're adding value by creating a solution that integrates these networks, so a perfect collaborative partnership."
"We're working collaboratively to offer our managed services back to the network operators, to go and help their own customers and win new business. This is a growing trend and something we're really focusing on and have had great success in doing already. The value we bring back to the network operators is that they can offer an end-to-end solution that utilises their networks but they don't need to have any of the complexity or cost of managing these solutions as CSL does for them."
CSL Group, which employs nearly 200 staff, prides itself on its customer service and has an NPS Score of 86.5% from over 51,000 surveys sent out last year. 
"It only works to have a managed offering if what you're doing is of a high standard and customers see that value in your service and in this regard our NPS score is testament to how great a job we do in providing a managed service. In comparison, many of the well known technology suppliers average around the 50% mark," said Ravat. "I'm sure we'll see more companies entering this space and of course we have competition, but we have built up the CSL Group over 25 years. It takes lots of investment, expertise and effort to deliver high standards of service on a managed offering that can maintain this at the scale and growth that we do."
In the telecare wearable devices sector, it manages over 100,000 connections, and in the retail market, manages the communications for over 7,000 Post Office sites.
"When communication solutions are considered often the customer procures the different elements from different suppliers and then has to set up a method of being able to self manage this which is timely and complex. When working with CSL we ensure they are always connected, delivered through a single supplier and support model all through us.
Partner focus: Hikvision
CSL Group highlights Hikvision, an IoT solution provider with video as its core competency, as one of its partners. The company launched a 4G Solar Panel Kit for standalone security sites in the UK and Ireland last December. The kit includes a 4G camera, solar panel and bracket and can provide one-stop monitoring in remote environments. Hiran said he looks forward to exploring more synergies with Hikvision, which recently introduced a new dedicated UK Technology Partner Programme for vendors, offering software, hardware and applications complementary to Hikvision solutions. "They're the world leading provider of security products and solutions that need the critical communications services we supply, so that's another great partnership."
New opportunities
Our reputation in the market has already opened up some great new opportunities outside of our heritage sectors. We have recently partnered with a smart street lighting company who is seeing their solution being adopted by large customers globally who are looking to reduce their carbon footprint. The biggest issue they had was a reliable communications method to control the services of these street lights. They partnered with us as our managed offering made this simple and ensured the street lights were always connected. Another example is air conditioning monitoring if you've got around £40,000-worth of IT equipment in a server room, and the air-conditioning starts to leak, it could create an amazing amount of damage – not only to the supplier, but to the provider whom that service is supporting. We were able to ensure the sensors used were always connected so that any leakages can be monitored. 
Other new areas we are currently working on are communications in utility monitoring stations, ANPR Solutions, Access Control, Unmanned Petrol Stations, Critical Infrastructure and the list grows frequently.