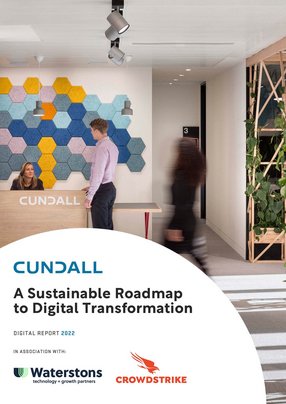 Cundall: A sustainable roadmap to digital transformation
Lou Lwin, CIO of Cundall, divulges his successful appointment to the position and how he will drive the company's sustainable digital transformation agenda
Across the globe, businesses are tweaking and fine-tuning their sustainability strategies to make sure they are working towards net-zero emissions and provoking positive climate change actions.
Industries like construction — which contributes around 36% of global energy use and around 40% of emissions in the UK — and engineering are seeking more opportunities to mitigate greenhouse gases and waste. The emergence of new technologies plays a significant role in reducing industrial impacts, but how does Cundall enable technology implementation in these sectors? Particularly in construction, where the productivity gap equates to US$1.6tn in costs to the global economy.
The quality of our people is one of our biggest strengths. Our clients enjoy working with us and the fact that we consistently win repeat business with 80% of them is testament to this.
In conversation with Lou Lwin, the company's Chief Information Officer (CIO), we discussed why the use of data and information technology (IT) is so crucial to the development of Cundall and its clients and how he hopes to use his extensive technology experience to drive the business towards a sustainable future through digital transformation.
Lwin began by explaining how he came to understand the importance of technology within the industry that he works in. "I spent about 12 years with an architectural firm, but it has probably been the 10 years prior to working for Cundall that have really helped me focus on the need to understand digital transformation for a business," Lwin says. "During that time I was involved in a lot of mergers and acquisitions that were rapidly bringing businesses on board. When you're in that position, you need to find ways to be the most efficient and create the least disruption to business processes."
"By doing that over time you build up a mindset that allows you to focus on the key aspects of what's needed. So, coming to Cundall, where we're engaging with a digital transformation journey, and bringing that experience of quickly identifying key areas on which to improve and knowing the steps to take thereafter, will quickly help bring the organisation up to speed."
Leveraging a digital ecosystem with abundant technologies
Lwin joined Cundall in July 2021, taking on a role that did not previously exist. As part of his role as CIO, he is responsible for overseeing the use and implementation of digital tools and solutions in line with the company's strategy of enabling sustainable operations for its clients. This starts in-house.
"As a business, if we are taking the lead, in things like sustainability and the technology that helps us build sustainable designs, it always helps if you practice what you preach," Lwin says.
As a consultancy, Cundall's aim is to provoke a cascading effect as it empowers its clients to operate more efficiently and leverage sustainable sourcing options, which in turn affects the performance of their projects and satisfies their clients' needs.
"We're very much focused on making sure that we can create an efficient future and technology has come to a point that the things we've only discussed in the past can now become reality and we have quite a large division that focuses solely on those things."
Lwin continues, explaining that great technology solutions aren't effective enough for the company if they're used inefficiently. "Internally within Cundall, we're making sure that we've got the best-of-breed technology, making sure we've got the right ecosystem of technology. It's not just about having the best, it's about having the right mix and the right partners, which is really key for us to make sure that we can support all our engineers so they can focus on doing what they do best, which in turn has quite a positive impact on not just the customers and clients, but on the planet as a whole."
"Because there is such an availability of tools, we're actually spoiled for choice now. If you wind back a few years, and take big data, for example, that was a massive challenge: it required lots of computing power to do anything remotely like what we do today with a standard PC. Today, we've got an absolute proliferation of tools, meaning selecting the right things can actually be more of a challenge than finding the tools to do the job."
Applying digital solutions for emissions reduction
Cundall has a clear focus on people. Whether it's individuals within the organisation or the talent employed by its clients, the company is responsible for ensuring that digital tools are utilised effectively within their operations and by those that are responsible for monitoring those tools. Covering variable types of operations, the firm boasts a high-level talent of its own, with many PhD qualified individuals and chartered professionals within the organisation. This has proven beneficial in managing a wide portfolio.
"From an engineering perspective, we cover quite a broad range of services. Every one of those services, whether that's acoustics or mechanical or electrical, whatever they might be, they all have their own toolsets," Lwin explains. "Our job in IT is key in terms of supporting our staff, making sure they've got the right technology to hand and that it is well supported."
"We've always had a massive focus on people and that's not just attracting and developing the right talent, but having that people-orientated approach, incorporating knowledge management and knowledge sharing, is incredibly important. It has been a huge driver for the business from the beginning and has really paid dividends."
"How has Cundall applied digital tools in construction?"
"Within tools such as Revit, we have built the capability to look at the embodied carbon content of any components that we might use in a building project or a construction design process. The New Royal Hospital in Adelaide for example, was designed in such a way that we were able to reduce greenhouse gases by 50%, by employing such technologies and techniques," says Lwin.
"By using the right technology and working to make the best use of the tools that are available to us, we can meet our net-zero objectives, and having that at the forefront of our minds all the time helps us move forward as an organisation. It helps us to support our ethos and support our customers' requirements as well."
Technology and talent drive Cundall's positive contributions
"We're fortunate to have been founding signatories of a number of councils for net-zero carbon," says Lwin. "We really pioneered this in the engineering space." Beyond its sustainability credentials, Lwin explains that Cundall is focused on more than just sustainability — without discrediting its importance — and is a leader in innovative design solutions.
"For us, how do we build on that? How do we continue to develop on that? This comes back to the people; we're massively focused on attracting and developing the right talent. The sustainability agenda is absolutely huge, as we all know. We have one planet. We have one opportunity to save it," says Lwin.
"By attracting and developing that talent, we get people who really understand the challenges and are passionate about doing something about them. However, it's not just about having talent, it's about sharing relevant knowledge and information. We also consult on business strategy for our clients and their clients, to be able to help people maintain their sustainability and their net-zero footprint on an ongoing basis."
Over the next 12 months or more, Cundall will also be working on its use of data to compile information from previous projects and utilise it to develop a targeted approach to new projects. Data is somewhat untapped by the company and Lwin hopes that it will open up new capabilities for the firm. "One of the key things that we're focusing on in the next 12 to 18 months is our use of data," says Lwin.
"We have so much information about the designs that we have built over the years and specifically the ones that are focused on that sustainability agenda. To be able to extract all that data is a really big challenge. None of the products, technologies or design tools that we use are built with data filtration in mind. The challenge is to pull out the relevant parts and do that in a sensible and structured way so that everybody can access the data that they need."
The ability to extract data from previous designs is likely to provide key insights for the sustainability team, which is currently growing within the organisation.
Collaborative partnerships enable better use of digital tools
"Cundall is a very focused organisation. We don't focus on the bottom line or 'x' amount of projects. We focus on quality, growing our business in such a way that we deliver the best for our clients. This isn't just about sustainability, it's above that," says Lwin, before listing some of the digital tools that Cundall uses.
"Our designs are innovative and we're always looking to better ourselves. We use some of the latest techniques in technologies such as digital twins, fluid dynamics, energy modelling, all of those things to improve what we deliver back to our clients. Overall, the net result is that we end up with a much more sustainable future. It's so core to what we do and is literally embodied in everything we do."
Cundall has a clear view of how partnerships can drive business performance and streamline the adoption and continued success of digital tools. The company prides itself on including its strategic partners in key business discussions and, as Lwin explains, it also selects those who have similar business interests or those that have values aligned with the business.
"We like to share our roadmap, our technology stack and business agenda with our tech partners, including what we're doing and where we're going. By doing that you end up in a much better position than just buying a service, you end up working very closely with the company. In fact, for some of the companies we work closely with, you wouldn't know whether they are Cundall staff or not. They're embedded, they're in our offices like everybody else and it means that when times are difficult, you've got somebody right there. A raft of people that can support you."
Incorporating partners to a similar extent that it would employees, can improve working relationships "because they know where your business is going and what your business agenda is, it offloads a lot of pressure from the internal team so they can focus on their core activities."