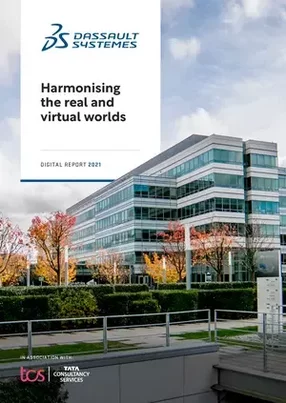 Dassault Systèmes: Harmonising the real and virtual worlds
Leading executives from Dassault Systèmes EuroNorth on using virtual universes to imagine sustainable innovations to harmonise product, nature and life.
Making the world a better place. That's something we can all aspire to, but also an aim that drives and inspires Dassault Systèmes – the 3DEXPERIENCE company that creates virtual universes to model, simulate and evaluate designs, actions and impacts. Put simply, this software allows users to experiment – safe in the knowledge that trial and error leads to better outcomes.
"We are a 3D experience company, and we consider ourselves to be a real catalyst for human progress," says John Kitchingman, Managing Director, EuroNorth for Dassault Systèmes.
"We provide businesses and people with collaborative 3D experience environments to enable sustainable innovations. Our customers have pushed the boundaries of innovation and we do that with over 290,000 customers across 140 different countries."
Kitchingman says that the COVID-19 pandemic has also accelerated the adoption of virtual design, with teams of people now able to collaborate in ways that are simply not possible with physical prototyping.
The good news is, it's not just manufacturing giants that are benefitting from Dassault Systèmes' technology – SMEs and individuals are all reaping the rewards of virtual twins. The company was originally part of Dassault Aviation until emerging as its own entity 40 years ago, so it's not surprising to hear that that aerospace sector was one of the early adopters.
"The Boeing 777 programme was the first real virtual twin of an entire product life cycle process – not just the design but the entire product development process," says Kitchingman. "We now see many other adopters, including the life sciences industry, the FMCG industry, and industrial equipment."
Kitchingman mentions various use cases in life sciences, boosted by Dassault Systèmes' acquisition of Medidata in 2019 which enables companies to create virtual clinical trials. He also cites the Living Heart project at Great Ormond Street (a renowned children's hospital in London) which is allowing cardiovascular researchers to explore treatments. Then there is Interstellar Lab, which is building modules for sustainable living on Earth and in space.
Dassault Systèmes provides a centralised system which fosters sustainability practices, allowing clients to take this into their supply chains, working to the same process methods, and making decisions earlier in the product development process.
"It's all about enabling decisions to be made earlier – increasing quality, reducing waste and replication of processes," says Kitchingman. "In many companies, simulation processing in the past and present has been about validating what design has already done. Now the finished design moves into the simulation department process to prove out those 'what if?' design questions. The platform enables far swifter interaction across the business. All of our 20,000 people use our technology every day.
"The next industrial revolution, industry 4.0, for us is not just about digitising data – it is about virtualising the entire process within which our clients work and want to work. "Virtual twins" is a process, is the method, and the technology that enables companies of all sizes to access this capability. As we recover from COVID, a lot of our small to medium-sized clients who may in the past have had different bespoke solutions for design, for analytics, for manufacturing, are starting to really adopt a platform approach."
Better products
The 3DEXPERIENCE platform approach has many obvious benefits for businesses, allowing previously siloed stages and departments to work together – fine-tuning designs, and optimising in a way that previously would have been prohibitively expensive and time consuming.
"The 3DEXPERIENCE is about freeing up collaborative communication and enabling people to innovate faster, to explore more, to be more effective," says Alan Prior, VP of Industry Solutions at Dassault Systèmes. "Ultimately, to get better products and services."
"Essentially we have one source of truth, one source of data. All the stakeholders – the designers, engineers, analysts, marketing – collaborate on that same set of data in that one environment. However, they each see that data through the lens of their own role."
Prior says while time reductions are significant, there is greater value to be achieved.
"We can see opportunities for clients to use this technology in so many ways: to switch to more sustainable materials, for example," he says. "We can see opportunities for clients to build in better recycling capability or improved production methods before they get to full-scale prototype production. So it's not just about saving time. You could be saving material, you could be saving cost, and you could be getting a fundamentally superior product."
Prior goes on to say he believes there is market pressure on manufacturers to respond to demands from consumers – particularly when it comes to reducing packaging, reducing waste, and using more environmentally friendly materials.
Although automotive and aviation were early adopters of the technology, Prior says what is "great about this job" is the opportunity to work with such a diverse range of clients across multiple industries with significant impact on our world – from nuclear power stations to shampoo bottles, electric cars to semiconductors.
Built for innovation
Prior also points out that the 3DEXPERIENCE, while it can improve processes and maximise efficiencies, does not replace human creativity and ideas, and that having a diverse team of creative thinkers is essential.
That is a view echoed by Severine Trouillet, Education and Public Sector Director, EuroNorth, Dassault Systèmes. Her role is to support those organisations looking to leverage the value of virtual technology to transform and to empower citizens and students.
When it comes to talking about people in 2021, it is impossible to not first address how Dassault Systèmes coped with COVID-19.
"We faced the same challenges as our customers," says Trouillet. "We wanted to continue to innovate and make sure their business models were suited to a more hybrid world. We used the 3DEXPERIENCE platform internally as a tool to collaborate with our 20,000 colleagues – it allowed us to share information, communicate, and focus on wellbeing and mental health as a leadership team."
Trouillet says Dassault Systèmes is looking for creative, flexible people with a passion for technology as a way to solve some of society's biggest challenges, and a conviction that the company is the place for them to develop and grow.
Purpose and sustainability are key for Trouillet, and for CEO Bernard Charlès, whose model is to harmonise product, nature, and life.
"As a business, we made a big leap last year when we hired our first Chief Sustainability Officer which really helped accelerate our commitment to sustainability," says Trouillet.
"We were ranked a few years ago as the most sustainable company in the world by Corporate Knights magazine, but since last year we have really committed to science-based targets and our aim is now to be net-zero by 2040.
"We recently partnered with Accenture to try to understand the potential of sustainability for virtual twin technology and we discovered that there's a lot that can be saved in terms of waste management and energy consumption through virtual twins. For us, sustainability is about business sustainability, so it's about people, product, and innovation – but it is also about the business models of the companies we work with."
Dassault Systèmes aims to make sure that the workforce of the future, the entrepreneurs, have the right tools. With that in mind, it has created the 3DEXPERIENCE Lab – a startup accelerator to specifically help young companies which are addressing sustainability challenges. These include super-fast charging points for electric vehicles, affordable ventilators during the COVID crisis, and solar-powered drones.
"The idea is really to ensure that these tools are made available so that we can also open up the expertise within the system," says Trouillet. "Our colleagues are really encouraged to help startups whenever they can, to make sure these entrepreneurs can flourish and become the companies of the future."
Back to 2021, and Kitchingman explains how large multinational organisations, like Jaguar Land Rover, are adopting Dassault Systèmes for their engineering capability but also realising how that can permeate other aspects of the business.
"The benefits go far beyond what the clients initially may think they are going to use it for," he says. "What we have created are unified building materials so nobody else needs to recreate it in any other part of the business, so everyone is using the same platform. I think the biggest challenge is creating that process change in organisations for them to truly benefit from the technology that we provide."
In many ways, COVID-19 has provided organisations with the opportunity to change, to reshape their businesses, and their entire process. The 3DEXPERIENCE could be the tool to make that change happen in a way that is both smart and sustainable.