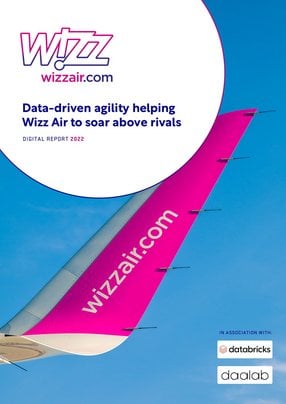 Data-driven agility helping Wizz Air to soar above rivals
Zsolt Nadas, Head of Technology at Wizz Air, explains how their digital ecosystem is leading to faster processes and better deals for their customers
Wizz Air likes to be the ultra-low cost challenger airline in the aviation industry full of numerous, larger legacy rivals. The company prides itself on its agility to move passengers, and customers, as quickly and as efficiently as possible between points to out-manoeuvre the competition.
In the world of ultra low cost airlines, one of the core principles at Wizz Air is flying its aircraft as full as possible. Reducing costs generally makes people happy about flying on its airline. But to achieve this, the data comes in to calibrate ticket prices and make sure that the airline can fill the aircraft.
Zsolt Nadas is Head of Technology at Wizz Air. His responsibility is to provide a foundation for all of Wizz Air's digital ecosystem, to build and enhance digital capabilities. This includes data and analytics, cybersecurity, infrastructure, networking, and interface with all the third-party providers for prepackaged software.
"We can use trends in ticket prices to proactively predict for the future. We sense demand and change our capacity in markets respectively. It all comes down to a very simple formula that if our aircraft are full, and we're maximising all our resources, such as our pilot time and aircraft utilisation time, we can reduce the cost to the customer. And so correctly predicting and understanding our customer's behaviour has enabled us to offer our ultra-low cost product," he said.
How Wizz Air became a data-driven business
COVID-19 resulted in an accelerated investment into the data capacity of the organisation, so where it used to spend six to 18 weeks researching new routes, markets and opportunities, Nadas' team department has now turned that time into six to 18 days.
The airline industry as a whole was static pre-pandemic, moving slowly in terms of route planning, capacity planning and pricing. With things changing on a weekly basis, Wizz Air adopted increased agility with opening new routes and new bases.
"We've really prided ourselves on the fact that - throughout this period - we were able to continue flying. We were able to provide people with mobility and the opportunity for those who needed to fly during the pandemic.
"We're being incredibly reactive and responsive. We need more granular data so we can make more granular decisions. We were already better than the competition - who were looking at pure demographics from yearly statistics. Now we're at the point that we make daily decisions based on promotions, where we expect to see a certain uptick. If we see more, that means the market's hot. If we see less, that means the market's cold, and we can actually model not just in real time, but far more actively respond," said Nadas.
According to Nadas, data models used to need 18 or 24 months of data. But if things have changed twice in the last three weeks, he knew Wizz Air needed to become far better at using capabilities like machine learning (ML) to really know how quickly it can respond to new data, new questions and new hypotheses.

The lowest reasonable price ticket without compromising service
Nadas believes it is really important that people continue to trust Wizz Air and have positive experiences. Some of the company's predictive data isn't even just used for pricing and for market demand, but for improving on-time performance and the overall customer experience.
"We can't continue to push downward so far that we become an airline that people don't want to fly with, but we want to become as efficient as possible without compromising on our customer service.
"From its very inception, Wizz Air was different because it was trying to make air travel affordable to everybody. When it was founded here in Hungary 18 years ago, many in the country had not ever been on an aeroplane, so the CEO was really aiming to make it accessible for all.
"The biggest way we could make it accessible is through cost and making flying more affordable. And not just that. It was also about making sure it was an experience that everybody would appreciate and enjoy and giving people the choice to pay for the services they wanted. One of the early taglines was that 'a smile is free'. What makes Wizz Air is the fact that we really are passionate about helping people move from A to B and back. The culture has always been all about that. Connecting people with people," said Nadas.
Cloud allows accelerated digitalisation
The differentiator in the past couple of months for Wizz Air has been its accelerated movement to cloud, and specifically Microsoft Azure and the leveraging of modern data technologies. Gone is the traditional, older SQL server. Now using Databricks, the business moves towards a cohesive data ecosystem where partners were able to accelerate progress from zero to functional in six weeks.
Combined with industry leading aviation knowledge from its partners at DAA labs, the company could do things like analysing the entire network in under an hour, by scaling up resources, and then scaling them back down when done.
"By analysing our customer behaviour, whether through something as simple as the efficiency and the proper response to promotions, to see if the market is responding as anticipated in almost real time, these technologies were a capability that tackles off the ball and chain. We can not just react, but predict; using multiple hypotheses that we can process and validate to pivot quickly. Our technology toolset– especially Databricks – transformed how quickly we can go from question to results. We're not trying to replace human intuition, we're maximising it with modern approaches," Nadas said.
Able to test new territories with agility and low risk
When Wizz Air tried to expand into Norway's domestic market, it was able to rethink the rollout after observing that the market conditions weren't perfectly set up for the service at the time.
"And that's something that 20, 30, 40 years ago; wouldn't have been possible because the decision would've come too slowly and the data wouldn't have been able to give us that feedback as necessary and the analysis would've taken too long.
"Aviation is probably one of two industries that I've worked in, as part of my consulting background, that has always had a rich data tradition. The other one being oil and gas specifically because of the amount of investment to realise value. Aircraft are expensive. Deciding what to do with an incredibly expensive resource is critical. Decades ago, the amount of analysis being done to decide where to deploy aeroplanes was non-trivial. The data available has actually increased since then, but modern tools like Databricks coupled with our Cloud compute in Azure allow us to take that data and process quickly to drive decisions," explained Nadas.
Disruption management and pricing modelling for added agility
Disruption management pricing modelling is something Wizz Air wants to maximise. Nadas said that the most direct feedback loop that the company has is its customers: "The best way to predict customer behaviour is to watch the customer behaviour."
"So whether it's a matter of having tighter integration between our marketing department and our pricing departments, so that we can correctly hypothesise the impact of our promotions, to determine whether that had the appropriate impact on passengers, or to measure outside factors; we are not a sole provider within any of our markets. And sometimes we will see external factors influencing our ridership and our average ticket there," he said.
Pricing is one of the core differentiators for the airline, where it has actually pivoted from being for pure revenue maximisation to developing a communication channel with its customers, both directly and indirectly, in terms of automation.
Another element is disruption management. Having been a travelling consultant himself - who flew every day for almost a decade - Nadas knows those terrible days at the airport, wondering what's going on, where the flight is going to take off from and the distress associated with this experience.
"We know from customer behaviour that a passenger who's been rescheduled three times will likely continue to fly with us. But a passenger whose flight has been rescheduled five or six times is less than 50% likely to continue flying with us. We've actually put a price tag on disruption. Should we cancel a flight and say it might go tomorrow, or should we just reschedule the flight and say it will go in three days and we can guarantee you that?
So we've been able to use the customer data as a source of information and feedback without actually using traditional surveys. By experimenting with various customer segments, we learned a lot and it has made us a better airline", said Nadas.
Beyond data and into new technologies
As part of the disruption management, Nadas knows how challenging it is when things aren't going to plan, and whether it's utilising existing technologies like its freshly launched chat bots, which have reduced call centre loads significantly, providing passengers with more immediate feedback online or using airport maps and in future, geofencing, to give customers more guidance in the airport, the solutions are always geared towards reducing stress.
"Airports are probably the most stressful part of the journey. And as an airline, we are merely tenants at an airport, but we aim to alleviate any stress with proactive communications. We're continuously improving in our goal to be helpful and customer friendly, with such features as push notifications to alert customers that boarding has started, with a boarding percentage to see if you need to start running or not to the gate", said Nadas.

Wizz Air standing up in a crisis
The leadership and crisis management team at Wizz Air are empowered to take the actions needed to protect and help people where possible. An example of this is offering free tickets to those fleeing the war in Ukraine, to help support refugees to reach a safe place: "We can continue to transport them around Europe on our network, if they need to evacuate or flee Ukraine," said Nadas.
Wizz Air was also proactive in providing financial assistance by offering free seats available for Ukrainian refugees to book on all continental Europe flights departing from Ukraine's border countries (Poland, Slovakia, Hungary, Romania). The airline is continuing to provide support by partnering with not-for-profit organisations' Choose Love, The Shapiro Foundation, The Steve Morgan Foundation and USPUK, to offer 10,000 free tickets for Ukrainian refugees to travel from Ukraine's neighbouring countries (Bulgaria, Hungary, Poland, Romania and Slovakia) to the UK, in support of the UK Government 'Homes for Ukraine' visa scheme.
"Our crisis management team, who has been working 24/7, since the conflict started, needs information as they are constantly making decisions.
"Recently, we've had to make some very rapid cybersecurity decisions and information privacy decisions to do things like opening up WhatsApp, to open up Telegram, to get us more connected, not just with our own ecosystem, but with the whole world, because we are part of a large ecosystem. By being a responsible global citizen as a company, we become a better partner in reacting to this as a unified member of the EU and of the world," he added.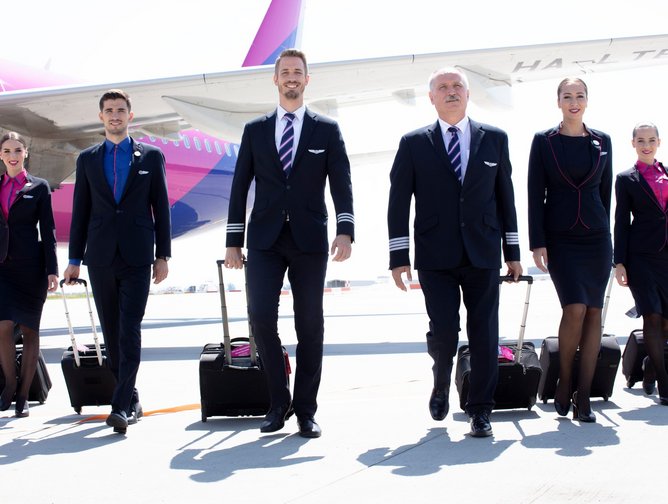 Wizz Air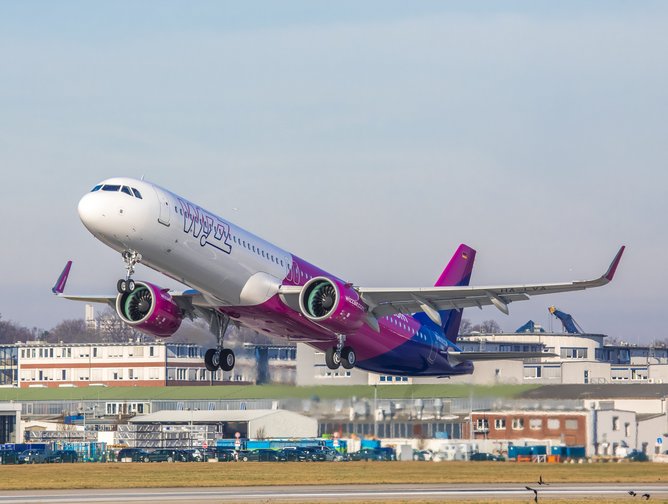 Wizz Air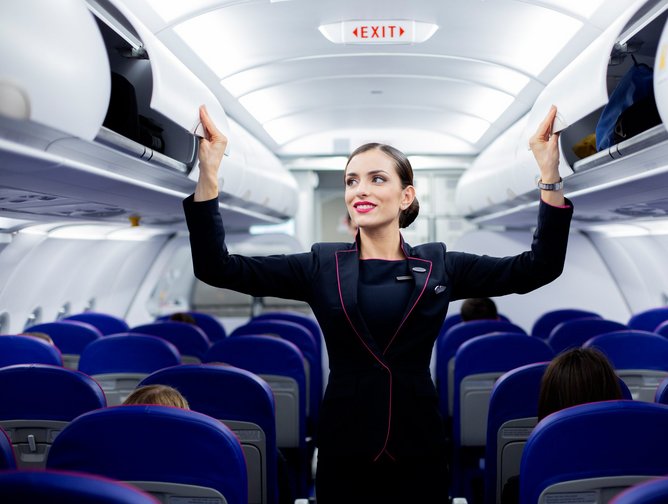 Wizz Air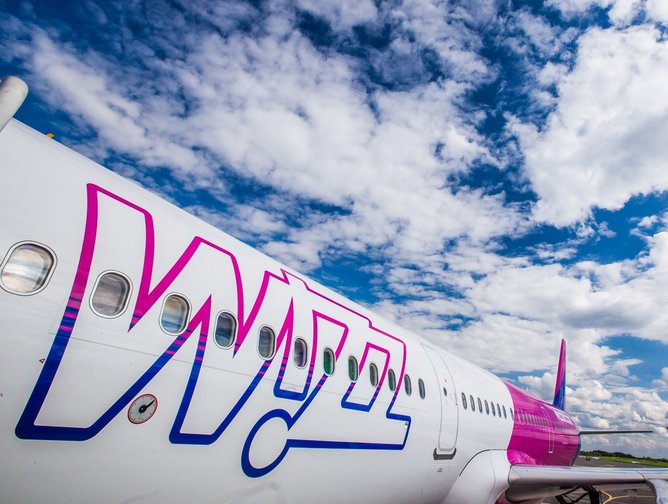 Wizz Air