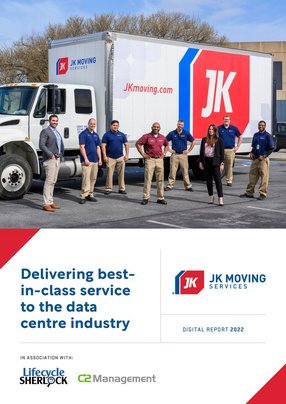 Delivering best-in-class service to the data centre industry
Operating at the heart of the data centre industry, JK Moving Services is one of America's most trusted and sustainable relocation & logistics providers
JK Moving is the largest independently owned and operated provider of logistics, relocation and storage services in North America. A large part of this monumental growth is a result of its recent success in the data centre industry.
After the company built up an established presence and strong reputation in the commercial market, it made the move to specialising in data centres via its JK Technology Services division.
It was the combination of JK's long-standing experience and its opportune positioning – nestled in the data centre metropolis that is Virginia – that made this transition hugely successful.
We spoke to Chuck Kuhn, CEO of JK Moving Services, about the company's specialist data centre services and the initiatives that it's adopting to support the industry-wide transition to sustainability.
From a single truck to the largest of its kind in America
Kuhn founded JK Moving Services 40 years ago in May 1982, while he was still in high school. At just 16 years old, when he was in the 10th grade in Fairfax Virginia, he started the company.
"I had an introduction into the moving and storage industry through my uncle, who had a small local moving company nearby. I started by sweeping floors in his warehouse and cleaning trucks, so I got my first introduction to the industry through him. Then, when I turned 16 and got my driver's licence, I founded JK Moving Services," Kuhn explained.
Kuhn started out with one truck, assisting local residential moves in the Washington DC metropolitan area. Over time, this grew into larger fleets, and the company moved into residential, long distance moves and international relocations, before expanding into office moving, last-mile logistics and all forms of commercial moving, including technology-oriented relocations.
Transitioning into the data centre market – right place, right time
The company branched out into data centre servicing after establishing itself within the telecoms sector, just before the data centre industry really took off.
Obviously, being located in Virginia was a huge aid to this growth – and Kuhn used this location to its full advantage.
"We're headquartered in Loudoun County, Virginia. This is really the data centre hub of the globe. There are more data centres based in Loudoun County and Prince William County than the rest of the world combined. In fact, approximately 88% of the world's internet comes through Loudoun County," Kuhn explains.
"As our existing clients started transitioning into the data centre world, we entered the industry as a support mechanism for them. They needed help with the lifecycle management of their mission-critical assets, particularly with staff augmentation – from new deployment of production gear to end-of-life UPS batteries, the demand for trusted technology services partners called us to action. We are more than just moving the hardware."
JK Moving's evolution in the data centre industry came as a response to regional trends, alongside a combination of a high degree of company flexibility and an exceptional example of 'right place, right time'.
A specialist, dedicated relocation service for data centre clients
Now, the company provides specialist data centre logistics and relocation services to some of the largest providers operating in Virginia (and, as such, the world).
"We are already located in Loudoun County, and we did a lot of work in the telecom space when it was booming (prior to the data centre boom)," Kuhn outlined.
"As the telecom industry started to slow, the data centre industry started to pick up – it was a very natural transition for us. At that point, we recognised the need to bring logistics to the data centre market."
We are assisting in writing the playbook for telecoms logistics within lifecycle management (TR 60.B), physical data centre management and cabling infrastructure (TIA-942, and TIA-42)) on behalf of the Telecommunications Industry Association (TIA) standards group.
"To ensure that each of our data centre clients received the logistics and relocation services they needed specifically, we launched JK Technology Services, which offers staff augmentation to ensure needed alignment. We will act as an extension of our clients' staff, offering asset verification, Smart Hands, equipment migration, rack configuration design, AND port/patch matrix development."
Serving as boots on the ground helps clients to ensure that they mitigate the risk of unnecessary downtime and maintain business continuity for mission-critical operations, while achieving full transparency and visibility into each step associated with the logistical and relocation needs of the data centre market.
And, as the growth of the data centre market shows no signs of slowing, this prime position will continue to give JK a phenomenal advantage.
"The growth of data centres in this marketplace is neverending," Kuhn states.
"When I look at JK five years from now, I'm confident that we will double the current size of our organisation; we'll double the amount of warehouse bases we have in the area. A lot of that will be in order to properly support the data centre community."
JK continues to expand in the data centre community, and Kuhn expects that to continue at the same pace. The company is currently serving a growing number of hyperscalers and co-location companies around the globe, and, alongside this, is adding to the footprint that it services.
EVs, reusing waste, and founding the JK Community Farm
As is instrumental in the industry's future-proofing strategies, any service provider working in the data centre sphere has been pushed to improve its sustainability standards. A green mindset can be 'make or break' to a service provider's success, as Kuhn well knows.
"Sustainability has been a real key focus area for JK, for quite some time," Kuhn says.
In fact, in a bold demonstration of its sustainability commitment, the company recently ordered a dozen Tesla trucks.
"We're moving with best-in-class standards, adopting the latest and greatest technology. We're one of the pioneers, embracing electric vehicle technology – and we're excited to test these new vehicles to see how they work in our fleet."
Alongside this major investment, Kuhn explains that the company currently reuses 100% of the waste oil from its trucks, with a portion put aside to heat its buildings.
In another pioneering sustainability initiative, the JK Community Farm was founded in 2018. This farm produces chemical-free vegetables, fruit, and meat proteins to help improve food security in the Washington DC area. It is almost entirely volunteer-run, and the farm sits on 150 acres of land that has been placed into conservation easement.
Partners in sustainable growth – the value of a green partner ecosystem
JK has further reduced its waste by adopting a box-less move strategy, in which they use reusable plastic totes in lieu of conventional cardboard containers. As you can imagine, this prevents a huge amount of the waste that would usually go to landfill. Then, for any cardboard boxes that they do use, the containers are formed of completely recycled materials and are therefore entirely recyclable themselves.
"We're very proud of how much material we keep out of landfill. We actually measure annually how much we are reducing our waste," added Kuhn.
A solid partner ecosystem has been instrumental in JK Moving's waste management achievements. Most notably, JK Moving Services has been able to implement an exceptionally strong e-waste recycling programme, thanks to its partnership with C2 Management and Lifecycle Sherlock.
"C2 Management focuses on the backend management of reducing carbon footprint, which is important across the industry," Kuhn states.
As such, C2 Management disposes of any remaining assets by refurbishing or reducing them down to their raw materials so that everything is reused and saved from landfill.
"Another group that we partner closely with is Lifecycle Sherlock. They provide us with ESG and sustainability services, design and manage net-zero journeys, track Scope 1-3 emissions, and secure and monetise carbon offsets. In these ways, Lifecycle Sherlock helps us to participate in the growing carbon economy."
For JK, these partnerships have enabled them to continue hitting best-in-class standards. Not only does this make them a market leader in their field, but it also allows them to deliver this top tier of sustainability across its entire client network.
"Partnership collaboration is imperative to our success; we cannot do it without our partners. We would be doing the data centre market a disservice if we didn't partner with groups like C2 Management and Lifecycle Sherlock – they've been critical to our ability to reduce the carbon footprint and to properly serve our clients."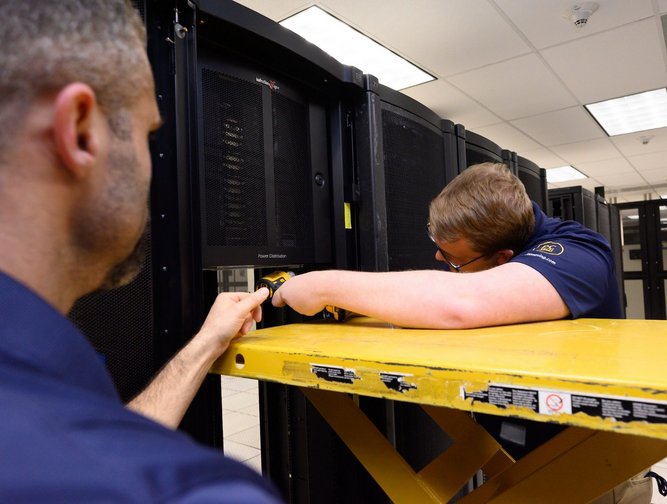 JK Moving Services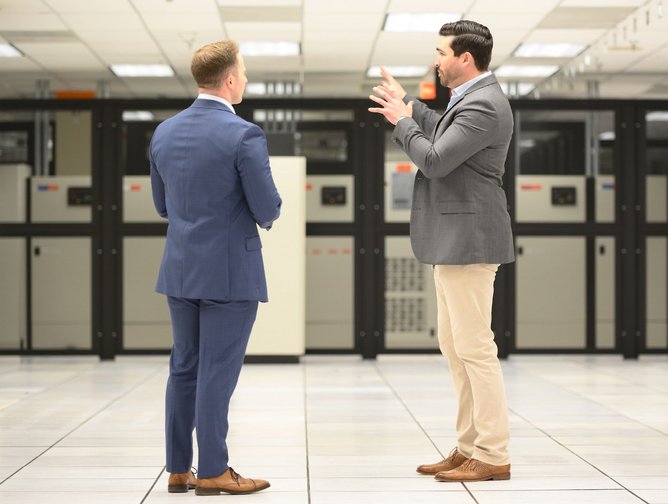 JK Moving Services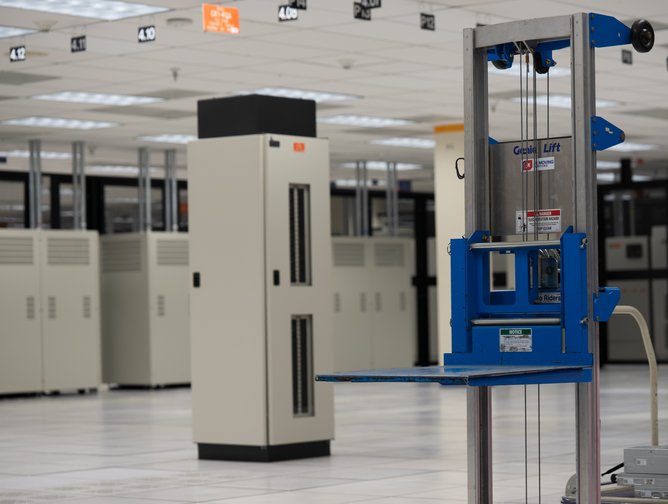 JK Moving Services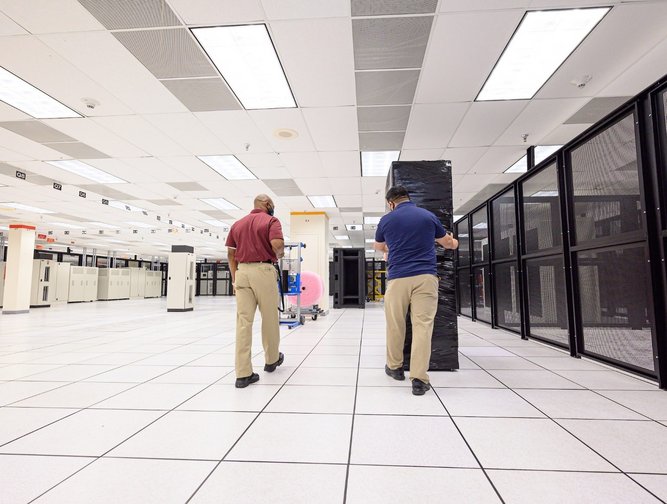 JK Moving Services