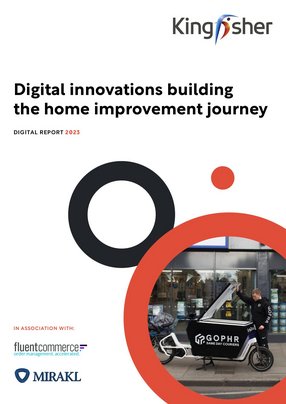 Digital innovations building the home improvement journey
Whether it is a one-hour delivery service or successful new marketplaces, Kingfisher is implementing innovations to improve the customer experience
While many retailers struggled during the COVID-19 pandemic, the home improvement sector went through something of a boom.
According to research, COVID-19 restrictions drove 86% of home improvement projects in the UK in March 2020, as people were forced to stay in their homes, while figures from Kingfisher covering the year to the end of January 2021 reported that overall web sales grew 158% year on year, to account for 18% of total group sales - more than double the 8% share pre-pandemic.
An international home improvement company with approximately 1,500 stores and over 80,000 colleagues, Kingfisher operates in eight countries across Europe under well-known retail banners including B&Q, Castorama, Brico Dépôt, Screwfix, TradePoint and Koçtaş.
"We really help customers to improve their homes," explains JJ Van Oosten, Kingfisher's former Chief Digital and Technology Officer, who previously led Kingfisher's e-commerce and marketplace functions, along with its data and technology teams.
"We help DIYers and tradespeople to get their job done quickly, accurately, and in an affordable way," he adds. "We do this across all of our network of stores and different formats and brands.
"We also have a range of our own-label products, which account for 45% of Group sales, with brands like Mac Allister, Titan, Flomasta, Good Home and many others. These brands are very specific, very precious, and customers love them."
How Kingfisher is changing
The way retailers do business is ever-evolving, with innovations proving key to ensuring customer satisfaction.
In 2021, one of Kingfisher's brands, Screwfix, launched its rapid delivery service called Screwfix Sprint, capable of delivering orders direct to consumers within one hour. And, last year, B&Q launched its online home improvement marketplace, offering a 'one-stop shop' for home improvement products, with the aim of driving the retailer's digital growth.
As Van Oosten explains, from a technology standpoint, there have been a number of changes in how the business operates in recent years.
"Being much closer to customers, we now have a lot more pace in what we do," he explains. "We are far more agile in what we're doing. We're embracing e-commerce and data in a way that was not manageable many years ago."
For retailers, it is important to strike a balance and still provide customers with a seamless shopping experience. As the consulting firm McKinsey says, offering a compelling omnichannel experience is no longer a luxury but a requirement for survival. Most Gen Z consumers don't even think in terms of traditional channel boundaries, research has shown, and they increasingly evaluate brands and retailers on the seamlessness of their experience.
Kingfisher is in a strong position, with their extensive presence of stores meaning customers always have the best choice available to them. As Van Oosten explains, combining digital experiences with an extensive network of stores in a seamless way ensures that customers are satisfied.
"Our stores are not a liability, they are co-assets, and we are lucky to have them," he comments.
"Home improvement can be a complex journey for customers because they might have questions. Which piece of equipment do I need to buy? How are you going to make sure that the wood in a pack of flooring is the right one? If you have underfloor heating, how do you assemble it? How do you make sure you have the right quantity?
"All of these questions require some really deep expertise, which we have in our stores," he adds.
By having a local presence, Kingfisher's outlets can also utilise click-and-collect services, in a move towards stores becoming 'micro-fulfilment centres'.
"When you want to have access to things quite quickly, that requires a local presence by definition," Van Oosten adds. "We are lucky to have those stores so we can offer click-and-collect. In that respect, instead of it being experience-based or knowledge-based, our stores are far more like micro-fulfilment centres. And if we want to go to customers quite quickly, when they require a service from something like Screwfix Sprint where we have over 800 stores now in the UK, we can do so in under one hour. And that is phenomenal."
The success of B&Q's marketplace model
Since launching last March, B&Q's marketplace has been a real success story. The company reported in September 2022 that it was performing ahead of expectations, with sales from partner brands representing 8% of its online sales that month.
"Across the whole planet, there are around 179,000 merchants and about 24 million SKUs (stock keeping units) in home improvement," Van Oosten comments. "At B&Q we had about 35,000 SKUs compared to a range of four and seven million SKUs across the UK."
Developed in partnership with enterprise marketplace SaaS platform Mirakl, B&Q's marketplace offering expands existing ranges and adds new categories, utilising the brand's famous 'diy.com' website.
Marketplaces are growing in popularity with consumers, with nearly half (48%) of online product searches now starting on marketplace platforms in key markets including the UK and US, according to Inriver. Within six months of launching the marketplace, an extra 100,000 products via selected third-party sellers had been made available to customers.
"When you have a URL called diy.com, customers expect a high-quality product coming from trusted merchants," Van Oosten explains.
"We have a lot of traffic online and in stores, and so from a business perspective, it's logically the next step to enrich your economic model with another line of income, which is a commission-based business. And then once you have that marketplace, you can continue in that journey around monetisation. You can offer click-and-collect, and you can offer returns.
"Customers don't like to wait at home for their parcels," he adds. "They don't like the return process, which can be quite a cumbersome process by other players. So having stores is helpful, too."
Using data to provide the best experience for customers
To bring these experiences to customers, having a secure grasp on data is key. As Van Oosten explains, data can provide a number of benefits, from enabling personalisation and 'frequently bought together' features for customers, to implementing more sophisticated planning.
"With data, we can perform more sophisticated demand capacity planning," he comments. "When we're buying garden furniture, which might be for next season, usually there is a 10 to 14-month lead time on that. But how do we know today what next summer will be weather-wise? Is there going to be a demand for rattan furniture or wooden furniture? Is there going to be a specific shape or colour that will be a favourite for customers? That requires the ability to use random forest analysis approaches, which build on those very fundamental pieces of data and allow you to become more and more sophisticated."
A solid understanding of data also enables Kingfisher to more efficiently manage inventory, as Van Oosten explains.
"When you are looking at inventory in the stores, perhaps you sell most of it, or you had a good buy," he explains. "Do you mark that inventory down, or do you bring it back into your warehouses and save it for next year? Those decisions require a good understanding of data, and machine learning and artificial intelligence (AI) to help you to have a good approach around markdowns and promotions.
"If you have 300 stores, as B&Q does, and you have 35,000 SKUs and you sell for over 300 days a year, you do the maths - a spreadsheet and a human brain cannot cope with this. You need to be supported and enhanced by data and the internet."
A strong network of partnerships
As with any organisation, a network of partnerships is key to success. Kingfisher is no different, and is continuing to benefit from a number of selective partnerships.
"This is the fifth time I've launched a marketplace in my life," says Van Oosten. "The last time I had to do this, I had to build a lot of it myself. So, before we launched into developing such a solution ourselves, we had a good look around and I was very pleased to see that Mirakl had a good product, with a very good roadmap and solid funding."
In addition to working with Mirakl for the rollout of B&Q's marketplace, Kingfisher is also partnered with Fluent Commerce whose Order Management System enables a centralised view of inventory across locations, providing improved order fulfilment, fewer cancelled orders and fewer customer support calls.
In November 2022, Kingfisher also announced a partnership with Google Cloud to enhance the retailer's digital capabilities.
By capitalising on Google Cloud's infrastructure, platform services, and AI solutions, Kingfisher, its retail brands and customers see a number of benefits, including greater website uptime, better forecasting and improved personalisation.
"With Google, the question was threefold," comments Van Oosten. "First of all, you need to get some speed. To gain speed, it's much better to port most of your applications, including SAP, to the cloud. Once you do that, say you have automated DevOps for example, you don't need to have your own environments, which are always a bottleneck when you want to do testing, and you have better security as well.
"You also end up with exposure of your data in a much easier way because of the big query nature of Google," he adds. "You are also attracting better talent, because they want to work with these types of tools, rather than very old mainframe types of applications."
As Van Oosten explains, for Kingfisher it is hugely important to build selective partnerships, with organisations that share the same values.
"Some of these things do not work if you have a different value set, so if an organisation is not engineering product and customer-led. If an organisation doesn't quite understand the importance of scalability and instant availability in real-time, or if they're not flexible in the way that the technology has been set up with auto-scaling, there is no point in starting a conversation.
"I'm not interested in companies which are not born out of the internet," Van Oosten says. "A lot of the time they rebadge themselves as a cloud-based solution or SaaS, but actually they're not. It's very difficult to change something which is heavy and client-based to truly become a cloud-based company."
Future digital ambitions
With a number of innovations delivered already, Kingfisher are in no mind to keep standing still.
"The modus operandi we have in our mind, is that we are just at the start," Van Oosten says. "We're constantly thinking about day one and that means that there is so much more we can do.
"In the marketplace, for example, we are thinking how can we scale it faster? Which type of functionalities can we have, which type of business model can we use to evolve it even faster in the UK?"
In a uniquely strong position of having such strong brands and local presences, what is clear is that future innovations at Kingfisher will have both the digital and physical worlds at the centre.
"We look at stores as a wonderful asset where customers can go quickly," he comments. "So, when people say to me, 'you do click and collect in one hour, but can I do it in one minute?' I say, that's what we did in Screwfix.
"We look at the whole experience, we digitalise inside the stores as well to assist kitchen designers with 3D tools which are cloud-based. And then using mobile phones, customers can actually go and get a QR code and then see their own design in the store with their own pictures. It helps customers a lot, because it's a complex and emotional purchase in those instances.
"When I look outside the stores, we have relatively large car parks, and very good yards also. Yards for me are not just yards. Of course, we do goods in, but for me, they're also like perfect beehives where we can accept and welcome mopeds, bikes, where we can have vans, where we can have trucks, where we can have trucks with a crane.
"If you look at stores in that way, then suddenly you can see that those assets can actually have another lease of life," he concludes. "And then, we are a mere custodian for the next generation of those brands."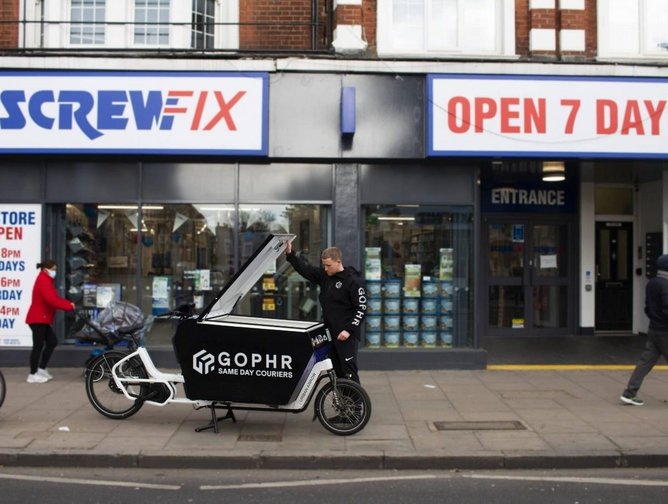 Kingfisher Plc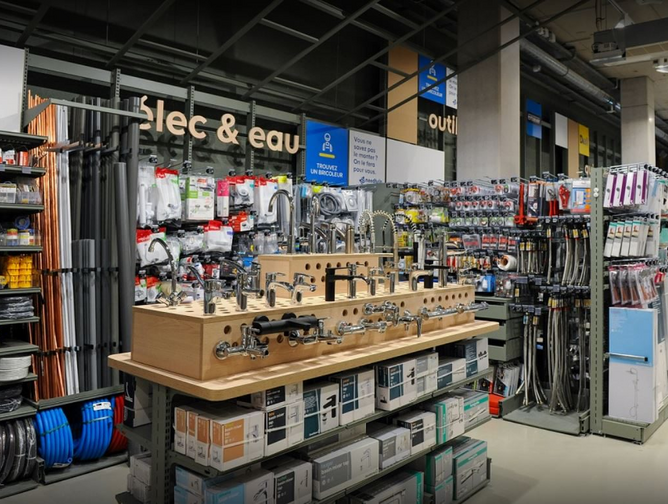 Kingfisher Plc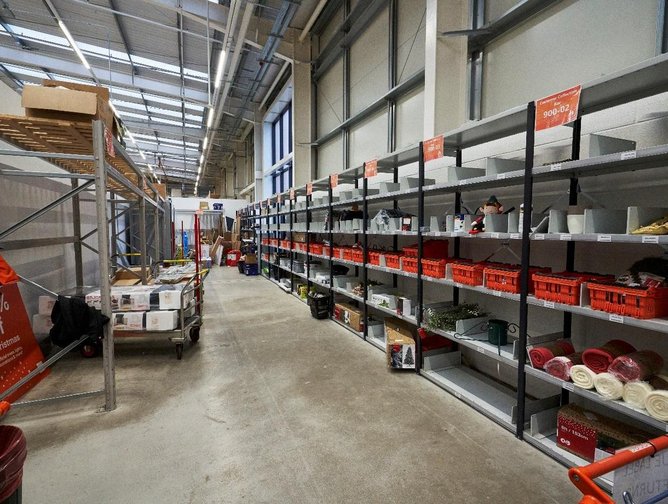 Kingfisher Plc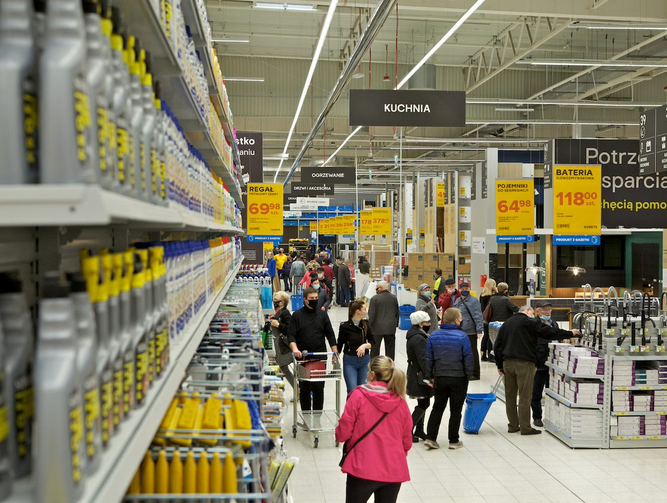 Kingfisher Plc