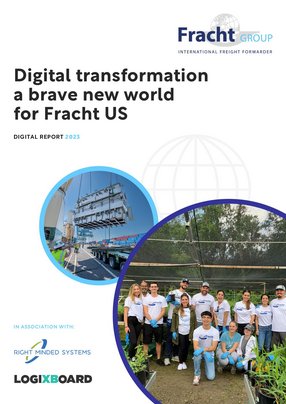 Digital transformation a brave new world for Fracht US
International freight forwarder Fracht US has digitally transformed, improving life both for the company and its customers, says Darwish Adi, VP of IT
In what must amount to one of the best-ever summaries of the business of freight forwarding, Darwish Adi, VP of IT of Fracht Group – United States says: "Basically, we're a travel agent for cargo."
He adds that, while people can get themselves to the airport, onto a plane and then through customs, cargo cannot.
There is far more to outsourced logistics than this, of course; there are quite literally thousands of moving parts in logistics at any given time.
Indeed, third- and fourth-party logistics providers (it's the same thing as freight forwarding) have evolved significantly even over the past few years, with the pandemic prompting a faster pace of change.
Early in the pandemic Fracht – like all logistics providers – was faced with a shortage of capacity and rocketing prices. It was a tough time, Adi recalls.
"As a freight forwarder it gave us a huge challenge," he says. "I mean, it's embarrassing to go to customers and say that the same container you moved last week for $2,000 now will cost you $18,000."
But latterly, he says, things have improved.
"Availability is up and prices are down. Capacity is improving, ports are less congested and the consumption is there," he says, with a grin.
In today's post-pandemic world, Fracht's core business remains "our ability to efficiently and safely move Freight around the world" but Adi adds that "what we are able to offer customers is changing".
He says: "I would say that more recently we've come to be in the business of delivering information, alongside the product themselves."
This change has been because Fracht US has undergone a digital transformation, which gives it better visibility of its operations, and gives peace of mind to its customers, who want to know exactly where shipments are and if there are any problems.
"Customers depend on us to be aware that they have received orders from their own customers," says Adi. "With that knowledge, we'll start to prepare for when the product is actually produced, so that we can prepare for it and deliver it to their customer."
He adds: "So it starts with us being aware of our customers' orders, and moves on to us arranging for the movement of such goods. Then we track it, and keep a record of where that product is in the world, at any one point until it is delivered to its destination."
Along the way, plenty can happen to a shipment; the world has seen enough evidence of this over the past three years to last us a lifetime.
But over and above pandemic-fuelled disruption, there are the everyday problems that have always existed.
"Ships can miss a call in a particular port, or call to a port that wasn't part of the schedule," says Adi. "Keeping track of containers and goods is a big part of it. Customers look to us to provide that visibility."
They also look to Fracht US to help validate invoices from carriers for services rendered.
Adi says that Fracht US also excels in "project cargo".
He explains: "Let's say the project is the building of an electricity generating plant. If we win the business, all of the equipment that it takes for it to become a plant becomes our responsibility to deliver."
Many of Fracht's customers are large, well-known global organisations, such as Siemens GE, Coca-Cola, Molsen and Coors. It's these larger organisations that have a need to move many thousands of containers of products in any given year, but Fracht also works with smaller, lesser known companies that are big players in their own markets.
Adi gives a large dairy product producer as an example. The US-based business produces cheese, lactose, whey protein and sweet whey.
"It supplies prepared and grated cheese around the world to customers and their dealers," explains Adi.
He adds: "Our digital transformation has allowed such customers to find better ways to manage their own customers. One of their customers might be Pizza Hut in Vietnam, and they will need to rely on the cheese products to arrive when expected.
"Using our data, Our customer can let Pizza Hut know when to schedule everything, all the way down to forklift operators."
Adi says technology has given Fracht US and its customers "a better-controlled distribution process", which he adds "allows our customers to feel less stressed because they can watch orders being fulfilled for their own customers". It has, he says, added value for Fracht customers.
Although Adi says Fracht is well advanced on its transformation journey, he points out that the process of change can never stop.
"All the core components of the transformation are in place, but in truth software never stands still, and the moment you stop enhancing and improving is the moment the software starts to degrade."
Fracht's transformation predates the pandemic; it already had its eye on using technology to support its customers for a while.
The initial steps it took made it easy for me when I came on board two years ago, in terms of coming to understand its goals, and to put a strategy forward that allows us to achieve those goals.
Adi's journey to Fracht started 30 years ago, when he began writing programmes for a local warehouse company. People were impressed with his work and asked for more, and this allowed him to migrate from the warehousing side to the transportation and logistics side.
"Over the years, I've been introduced to many sides of the business in order to support various technology integrations," he says.
This led to more leadership roles for him within the technology space, always for the logistics industry. "So although I am a technologist, my entire career has been in logistics," he says.
He says the most challenging part of the job are "the ever-changing regulations in our industry", and adds: "You're shipping between the US and Europe, or US and Asia, and navigating all the regulations and staying on top of all that is the challenge."
But he has many good people around him, and Adi and his team have been able to hit greater heights since Fracht US digitally transformed its operations.
"It's made a tremendous amount of difference to us as a company," he says. "For example, rather than mostly spending our time on data entry – and trying to keep up with the mountain of documentation that comes with each shipment – we now are managing a lot of this behind the scenes, electronically system to system."
Adi says that when he first joined the company two years ago, the number of employees more than doubled.
He adds: "The impact of the transformation is visible not just by the numbers of employees but also by the amount of throughput they are able to process.
"For example, our Atlanta office didn't necessarily increase its staff much but the goods that they move has more than doubled, and that was possible because we had the technology needed to process everyday records.
"Technology has given our people extra time to spend with customers and this allows them to better manage exceptions, rather than having to manage each and every shipment."
Adi continues: "We don't want to look at 250 shipments that are in-flight at any given moment. We only want to look at the five that are facing a potential delay. This allows us to offer a better service to our customers."
Adi is immensely proud of his team.
"They inspire me," he says. "They're exceptional individuals. We have some really strong leaders, and watching them day in, day out – producing products, connecting people and solving problems for our business – makes me want to do my role even better. It makes me want to support them, and showcase them to the world as individuals who do what it takes to support our business and our customers."
And those customers are beginning to change, thanks to new markets opened up by the transformation
Adi says: "It is opening doors for us, and allowing us to tap into markets that we haven't traditionally served, especially in terms of how we can serve industries that need to rely less on traditional energy sources. So we've got into solar panel distribution, and are supporting our customers in that now.
"I would say we're growing very strong in that space – of delivering solutions for companies that are responsible for enhancing the use of solar systems for generating electricity."
Same travel agent. Different cargo.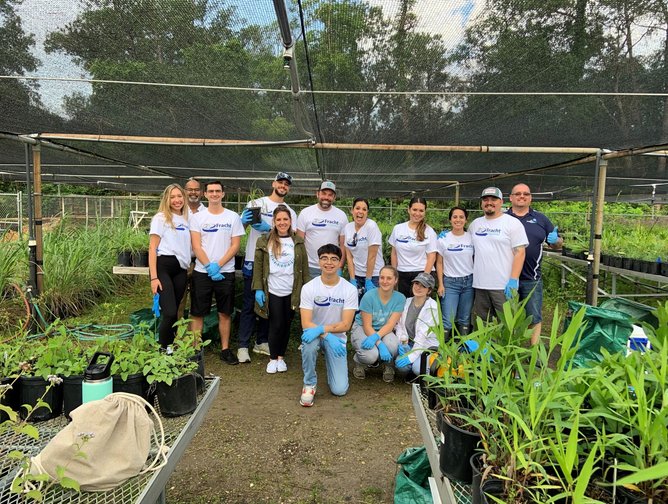 Fracht USA team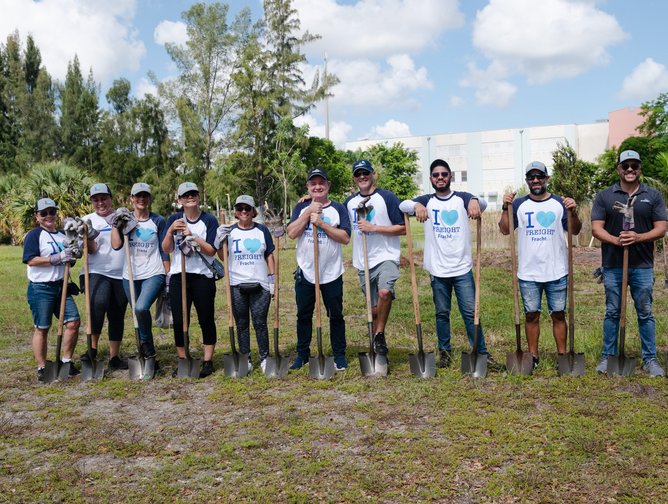 Fracht USA team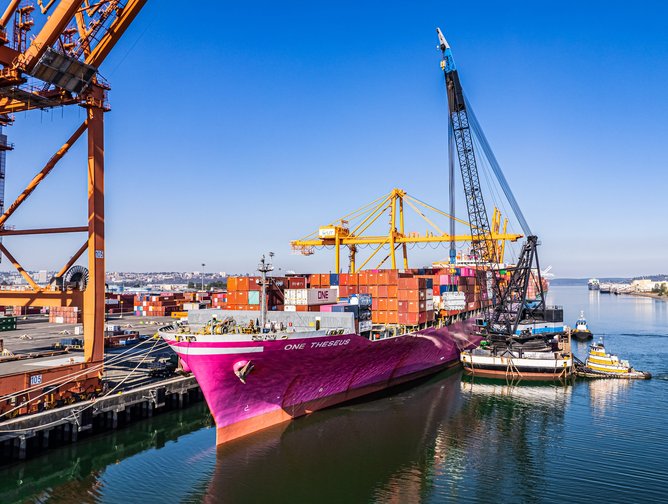 Transportation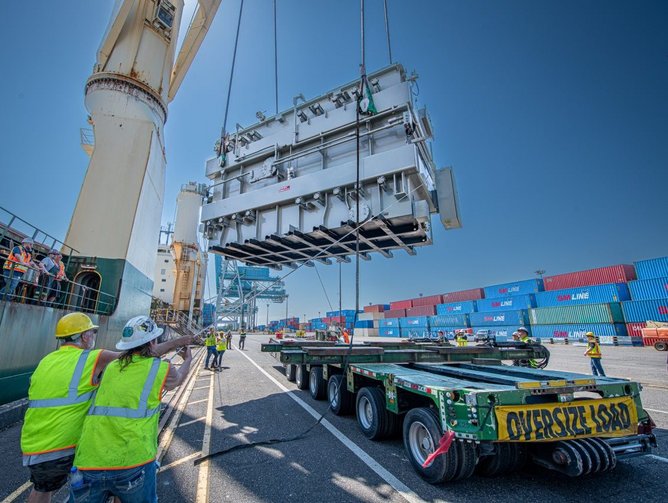 Transportation