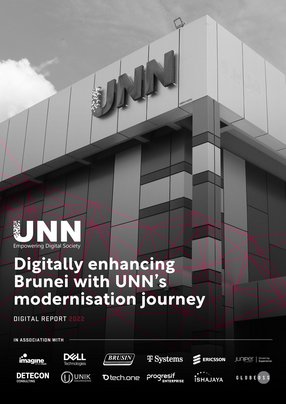 Digitally enhancing Brunei with UNN's modernisation journey
UNN's CFO, Bernd Flack and Head of Controlling, Kelly Ngo outline how the company support WAWASAN 2035 through education, innovation, and modernisation
Established in 2018 to support Brunei's development, Unified National Networks (UNN) looks to develop and boost the country as it follows its WAWASAN 2035 programme for a better future.
Wholly owned by His Majesty's Government of Brunei Darussalam, UNN is recognised as a government-linked company under Darussalam Assets (DA). Supporting an active part of business development, the finance department provides valuable information for decision-making, sales, operations, and reporting.
Bernd Flack, UNN's Chief Financial Officer, explains how he supports the company's goals: "We're here as we want to enable the young company to deal in the regulated market they operate in, find a place in the ecosystem that relates to the Brunei region and learn how to face international competition."
Outlining the significance of the company as it looks to support Brunei, Flack says: "UNN was formed to help support a bigger initiative conducted by the Brunei government in 2004, where they looked to set up a programme to renew and enable the country for the future. The government looked to invest in the education of its population to define its economic strategy for a dynamic and sustainable economy and make sure that the country will have the right infrastructure for growth. This programme - WAWASAN 2035 - has the incorporation of UNN as one amongst other key steps to develop its telecommunication and digital infrastructure."
As a telecommunications company, UNN supports Brunei with its programme by enabling people in the region to navigate challenges around telecommunication services, data processing, information technology and connectivity.
"Before UNN was established, there were several telecommunications companies in operation, competing based on infrastructure. Brunei itself is a small place, so having a lot of competition meant none of the companies could invest significantly in decent infrastructure," explains Flack.
"From this, the idea was born to set up a company that delivers infrastructure services, non-discriminatory to all the participants in the market. This means the telecommunications companies can acquire our services for the same price so there is no competition created from UNN itself," he continues.
One key company that transitioned in the telecommunications space is Datastream Digital (DST). Formerly a full-service Mobile Network Operator and a full mobile Service Provider, DST is now an asset-light, customer-focused, digital-first operator.
"DST continues to build on its digital platform and will continue to build its ecosystem to provide digital services, value and convenience as a priority to its customers in Brunei, with a set vision to grow into the region as a digital service provider," explains Flack.
Adding to this, Kelly Ngo, Head of Controlling ‒ who also looks to take on the role of CFO once Flack's assignment with UNN is over ‒ comments: "UNN is here to unify and consolidate all the infrastructure from the existing telecommunications companies. In doing so, we get to modernise and create a more cost-efficient digital platform where we provide higher speed, better connectivity, better coverage, and better service quality. In return, the consumers get the best price and can enjoy all these perks."
This consolidation started in September 2019, when UNN officially took over all network infrastructure operated by the existing telecommunications service providers, to deliver highly resilient and quality services to the whole nation.
Supporting Brunei's Telco ecosystem with modernisation
As an integral element of its programmes, UNN has looked at several diverse ways to digitally enrich Brunei and improve the lives of citizens and residents. It aims to tackle challenges around economic globalisation, growth in world population and the increasing use of digital technologies that put a strain on available resources.
"The market and technology are changing, and we want to respond to that," says Flack.
"When we look at the data business, data may be the resource that is driving business now. So, we are heavily investing in data centres and related services to make sure that we can provide a professional service to the industries," he adds.
On top of this, UNN provides infrastructure services and invests heavily in the country's network, among other technologies. "In the past three years, we have renewed the telecommunications systems in an immense way. When we started, the network was 2G and now it is mostly 4G-based on a high-performance mobile radio access network. We are now preparing for the launch of 5G - we have driven a huge development for the country," comments Flack.
He adds: "We have also transformed the fixed network. When UNN was formed, it was in the transition phase to fibre access, with a copper network in the ground but not adequate for the services required. Initially, we maintained it, but then we started to accelerate the fibre network rollout so we could deliver higher, better bandwidth and high speeds to our customers - that is a huge achievement for the country."
Highlighting the significance of this to the country's WAWASAN 2035 programme, Ngo says: "One of the related objectives is also to implement an ICT transformation journey, where it will transform Brunei to progress into a more digitally integrated future. So, with that, UNN plays a vital role because we are here to provide telecommunication services and to implement a cost-efficient and modernised digital platform."
"The initiative that looks to provide a digital platform is important. The pandemic, which affected everyone, showed that we need to become more digitised. Most business activities are now done digitally or virtually, so UNN has come in to modernise the network and improve bandwidth to ensure that people are still able to work, regardless of external factors that might challenge them," she continues.
To further support Brunei and its businesses as the world becomes more digitalised, UNN has invested in the existing buildings to create Tier Level data centres in the region and are in the process of setting up new ones to ensure all the needs and demands of its customers are met.
Brunei: from 2G to 4G with UNN
Still an ongoing transition, UNN's modernisation of Brunei's network from 2G to 4G is one of the organisation's most significant achievements to date. Now, UNN is also investing in 5G and accelerating what needs to be done to modernise the transport and core network to facilitate this.
"UNN's mission is to offer wholesale services to both national and international clients. This means that retail service providers can focus on rolling out their own products to attract those customers interested in the packages they are offering. Previously, they would have had to build their own infrastructure, which is not practical for the market size of Brunei. That is why UNN comes in to consolidate all the network infrastructure," explains Ngo.
This modernisation was key to creating the base for Brunei's economic progression, as it gives the population faster and more reliable internet access on a more modern network. As with any project like this, Flack explains how UNN had to adapt to meet the needs of the different areas in the country: "Although Brunei is a small place, we do have rural areas that do not, or did not, have connectivity. To tackle this, we set up a programme that takes care of this part of the country, to make sure that we can provide the same services to the rural areas. Of course, we have also looked at ways to improve connectivity in more residential areas, too."
Additionally, the modernisation programme looked at the government, education, and health network. Coming with several challenges, UNN soon realised that, through education and development, it could give back to the country.
"In both initiatives, we wanted to give back to the country's economy in several ways. When we deal with international suppliers, one requirement is that they use subcontractors located in Brunei. This gives local companies the chance to develop their business," explains Flack.
To ensure the local companies were prepared to support UNN's network modernisation, the company, in collaboration with universities, educated them to ensure they could effectively contribute to the projects.
"15% of our business is supported by international companies, but the remaining 85% is done by local companies. When we construct towers, we rely on local companies. When we look to connect households and put new cable in the ground, that is done by local suppliers," outlines Flack.
"This is not just company policy; this underpins our commitment to contribute to the Brunei economy and enable businesses within the community to have a sustainable economy. All those companies will gain more experience and be better positioned for it. They are all really committed to our business, too," he adds.
Looking at the significant number of economic benefits this modernisation has brought to Brunei, Ngo notes: "Another way this transformation has boosted the economy is through the creation of jobs. As we have created more work opportunities for local contractors, they need to get more resources to collaborate with us. Many of them have taken on more teams to help them meet the work we have awarded to them."
Despite these economic benefits, Flack explains that there are some significant challenges around the population's reaction to this programme: "We have, from time-to-time, faced situations where people have tried to damage the network. This not only impacts UNN, but it also impacts the customers in the country, so we work together with the government to make sure these incidents can be stopped. Not only do we lose time and incur costs when this happens, but we also lose confidence from those customers that are affected. To combat this, we need to create awareness around the impact on the country if the network is damaged."
Cultivating the right partnerships for UNN's modernisation journey
Key to UNN's modernisation journey is its long-term partnerships with external companies. With over 280 registered partners, UNN has developed a process to ensure prospective partners will be able to meet the needs and expectations when it comes to digitally enhancing Brunei.
"Becoming UNN's partner is related to deep knowledge and working experience. Our partner strategy relies on at least two to three different suppliers that provide specific services to us. We investigate what their capabilities can offer us, and we try to ensure these services would fit for us over a long period of time," explains Flack.
Among others, one significant partner is T-Systems International, which has supported UNN with its cyber security portfolio. Keith Lim Chung Chir, Senior IT Architecture & Strategy Manager and Head of Cyber Security, comments: "UNN is collaborating with internationally acclaimed and established service providers, like T-Systems, to tap on their knowledge, expertise, experiences, and resources to redesign and implement a strong infrastructure and cybersecurity framework suitable for a local context."
"One such collaboration is the use of the SOAR, whereby Security Operations Centre (SOC) analysts from both UNN and T-Systems are able to plan, manage, track, and coordinate the response to incidents in real-time," he adds.
By using the built-in live stream functionality, SOC analysts from both companies can collaborate on investigations simultaneously based on real-time information on new or existing cases, tasks, and indicators of compromise.
Outlining another key player in UNN's modernisation journey, Mona Chin, Cloud Infrastructure Lead, says: "Implementation of Infrastructure as a service (IaaS) in UNN Data Centres are delivered by Dell Technologies. The new hyper-converged infrastructure by Dell and strategic partnership with VMware allowed UNN to launch our first commercial cloud service hosted in Brunei Darussalam. UNN has become the first Bruneian Certified Cloud Service Provider with Dell Technologies which enables IT transformation."
This collaboration has enabled UNN to develop a more robust ecosystem and provided them with a multi-cloud strategy. UNN Cloud, supported by Dell, has the capabilities to accelerate innovation to achieve the organisation's ambition to become the most advanced cloud service provider in Southeast Asia.
With such a robust mission and vision, it comes as no surprise that UNN has a whole host of companies looking to support them as they modernise Brunei's networks.
"Ericsson is another major strategic supplier to UNN for significant parts of the fixed and mobile core that underpins UNN's fixed and mobile service portfolio," explains Chris Phan, Deputy Senior Vice President of Network Strategy & Technology.
He adds: "This includes the introduction of the Ericsson IMS core to modernise UNN's voice service infrastructure, and the introduction of Ericsson's BSS to modernise UNN's IT infrastructure and support the improved customer experience."
Having supplied UNN with Microsoft Licensing for internal use and cloud use, Tech One has helped the organisation achieve 100% Microsoft compliance, elevating UNN's standing as Microsoft Solutions Provider, through Microsoft SPLA Agreement.
"Tech One is recognised for providing quality support and after-sales service, bringing value to UNN's Microsoft ecosystem. UNN has worked together with Tech One since the establishment of Enterprise Infrastructure, and we will continue to work together into future transformation," comments Yusrin Hadi, Senior Enterprise Infrastructure & Computing Manager.
When looking for guidance and support in commercial and digital areas, UNN turns to Detecon. "Due to their broad and professional expertise, Detecon has supported some of our projects towards success ‒ including some of the key projects: the wholesale service penalty concept, customer experience, BSS transformation, DCIT sales and services etc. This is evident of Detecon's commitment to knowledge transfer and support of locals in achieving a higher benchmark of excellence," explains Kim Wah Ang, Vice President of Customer Service Management.
As previously stressed by Flack and Ngo, giving back to the economy in Brunei is essential to UNN's mission. The organisation therefore partners with local companies such as CommVerge Solutions and UNIK Galvanizing.
Juniper Networks provides UNN with equipment for its new IP/MPLS and CG-NAT network through its partner, CommVerge Solutions. In doing so, Juniper Networks has enabled UNN to build a new 100G Core IP/MPLS and CG-NAT network in the three data centres.
With a refreshed experience-first IP/MPLS network from Juniper, this partnership will bolster UNN's efforts to create a modernized and efficient telecommunication backbone that will support the government's five-year masterplan towards transforming Brunei into a Smart Nation.
Adding to this, Hamdani comments: "The new IP/MPLS network is also aggregated to 8 other exchanges (or sites), which greatly expands capacity, replaces obsolete equipment, and consolidates multiple IP/MPLS networks."
To ensure its network has a robust physical infrastructure to support UNN's network roll-out and restoration, the organisation looks to UNIK Galvanizing as a major supplier. "It has provided us a constant and reliable supply of materials such as tower strengthening and poles, enabling us to perform strategic planning for our end customers and manage all stakeholders' expectations," says Dk Hjh Martini Pg Hj Abdul Rahman, Vice President of Delivery, Field, Rollout and Power.
As the telecom business relies heavily on its data and insights drawn out of that data, Flack explains UNN relies on its partner, GlobeOSS, and its Advanced Digital Analytic Solution: "Rich data extraction paired with the right domain knowledge and the right machine learning algorithm are a powerful combination. Various models can be used like clustering, regression, time series, graph, deep learning, R-Script, Python scripts etc. GlobeOSS' team builds, trains, validates, experiments, and deploys successful AI models."
Serving all Telco sales companies, UNN acts as the Bruneian provider of wholesale mobile, fixed, converged communications, and data solutions. It serves all sales companies, providing them a great connection and keeping them secure online.
Imagine ‒ a company transformed in response to a nationwide development in the telecommunications industry - is aiming to ensure that Bruneians can maximise their options in the ways they communicate with each other and the world.
Imagine champions freedom, flexibility, simplicity and transparency through mobile, broadband, and bundled products, and services. The company wants customers to have the power to stay connected in new ways and supports UNN as it helps Brunei transform.
Also key to the modernisation of the ecosystem is Progresif, one of Brunei's most innovative telecommunications companies providing residential to enterprise-grade mobile, data, and fibre solutions to Brunei.
"Progresif wants its customers to experience the joys of a connected, inspired, and progressive life. The company is developing creative solutions, innovative pricing plans and uncompromising service to make communications easy, to give our customers the freedom to do more, learn more and achieve more," comments Flack.
Finally, Ishajaya Technology, UNNs partner for ERP Systems, supports the company with decision making, as Flack outlines: "Jointly we are maximising operational efficiency and transparency – while building a solid foundation for future growth with Ishajaya's solutions for automated and integrated business processes. Their services help UNN to improve decision making with real-time insights to mobilise our workforce, and more. UNN extends with Ishajayas's support of our SAP functionalities step by step."
With these important partners assisting UNN as it supports Brunei with its initiatives for economic growth and continuously rising living standards, Ngo is certain the company will be a key driver for the region, concluding: "UNN will be a contributor to the future of the nation because we will always be one of the key drivers to try and help the country to transform digitally and also be able to help the people, and the businesses to be able to perform their job in a more efficient and effective way."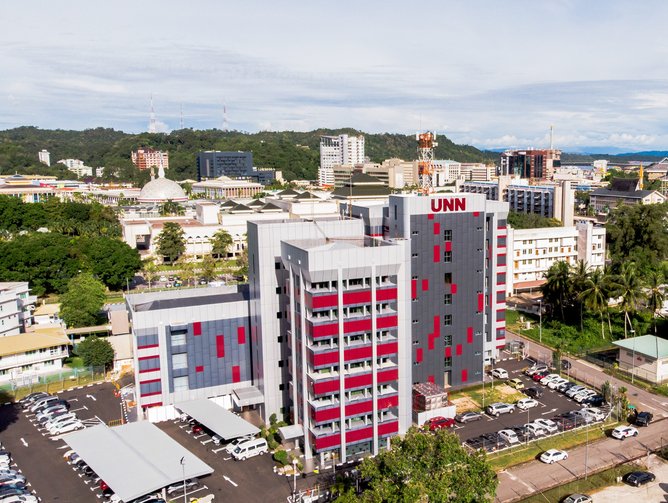 UNN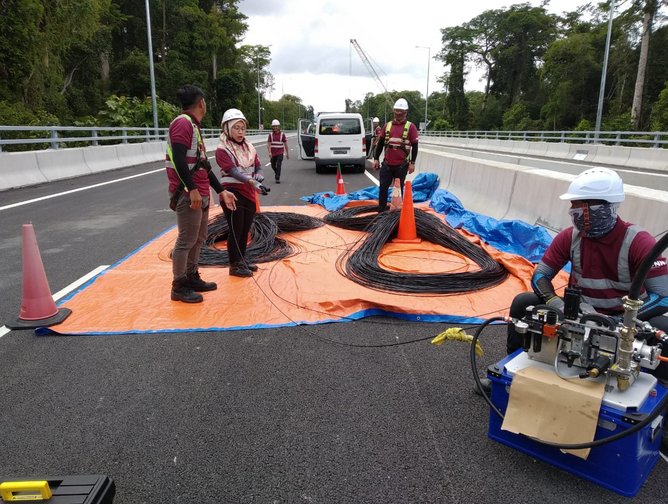 UNN
UNN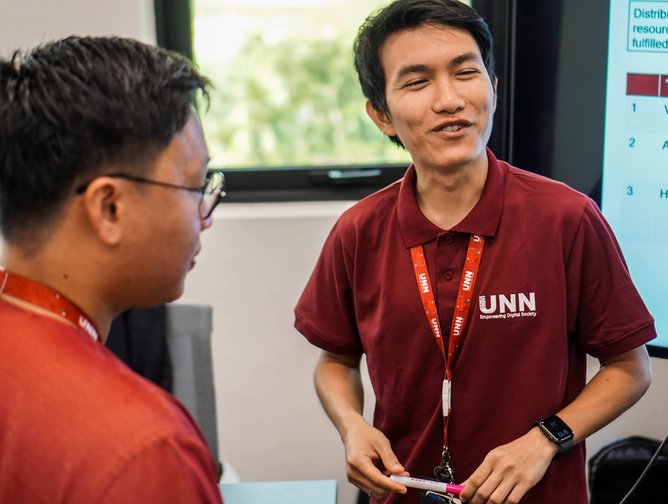 UNN