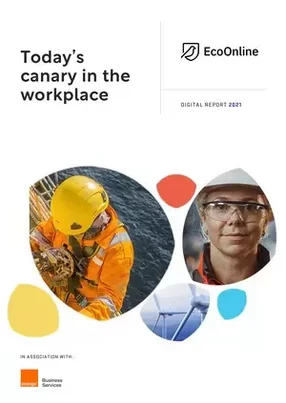 EcoOnline: Today's canary in the workplace
Safety in the workplace is the focus of EcoOnline who create safe, sustainable workplaces with user-friendly SaaS tools
A canary in a shield is a powerful symbol created by EcoOnline which depicts how animals have long observed impending hazards within the workplace. The new branding from Norwegian-based EcoOnline clearly connects with their mission to help customers create safe, and sustainable workplaces through user-friendly SaaS (Subscription as a Service) tools.  
Øyvind Bauer, Chief Technology Officer at EcoOnline, highlights that through innovation and engagement they enable companies to protect their employees and limit their impact on the environment while reaching compliance and increasing productivity. 
The focus for EcoOnline is EHS (Environment, Health and Safety) and Chemical Management. EcoOnline uses innovative technology to help their clients build a deeper understanding of their operational and EHS risks. By designing EHS software with ease of use at its core, it lowers the barrier so that anyone can report incidents, near misses or other important events – wherever they are.
They use data captures and connect these to drill down into the root cause of the incidents, risks, or emissions. Through easy to use and understandable dashboards - everyone can take a role in spotting trends, corrective actions and contribute to protect employees, contractors, customers, and the public.
Chemical Manager gives control back to those managing chemical safety by directly sourcing Safety Data Sheets from the manufacturer and supplying the tools to complete custom and relevant COSHH Risk assessments which will be compliant and ensure the safety of employees.
Speaking from his office in Tønsberg Bauer said: "This year alone we have had three acquisitions and increased our staff by more than 100 people. EcoOnline was founded in early 2000 by Kjell Einar Hamnes, and for a long time focused on Chemical Management as the core domain. But through acquisitions and organic growth we have positioned ourselves in the EHS landscape and plan to cover more of this massive area moving forward."
Commenting on what gives EcoOnline its competitive edge, Bauer said it was down to having a culture of extremely engaged employees and the ability to be innovative: "People across all business areas that are willing to put in extra effort to deliver the best experience possible for our customers and that care about our mission and vision, and for EcoOnline to be a positive benefactor. Also, the fact that we are innovative and explore and execute on exciting technology opportunities that can give our customers positive benefits.
"The canary was a symbol of safety for miners, acting as an early warning signal when carbon monoxide levels became dangerous. With our new logo, we pay tribute to this extraordinary little bird and the continued innovations in health and safety."
Vision, mission and strategy
Bauer outlined EcoOnline's vision, mission and strategy: "We have set ambitious goals for ourselves and decided to incorporate all this into our core company strategy.
"Our vision is to be the preferred provider of HSEQ tools and services, by delivering sustainable results for our customers and the planet. Our vision underlines that we want to be the best software provider in our area and make impactful and important results for our customers. It's also our way to take responsibility in doing something good for the world. 
"Our mission is to help our customers to create safe, sustainable, efficient and attractive workplaces, through user-friendly SaaS tools. The mission further puts a spotlight on the fact that we want our customers to achieve this through the usage of our software, and so helping them get maximum output, revenue and results by actually doing that. We also want our software to be engaging and fun to use.
"On the strategy side we want to land and expand through creating good relationships with our customers, partners and authorities. We want to grow with the customer and help them in their journey so that they get maximum output from our products.
Another vital component is growing both organically but also through mergers and acquisitions. 
"Our endgame is to become a complete and integrated EHSQ management tool for all kinds of businesses and sizes, intuitively connected through our platform with a seamless user experience and using state of the art and smart technology to facilitate change and engagement across all EHS."
Software for a safer workplace
Bauer points out that facilitating a strong safety culture, EcoOnline provides an easy to use solution with multiple innovative ways to enter data. 
"By doing this, we make information regarding health, safety and environmental information more accessible to the whole workforce, and create positive habits that support a strong safety culture.
"Some examples of this are being able to report Incidents via WhatsApp or SMS using our AI bot – many people are used to using these tools in their day to day lives, and so not only are they able to report when they're on the go using a mobile device, but the experience is familiar and easy which encourages more usage.
"We also facilitate the use of QR codes for quick entry, which supports ease of use around different working environments from offices to manufacturing sites. In addition to our mobile offerings, easy entry forms and high level of configurability, we also offer powerful analytics that can be shared around the business to support learning and continuous improvement. As a result, our software is more than just a tool to record data, it becomes a way of working that makes positive changes to create a safer workplace."
Benefits of chemical safety software
"By empowering our customers with the ability to take control of their SDS Management, risk assessments and chemical reporting they both become compliant to regulations as well as help enforce a safer work culture and workplace.
"Additional modules like Substitution can help our customers reduce the number of chemicals that are dangerous to health or the environment, reducing their environmental footprint, as well as limiting the exposure to chemical hazards at the workplace. We also have QR codes that our customers can print out and attach to a room, for instance laboratories. Once scanned these links provide a well-structured overview of potential hazards and access to information about  the safe handling of chemicals. 
"Additionally, we can provide solutions for registering and monitoring exposure to chemicals that are hazardous to health (like carcinogens), which can significantly contribute to important insight and analytics to enable the company to actively work on limiting chemical exposure for the employees," he said.
Investors onboard with EcoOnline include, Summa Equity, Goldman Sachs, Premier Milton Investors, Swedbank Robur, Capital World Investors, Ophir Asset Management, Dider & Gerge Fonder and Viking Venture.
Focus on Machine Learning
This is an area EcoOnline has carefully explored for a couple of years and is now tuning up its innovation and investment efforts. 
"We recently started a new sub-department in R&D called "Machine Learning," and recruited a great leader for this team, who stepped in as our Chief Data Scientist and is now bringing four more ML developers," said Bauer.
"We want to exploit possibilities in our products to both simplify and automate processes so that we can both help ourselves and our customers save time and money.
We already have an enormous amount of data to which we can develop and apply ML models to achieve advantages. Examples being automating data input, suggestion and recommendation engines and ML empowered search mechanisms.
"We have also recently invested in a very exciting company called Protex .AI which focuses on Vision based AI. With them we want our products to be more helpful in real time situations and aid our customers in avoiding dangerous situations through predictive video analysis. This is an extremely interesting and promising area.
"In terms of innovation we are also exploring other areas and have already taken quantum leaps in our cloud architecture journey. All our main assets are now on AWS and we are then able to empower our applications with a multitude of services available there."
Bauer points out that it's vital to position your R&D department and technology so that you are able to react and adapt on a constantly evolving journey and rapidly changing technology landscape.
"You must be prepared to quickly onboard and get new developers to deliver value quickly, as well as making sure your technology and architecture can withstand the ravages of time, and have the flexibility to constantly evolve and grow with the business.
When it comes down to everything, we are expected to help deliver ARR and key results, technology is a main enabler for this, so it's vital to also have a healthy business understanding as well to support this and see the broader picture.
"I also want to underline the importance of "everyone contributing". Having a Mission and Vision for the company that is inspiring is critical for both the internal culture, how the customers, market and media perceives you as well what is important for you in life.
For me, I love getting out of bed, going to work, and contributing towards a better world through my role in EcoOnline."
Ecosystem of trusted partners
Øyvind Bauer, Chief Technology Officer in EcoOnline outlines the importance of EcoOnline's collection of trusted partners:
Basefarm (Orange Business Services)
Our cooperation with Basefarm has lasted for more than 10 years. They have been our trustworthy hosting partner over all these years, and paramount to our recent full transition over to AWS. We have used them as consultants and cloud architects from our previous Basefarm private-cloud setup to our brand new AWS infrastructure.
Basefarm has the responsibility to keep our production environment running and helping us deliver a top in class SLA, as well as helping and advising us on our continuous cloud journey.
AWS
We are the portfolio company for Summa Equity which has the most assets on AWS. Our EcoOnline EHS solution is fully hosted on AWS EU, and also through Basefarm we now have our remaining core products, Platform and Chemical Manager also on AWS. Our goal is to continue forward to bring all future offerings to AWS and continue to exploit advantages and innovative product areas with services available there.
We have discussed together how to further enhance our cooperation so that AWS will assist us in training and AWS certifications, as well taking advantage of exciting opportunities in our Cloud architecture. 
Jamf
Some of our employees prefer and need a Mac computer in order to fulfill their assignments in a good and efficient manner. But since we strive to protect our customers and employees by having secure IT solutions, we had doubts if we could support Macs in our internal environment. 
Jamf provides us with the tools we need to securely support Mac devices by centralised security and operational management for these devices.
Orange Cyberdefense
Information security incidents are on the rise, and we need relevant competence in order to protect our assets in a reasonable and efficient way. Orange Cyberdefense has been a long standing vendor and advisor regarding most of our internal security measures. They have proven to be competent in critical security infrastructure solutions.
Insight
Insight contributed with assisting EcoOnline to put together a DataLoss prevention system which became a requirement through our UK acquisition Airsweb, and has proven important to certain enterprise customers.
What is EcoOnline EHS? 
EcoOnline EHS is a comprehensive SaaS solution that gives customers access to the tools they need to get on track with health and safety management. 
Plan, manage and implement, in a single, and highly flexible tool designed to support the way you work. Build checklists, conduct inspections, assign actions and report accidents. Customise your own templates with our intuitive smartforms, or use one of the default templates made by EcoOnline's experienced safety professionals. 
"Our tools are easy to use, and cover a wide range of EHS topics making it a great one stop solution for our customers, which is further supported by our recent changes to create a unified UX experience across all products," said Bauer.
"We provide best practice content out of the box, along with a high level of configurability so that each business can adapt the system to fit their business perfectly.  
Innovation is a key focus for EcoOnline and so we're always looking to develop new ways of working that will help our customers, from WhatsApp reports, QR codes, reporting Kiosks and the use of AI bots for Q&A responses."