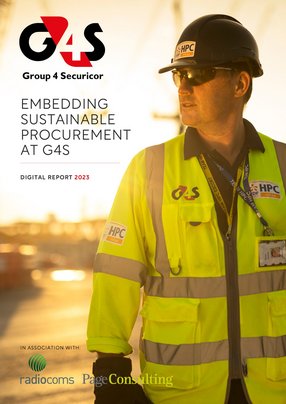 Embedding sustainable procurement at G4S
Jon Willescroft is CPO for G4S – part of the world's largest security company - and it's his job to drive meaningful, sustainable change
Search the term 'G4S personnel' in Google images and the result is startling: screen upon screen of vigilant security staff clad in armoured clothing, many of whom are armed. They are protecting everything from gas and oil plants in troubled regions to cash-in-transit vans transporting banknotes and coins.
These are the frontline employees of G4S, the multinational company that specialises in manned security services.
Asked who inspires him, Jon Willescroft – Chief Procurement Officer at G4S – doesn't even pause.
"We've got half a million people, globally, on the front line, and every day those men and women pull on their uniform, they're putting themselves at risk," he says. "They define our business, putting themselves in harm's way to deliver services. It's impossible not to be inspired by these people who have the toughest jobs."
G4S is part of Allied Universal, a leading security and facility services company that provides proactive security services and cutting-edge smart technology to deliver tailored, integrated security solutions that allow clients to focus on their core business.
It provides trained and screened security officers, as well as security systems such as access control, CCTV, intruder alarms, fire detection, video analytics, and security and building systems integration technology.
As a result, G4S spends over a billion dollars a year with suppliers and subcontractors, giving business to thousands of SMEs across the globe. "Suppliers and subcontractors are a critical part of how we deliver for our customers and those in our care," says Willescroft. "This is why it's essential we partner with the best companies and organisations across the globe."

Managing global & fragmented team 'a huge challenge'
Easier said than done, when you have 150 procurement people scattered across the globe. Willescroft concedes that managing a large global, fragmented team is a massive undertaking.
"It's really challenging," he says. "From a procurement perspective, I've got people spread across the world, and within that you've also got big cultural differences as well as a wide range of capabilities, skills and knowledge."
This, he says, is why G4S has crystal clear minimum standards and requirements.
"Whether I'm talking to a procurement administrator in Columbia or a head of procurement in Belgium, I talk in a language that figuratively they understand," he says. "And I also have to take the time to embed the message."
"You can't be passive about it. You can't just send out one set of standards and expect people to understand and comply with them."
Willescroft also uses what he dubs "positive tension" as a management strategy.
"By positive tension, I mean regions and categories challenging one another to drive value. It's important that this exists between my global category leads – who deal with the international business – and the regional local procurement leads.
"This is the matrix model I've employed and I think it works pretty well."
Data is another weapon in his arsenal.
"The insight you drive from data is absolutely key. It's the glue that holds the procurement function together. Data allows us to talk about risk, performance, cost savings and sustainability in the same language, which makes it much more powerful to the wider business."
Keeping his global team engaged, informed and motivated is another major challenge, says Willescroft: "Given the complexity and the geographic spread of the team, my objective is to make everyone feel part of a single team – one global professional procurement function – and to feel proud to work in that team."

Consistency of message is key with global teams
There are no "dark arts" involved in this. "It's all about communicating," Willescroft says, "and adapting that communication to the local countries.
"Within this, you also need consistency of message. You need to clearly lay out the roadmap of where we're going across our core pillars of procurement – whether that's sourcing, supplier management, or sustainability."
Technology helps, too. G4S is in the process of launching a global procurement capability development tool, which Willescroft says will provide people with "a map of where they are today from a development perspective against the skills and competence we'd expect them to have".
If managing people is one onerous challenge, then protecting the bottom line is another. So, how does Willescroft drive value in such a fragmented global market?
"Wherever we can leverage globally with suppliers, we do so," he says. "But a lot of our supply chains are by their nature localised, which is why we always make sure our category leaders are very collaborative. They need to be smart but also have a high emotional quotient. They have to be able to drive change, which is a big part of the job."
In Willescroft's view, this is vital. "If our people lack the right skill set or aren't motivated in the right way, then we'll fail. You need the right people, and you need to know how they're executing in their country."
Because G4S is a low-margin business, Willescroft says the role makes specific demands of him.
"You're more likely to primarily think short term in a low-margin business," he says. "If you're a higher-margin business, you have the flexibility to think a little longer term."
He adds: "But whatever business you work for, as a CPO, you have to be a commercially focused leader and deliver what the business needs to be successful. And what 'successful' looks like changes from business to business.
"I think there's more of a pull for procurement in a low-margin business like G4S, and probably the biggest challenge here is you have to work really hard to educate and drive the agenda of the business. You have to give the business what it needs, not what it wants."
Helping Willescroft and his team give G4S what it needs is a raft of technology-driven changes. Yet, underpinning this multi-layered transformation process is something that has nothing whatsoever to do with tech: rock-solid values.

Improvement only works if there are solid foundations
"Before you try and improve things, you've got to strengthen the foundations," he says. "By that, I mean strengthening the procurement community network by evolving the controls we have in place and making sure we're delivering sustainable, measurable savings across the business. These are the building blocks."
On top of this G4S is driving change through data insights and KPI dashboards to give it visibility, both of its internal controls and its supply chain.
With any change project, taking people along with you is critically important – and Willescroft's approach to this sees him again drawing from the communication well.
"You communicate clearly around purpose and direction, as well as why we're doing what we're doing. You make clear the benefits of working in a leaner organisation with leaner teams, such as there being more development opportunities for people within the team."
He adds: "I'm also keen that everyone is stretched beyond their core role in procurement, because this puts people at the heart of driving the change. In this way, you win their hearts and minds, rather than rendering change as something that is done to them.
G4S has, according to Willescroft, worked closely with Page Consulting on this. "They've helped us ramp up and execute really quickly in the UK on procurement capability development."
One key area of the change process at G4S is supply chain sustainability – something that's growing exponentially in importance across all organisations. Another is transformation around supplier management and assurance, which is designed to give the company better visibility of suppliers, not just from a risk perspective but also in terms of performance.
The goal is to drive value and innovation, Willescroft says.

Embedding sustainability and ESG is the goal
With sustainability and ESG initiatives – digitally-driven or otherwise – Willescroft believes the danger is that "you stick stuff on to existing processes and then it just falls apart". Embedding, he stresses, is key.
"How do we do that? By making sure that, at a functional level, ESG and sustainability are a core part of how we are measured and how our objectives are measured. This way, everything flows all the way down to individual objectives."
"Over the coming year, everyone has targeted individual measures that are not only around commercial delivery, but are also really clear on ESG and sustainability objectives. This means these topics are standing agenda items every time we engage with the business. Every time we sit down and review performance with the business units, or talk about sourcing, deals, or supply management performance, then sustainability is a core part of that."
Only by constantly talking about sustainability and ESG does Willescroft believe you can fully embed them into a business. He also points to the importance of having clarity on priorities.
"Sustainability is a broad subject, and you're in danger of spinning your wheels if you don't prioritise. I have top-down support from the executive committee, who align the procurement sustainability objectives with the corporate ones."
In this way, the areas he agrees upon with the executive committee "become our absolute focus".
Willescroft adds: "So, we have our core standards and policies – which are like hygiene factors – and then beyond this, the focus is on supply chain transparency."
Understanding the sustainability standards of its suppliers around the world is a big part of this.
'Do we understand where the risk sits?' and 'Can we manage it?' are the two key questions that Willescroft highlights here. "The areas where we're investing most time, effort and resources are net zero, supplier diversity, and human rights."
To this end, G4S recently launched an initiative in the UK to promote a broader representation of diverse-owned suppliers in its supply chain, with the aim of furthering diversity and inclusion throughout.
Broadly speaking, a supplier is considered diverse when half or more of the venture is owned and operated by a variety of ethnicities, those with disabilities, women, from a range of social backgrounds, or those from the LGBTQIA+ community.
As part of the scheme, G4S is working with Kaleida International – a UK and EMEA B2B marketplace for tenders connecting buyers to diverse suppliers.
Willescroft says: "We're committed to supporting diverse suppliers. Our suppliers play a critical role in helping us run a successful business, delivering excellent service to our customers.
"Greater diversity of suppliers brings a richness of thoughts, ideas and innovation. It's also critical that our business reflects and supports the societies in which we operate, including often more marginalised, diverse communities."
G4S is also taking big strides in its global 2050 net zero commitment, with procurement at the heart of this programme.
Willescroft says: "We've made great progress this year with our fleet decarbonisation. Working closely with our UK partner Leaseplan, over three quarters of our new vehicle orders have been low-emission vehicles.
"We're also now getting to grips with our supply chain emissions which account for 70% of the total, and will be working collaboratively with our major suppliers to drive this down."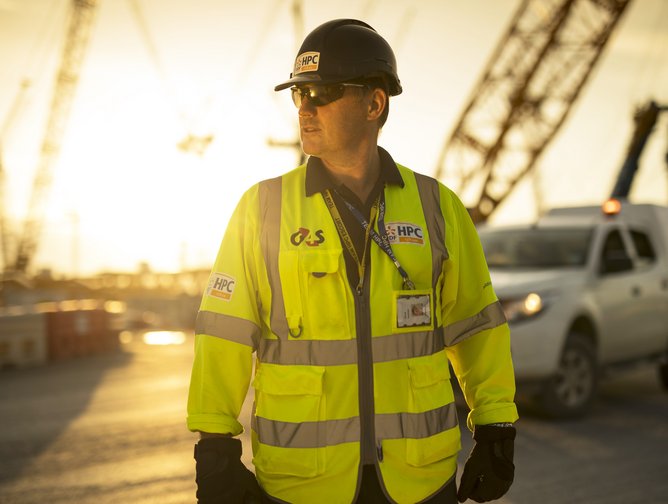 G4S
G4S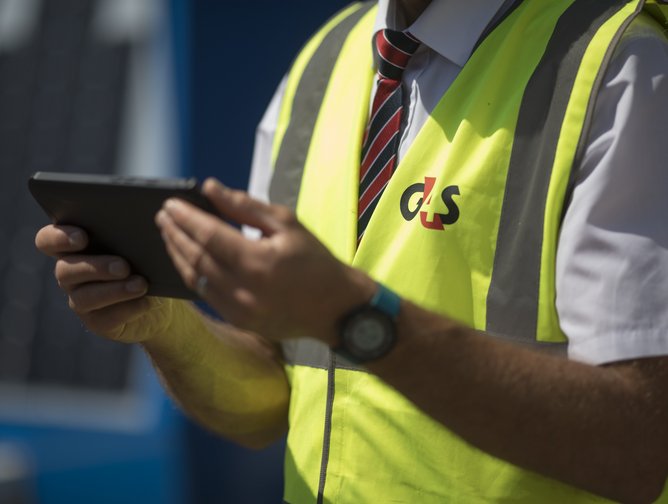 G4S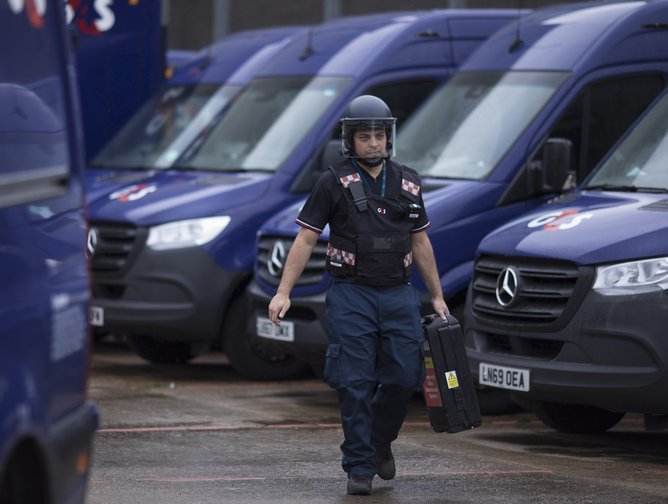 G4S