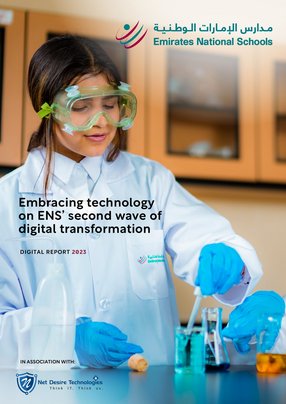 Embracing technology on ENS' second wave of transformation
Abdulrahman Khaiwi, Head of IT at Emirates National Schools, describes how the school is embracing the second wave of its digital transformation
Emirates National Schools (ENS) aims to provide students with educational programs that develop character, use technology to improve learning, and prepare students to be leaders and community members.
Formed by Presidential Decree and owned by the Ministry of Presidential Affairs, ENS first opened its doors in 2002 in Mohammed Bin Zayed City. Since 2002, the school has grown to six campuses, serving the Emirate of Abu Dhabi with locations in Mohammed Bin Zayed City, Al Ain City, and Abu Dhabi City, while ENS also includes campuses serving the Emirates of Sharjah and Ras Al Khaimah and its latest campus in Dubai.
ENS' Head of Information Technology, Abdulrahman Khaiwi, has more than 36 years of experience in the IT industry and most recently spent 25 years at the head office of telecommunications company Etisalat.
Joining ENS in 2017, Khaiwi spoke with Technology Magazine in 2020 about the process of implementing a smarter, more efficient way of delivering IT to the classroom, utilizing a 'four-pillared' scheme to focus the transformation, focusing on planning, people, vendor management and customer-centricity.
Now, Khaiwi is leading the schools' second wave of digital transformation, focusing on modern solutions, enhanced service delivery, and proper security controls to enhance business offerings and add value to students, parents, and staff.
Accelerating the use of technology
A key component of ENS' first wave of digital transformation involved changing the perception of IT from its 'legacy' origins to highlighting how it could add value.
Since those early stages, as part of ENS' digital transformation, several innovative technologies have been introduced. This, which Khaiwi describes as a multifold technology acceleration, enables a 360-degree, holistic view of the business priorities, and has been key to achieving the school's goal of operational excellence.
"Some of the major projects we have introduced are facial recognition and AI-based time and attendance solution, which is interconnected with our human capital management solution, with our management dashboards, and enterprise resource planning (ERP) and payroll," he explains. "Another one is our new human capital management solution that covers the complete cycle of HR requirements, starting from talent acquisition throughout the staff career path."
As part of the transformation, ENS has also carried out an upgrade of its ERP system from MS Dynamics to Dynamics 365. "This had many benefits, from supportability, functionality, security, integration and simplicity," Khaiwi adds. "We have also introduced more than 50 different dashboards and reports for the C-level management and department heads using Microsoft Business Intelligence, Power BI."
ENS has also introduced modern cybersecurity measures, essential not only to protect against financial loss and prevent disruption but also, crucially, to protect students from harm.
"We implemented SD-WAN, the software-defined wide area network across all of the six campuses in the UAE," Khaiwi comments. "This brings benefits of saving cost, enhancing resilience, and optimising network bandwidth utilisation. We have also brought in an endpoint detection and response (EDR) solution as part of enhanced protection against ransomware attacks and other threats on end-user devices and servers.
"Last but not least," Khaiwi adds, "using the hyper-converged infrastructure and server virtualisation, enhancing resilience, system uptime, reduced backup and restore window, enhanced RTO and RPOs for the core and mission-critical IT services and solutions."
Central to Khaiwi's mission is utilising technology, not for the sake of technology but only when it is aligned with ENS' vision.
"We stay aligned with the mission and vision of our North Star all the time," he explains. "We don't bring technology just for the sake of technology. We make sure that it is purely and 100% aligned with our mission and vision."
Digital strategy
Among the technologies introduced as part of the school's digital transformation so far, ENS has also utilised BPA and RPA solutions to streamline workflows and make processes more efficient.
"We actually evaluated low-code, zero-code platforms as a single platform for all our business process automation (BPA) and robotics process automation (RPA), digitising in a phased approach," Khaiwi adds.
Having partnered with a system integrator which offered a procurement solution on top of the low-code platform, ENS is using a single platform to automate its business processes in addition to the procurement solution.
"One of the main benefits of having the procurement solution on a low-code platform is that business owners of the solution will be able to alter the process and enhance it on the system as and when it's required, without even coming back to the IT team," Khaiwi comments.
Also built into ENS' digital strategy is the integration of new and enhanced network and security technologies such as Secure Access Service Edge (SASE), which plays a hugely important role in an education context.
"Threats are exponentially increasing globally, and the education sector is no different," Khaiwi explains. "Securing intellectual assets is one of the top priorities for every enterprise, and having multi-layered security controls is one of the most effective and efficient ways for enhanced protection. Yet the fact is there is no guarantee whatsoever that implementing the latest and greatest IT security tools and methods will make you 100% safe.
"Security is a continuous proactive process of prevention, detection, and response, with modern technologies like AI and ML that adds a challenge to the whole game here."
AI to enable around-the-clock support.
Among exciting innovations also being developed at ENS is an AI-based chatbot. Still in its early stages, once operational the AI-powered chatbot will provide true, around-the-clock presence of interaction with all website and mobile app users.
"The AI-based chatbot is still in its learning stage, and we are currently building the knowledge base and communication scenarios," Khaiwi explains. Once complete, however, the chatbots will offer an around-the-clock experience for all website and mobile app users.
"If somebody is already a parent and has kids with the schools, then this person could really do transactions, and make queries about the information he requires about their kids," Khaiwi explains. "However, a third party, a visitor who's not already a parent with us, can just ask general questions, and if the AI chatbot does not have the answer, it can just register that question and come back to the person later and say it'll be attended to later.
"This chatbot, which will be available 24 hours, seven days, 365 days a year, adds an intangible benefit to the schools by attending to the queries of the visitors outside the official school operating hours."
Partnerships helping meet goals
ENS has an extensive network of highly curated partnerships to help the school achieve its digital transformation goals. As Khaiwi explains, when it comes to choosing partnerships with vendors ENS performs rigorous research, whether it is an education-related solution or general ICT, looking into the matureness level of potential partners, flexibility, presence in the region and globally, and their strength in aftersales support.
"Technology plays an emerging role in today's world," comments Khaiwi. "To achieve success and security for our IT infrastructure, we partner with companies who value and understand our priorities and assist us in providing the right solutions to the students, educators and school management."
One such partnership is with Net Desire Technologies, a leading cybersecurity solutions provider based in Dubai.
Net Desire Technologies has extensive experience with cybersecurity solutions and is a specialist in endpoint security. "Our partnership with Net Desire gives us access to their skillset and their resources, along with their proactive approach to the latest cybersecurity trends," Khaiwi adds. "With our engagement on EDR, Net Desire helps us in deploying, detecting and supporting on latest strengths of cybersecurity and best practices to protect our servers and endpoints."
Using smarter solutions and enhanced processes
As Khaiwi predicts, current trends in the technology world are likely to influence the education industry in future. "ChatGPT, for example, has become very, very famous, however, there are other AI and ML based solutions which are really developing so fast, including an increased focus on online and remote learning, the use of technology to personalise learning experiences and the incorporation of more hands-on, experimental learning opportunities.
Additionally, Khaiwi predicts, the future may see a greater emphasis on skill-based education, as employers increasingly look for workers with specific skills rather than just traditional college degrees. "The focus is going to be more personalised, more bundled for the individuals where the student can select the path and can do it at his own pace, whichever speed he would like to," concludes Khaiwi. "It'll be personalised the same way nowadays the offerings are bundled for end users based on their expectations and likings."
As ENS continues the second wave of its digital transformation, the school is looking to continue to be a leader, using the most modern technologies and innovations to deliver modern concepts and ways of teaching, and to enable and empower school staff using smarter solutions and enhanced processes.
"One of the most important aspects is the enhanced user experience for all students and parents throughout all the touchpoints," explains Khaiwi. "Additionally, the board and school management will have access to live data reports and analytics for accurate insights and data-driven decisions."
As Khaiwi describes, the continued rollout of modern technologies and innovative solutions such as metaverse, blockchain, data warehousing and the implementation of AI and ML is well underway.
"We are currently leading the second wave of our digital transformation with the list of lessons learned from the first wave and the latest technology trends to help us deliver faster, smarter, and at lower costs."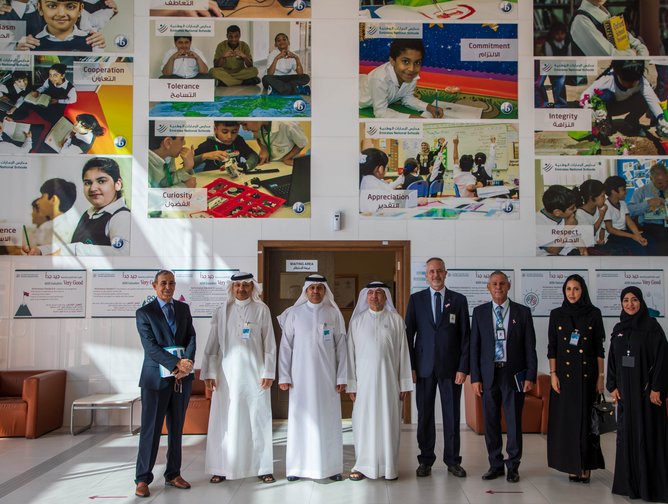 Emirates National Schools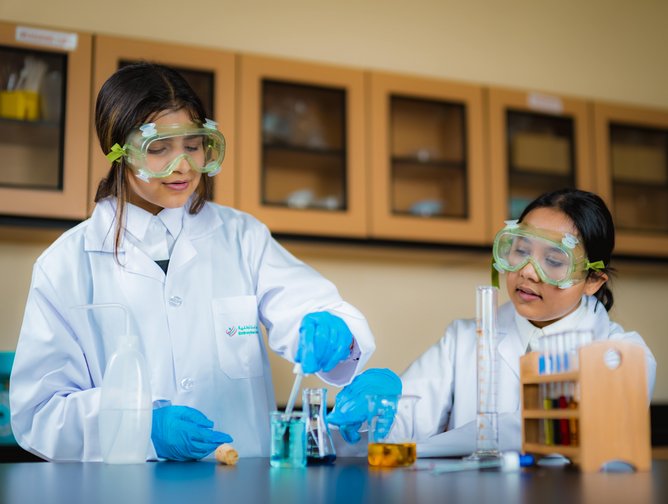 Emirates National Schools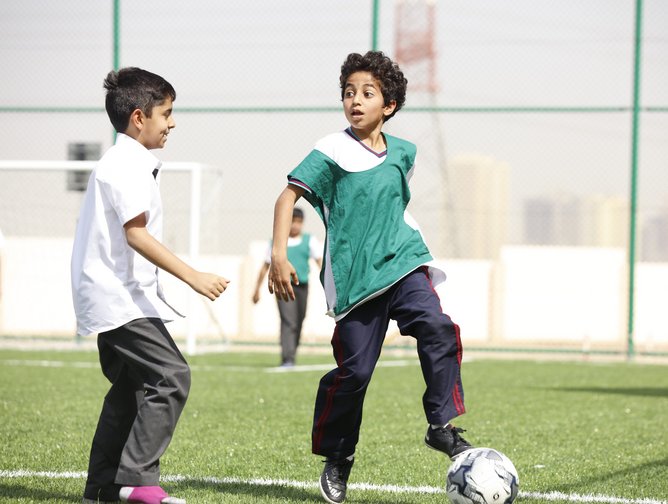 Emirates National Schools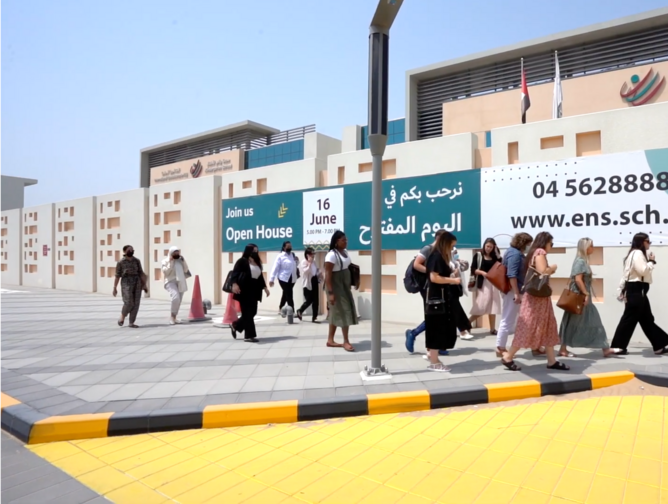 Emirates National Schools