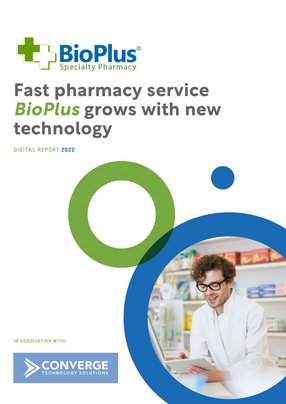 Fast pharmacy service Bioplus grows with new technology
Fred Gagle, VP of Technology & CSO, BioPlus, discusses the pharmacy's growth and how technology supported their services even in the challenges of COVID-19
BioPlus Specialty Pharmacy knows that timely care is critical, especially in the treatment of cancer, multiple sclerosis, hepatitis C, and the other complex conditions served by this speciality pharmacy.
Unlike a retail pharmacy, the speciality medications that BioPlus supplies are specialist medicines for chronic conditions. Founded in 1989, the company services patients nationwide and currently has brick-and-mortar locations in six states. "We have a motto of 'BioPlus, Where Healing Begins in 2 Hours'" Fred Gagle, the VP of Technology and CSO explains. "We are committed to being faster than other pharmacies and are proud to be the first and only independent, national speciality pharmacy to develop processes that quickly move through the steps from diagnosis to prescription fulfilment, within two hours, two days, and two Click operational processes."
As Gagle explains: "We call this the 'Power of 2' and it starts with our '2 Hour Patient Acceptance Guarantee' that notifies physician offices in less than two hours whether a referred patient is accepted for treatment or not. Prescriptions then move through the '2 Day Ready 2 Ship' process. In addition, patients with qualifying prescriptions can refill online with two simple clicks."
More recently, BioPlus also announced its advanced operational processes that allow accelerated delivery of certain generic oncology medications, guaranteeing that they are ready to ship within 24 hours of the pharmacy receiving a complete referral. "Until now, no other pharmacy has ever eliminated the excess waiting period — the time from diagnosis to starting therapy — that cancer patients have historically experienced when prescribed treatment. We think of it as 'hope delivered in 24 hours,'" notes Gagle.
The organisation has experienced rapid growth over the past nine years, increasing its workforce of 80 to over 500 today, and generating US$1.5bn in revenue.
"I think the growth has been a combination of many different factors," Gagle says. "It starts with our patient focus and our commitment to be the premier speciality pharmacy in the nation.
"I also think BioPlus has valued the role of technology and how our technology investments have helped us maintain a competitive advantage in the marketplace. Our speciality pharmacy has always focused on being 'fast & easy' for our doctors and patients, and technology is essential to meeting that goal."
Gagle also explains that BioPlus has dedicated staff across every department, with a strong culture that has been built over the years, which includes giving back to the greater community. Playing off the 'Power of 2' theme at BioPlus, there's a '2gether program' that provides a life-saving antibiotic through a partnership with OneWorld Health for every referral received at BioPlus. It's part of BioPlus' global vision to 'heal the world 2gether', helping to ensure patients across town and around the world have access to lifesaving and life-sustaining medications.
Like so many other organisations, this workforce was suddenly faced with the challenge of COVID-19, which necessitated a quick pivot to a new style of working. "Having almost 10 times more employees working from home was a real challenge," Gagle explains.
"This introduced many variables like troubleshooting issues at employees' homes with their internet connection and speed and all sorts of other issues that were previously in a well-controlled environment when people worked in the office. But it's also helped us become a better company," Gagle says.
Pandemic restrictions meant BioPlus had to improve remote access to the network. "We implemented soft phones, introduced Microsoft Teams, and had to quickly increase the capacity of our remote desktop servers. We changed all of our in-person meetings to virtual meetings, and even our sales team had to learn a different way of selling because many doctor's offices only allowed patients and not visitors."
By making these adaptations, Gagle says the company has experienced growth of 20% throughout the pandemic, which he calls "remarkable." In part, this is because
BioPlus was already equipped to handle the pandemic challenges due to the nature of how a speciality pharmacy operates. "We've always been somewhat virtual. Speciality pharmacies manage very expensive drugs, and it takes a while for health plans to approve the treatment, so we store everything centrally, conduct patient consults over the phone and then ship the medication.
"From that standpoint, we haven't really changed our business model that much. Years ago we implemented Interactive Voice Response (IVR) technology which made it easier to onboard new patients and fulfil medication refills for existing patients. We also added what we called the digital 'Patient Journey' which provides a comprehensive patient management system that includes a web-based patient portal, emails, text messaging, and educational videos that support patients by providing information about both the patient's condition and their therapy, including potential side effects and how to manage that challenge.
"Then we introduced our self-service '2 Click system' for patients to refill qualifying medications in a much easier and faster way, and in 2021, we introduced multiple online forms of payments for patients."
These digital experiences have led to accolades such as a spot among the Five Best Online Pharmacies from Money.com in 2020 and a 4.8 Google ranking from hundreds of patients.
In the future, Gagle says virtual services will be essential. "I think that telepharmacy and telemedicine have always been the future of pharmacy and healthcare, but the pandemic has greatly accelerated the need for this. In most aspects, BioPlus has already been providing telepharmacy for patients since we do consultations, billing, and patient care all through telecommunications and other virtual technologies.
"We may look into doing some kind of live video chat with our patients next, to give a more personal touch to patients. We have made large investments in online technology that can provide the best patient care and adherence to their medication and therapy. Our pharmacy makes sure that the patient therapy and treatment plan is going well and this is managed through a very comprehensive clinical assessment system. The assessment systems use the technology we developed and have refined to suit the unique needs of a speciality pharmacy."
Over the years BioPlus has also shifted toward the cloud. "When we choose software and technology we always make sure that it is mobile-friendly and can be easily accessed from anywhere. Remote access is key for our current and future success and it is an area we spend a lot of time on. In fact, we are fully transitioning to the cloud with Amazon Web Services (AWS) along with using Citrix Cloud," Gagle says.
BioPlus also uses a suite of Microsoft products, including Microsoft 365, Teams, SQL Servers, Power BI, and Great Plains. "Microsoft Teams has been an effective way to allow all our teams to communicate in this highly virtual world that we operate in today," he says.
"We use Biscom which is a cloud-based fax system, and Salesforce CRM which is our cloud-based CRM system for sales. Our strategy is also to introduce virtual desktop infrastructure in 2022."
Converge Technology Solutions is a key technology partner and has been supporting BioPlus' growth for over seven years. "They have always been there for us and provided technologies including load balancers, disaster recovery solutions, storage area networks, firewalls, Cisco switches, servers and other IT equipment. I can't say enough about this company and I would highly recommend them as a technology solutions partner and vendor."
Gagle says that for the next 2-3 years, BioPlus' top goals will centre around connectivity. "This means that by using people, process and technology we will be deeply connected to the doctor's offices and to our patients.
"We set higher quality standards for the speciality pharmacy industry by becoming the fastest pharmacy with our 'Power of 2' promises. Moving to the cloud and being able to work virtually gives us flexibility as we expand and grow into other markets. We're licenced in all 50 states, and in the future, we aim to be the most connected speciality pharmacy in the US."