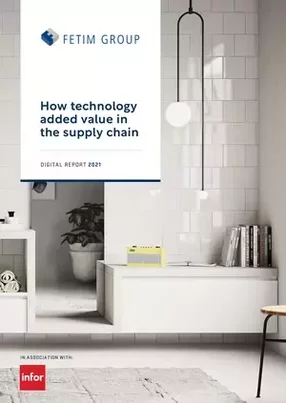 Fetim Group: How technology added value in the supply chain
Frans J. Beerkens, Director, discusses how Fetim's IT infrastructure has transformed over the past decade
The world of international trade is a complex chain of relationships, connected in a global channel of distribution. Fetim Group has traded internationally for over 100 years, in over 40 countries. Passionately developing products to improve people's homes, they're a family-owned business. As 3rd generation Director, Frans Beerkens, was always fascinated by the IT side of the business and who, as an early adopter of SaaS cloud technology, has ushered in a transformative digital, operational, B2B efficiency over the past decade.
As Beerkens explains: "We have about 30,000 SKU's in a variety of product groups, which include construction materials and flooring, (technical) sanitary accessory, window products, and a whole range of made-2-measure products that get delivered to a large variety of stores and regional distribution partners. The largest customer segment is known as the DIY (do-it-yourself), which include Praxis and Gamma in the Netherlands, Hornbach in Germany and Brico/ LeRoy Merlin in France, to name just a few. 
Part of Fetim's appeal is the complete collections they provide. As Beerkens elaborates: "Often our retailer customers will come to us and request a full-range offering per product category, either in private label or a host of Fetim brands, to implement throughout their retail landscape, often based on VMI (vendor managed inventory). This often requires some level of digital integration between partners."
Fetim sources product ranges based on our customer's geographical home-decor tastes and trends, and offers fitting branding to match: "We develop a customer profile. Based on these outcomes and local preferences, we present a complete store and range proposition. We propose different brands and labels going from good, better, and best; opposite opening price points and promotions. We create a complete calendar for customers from implementation, range and SKU monitoring and optimisations, overseeing the entire product range and ensuring it is delivered on time. The main job of the retailer is to provide great customer knowledge, a great 'showroom' and create foot traffic.
"New products and range innovations often tend to start in the professional markets. Only the successful ones are presented in the DIY segment," Beerkens said.
Market conditions force Fetim to alter its course
In a market that is renowned for changing frequently, Beerkens knew the company had to alter its approach over a decade ago, as he explains: "All over Europe, we used to have a large number of smaller, independent building supply centres and DIY chains. They each served specific markets and had a regional service function or served geographical niches. Today, most of those have consolidated into dominant regional chains or larger combined-buying-offices. This consolidation in retail land was mirrored by a similar trend in manufacturing. Over the past decades, the wholesalers and distributors 'in the middle' got squeezed, unless they offered some measurable value-add in the channel of distribution. Fetim needed not just to adjust, but fundamentally change its proposition and focus on this value-add. Due to this consolidation trend and the fast upcoming internet changed the role of traditional wholesalers; it had fundamentally changed."
This trend as well as a growing internationalisation of the markets where Fetim was trading forced the teams to do some serious soul searching and ask some tough questions: "What constitutes our value add - why do we exist? We had to find out how we could still operate successfully in our channel of distribution," said Beerkens. 
In addition to the above, the rise of 'disrupters' forced us to offer a point of difference to our customers. The growth of internet and ecommerce in home improvement markets, offered more choice of product and visibility of prices. Fetim recognised that these trends created as many opportunities as threats for larger, older corporations like Fetim, whose logistical systems, based on decades of experience, should become more agile and flexible to meet the changed customer demands. 
As Beerkens explained,  "We expanded into our surrounding countries with dedicated offices and logistical operations to serve our customers faster. We started building collections for different product groups that seamlessly connected to these geographically different customers, in order to make optimal use of economies of scale in our channels of distribution, and build international processes as efficiently as possible." 
About a decade ago, Beerkens took a leap into a new world of data possibilities, as he was inspired by Infor's new management team, lead by Soma Somasundaram, Stephan Scholl, Lisa Pope and Kevin Samuelson, and their 'cloud-first' direction. Beerkens said: "Coming from an on-prem, AS400 based, home-built, highly modified platform, we realised that we needed to adapt our IT systems and environment to align with the needs of our changing, more international role. That's where we got together with several different software companies; including Infor, who offered measurable value, because they helped us become more agile, centralise our operations and become geographically independent."
How the cloud helped with centralisation
With the creation of an entire enterprise resource planning (ERP) cloud platform, Fetim could centralise its organisation from its headquarters in Amsterdam. After implementation of the cloud environment, as Beerkens notes, it "made us much more plant independent, locally. Our offices throughout Europe could now become geographical sales offices and operations were brought back to our HQ in Amsterdam. In distribution, centralisation saves costs, offers improved flexibility and drives efficiency".
"In our on-prem days, we used to have servers in data centres, bought over different years, each with different sizes and processing speeds. Our systems and application IT professionals spent most of their time on making sure these servers and networks could communicate; they spent most of their time developing solutions 'around' MOD's, etc. Then, with the introduction of Cloud, we moved from data centres to AWS clouds. The amount of data we process every single day keeps growing. In centralising we could let security of data be handled by AWS and Infor security experts, monitoring 24/7, while building and interfacing applications on a central core ERP, that allowed for a safer exchange of data,turning that data into information."
"As an organisation, we need to be creative, agile, yet structured, and efficient, in our core processes. And that's one of the reasons why, over the last few years, we created one single backbone with edge applications, connected via intelligent middleware, that can act independently on their own edge-platforms, while seamlessly working together on Infor's M3 Distribution Enterprise core." 
According to Beerkens: "Infor was the first to create so-called 'micro verticals'. It was a game-changing moment: micro verticals were enlightening because they showed us that there were people in the distribution industry that knew our business. We were talking to a software company who understands distribution."
Beerkens was delighted that Infor were prepared to challenge his thinking, as he explained: "My big drawback on some of the other software vendors was that they could do anything that I wanted. But that's exactly what I didn't want. I want somebody who challenges me. I just wanted somebody who said that they could make us better and grow our organisation based on knowledge and experience they had gained from other leading distribution companies. 
"Infor are best-in-class, because in them we found a software company which wasn't selling us what they had to sell, but what would make us better, going forward. By building the entire infrastructure around the M3 ERP, and offering value-add edge applications, they helped create value in my channel of distribution and, ultimately, for my customers."
"Creating one central (soon to be multi-tenant) ERP on top of the AWS infrastructure, with Infor ION middleware allowing for seamlessly connectivity to third party apps, this architecture allows for centralised data management, resulting in lower data-maintenance, fewer mistakes, and an information/data flow between different departments and partners/stakeholders."
Not just transition, but transformation 
One of the other reasons Beerkens chose Infor "is because it's built on an Amazon Web Services foundation. The big advantage of AWS in combination with Infor is that these companies are both developing 24/7, 365 days a year requiring continuous improvements, allowing Fetim to keep up with ever changing demands of global markets. The system has been incredibly stable, fast, secure and adaptive to our needs. They also take care of a lot of very sophisticated security measures and offer AI opportunities. Having Amazon Web Services at the base brings us peace of mind. They're part of a market that is in transition and they're ahead of that transition," he said.
On top of our M3 ERP core, several important edge applications have been connected over the years:
Infor CPQ (configure price quote):

Supports every part of the business from front-end interest generation, interest capture, and quoting, through back-end order conversion and order fulfillment

Infor WMS (warehouse management system) will replace our present Dispatcher WMS: Able to store and deliver goods in a multitude of ways, worldwide

IDM (Infor document management): capturing platform-wide created documents, perfect for archiving and managing printed matters

iPMC (Product Information System) by inRiver: offering all SKU related details and interfacing seamlessly with M3

SLIM4 (supply chain management): managing our global supply lines to meet the agreed upon service levels with our customers

EDI (electronic data interchange) from Descartes: Talking to our customer through an interface package called ion, that gives us the ability to communicate with the rest of the world


 
Using tech for a customer-first philosophy
Over the past decades, Beerkens saw a shift in customer behavior and expectations when it comes to the customer journey: "In the past, when you were looking for home decoration items, you'd go to retailers or interior architects you showed them pictures from magazines and made your choices on what was offered or seen in store. Today, consumers bring a laptop or tablet with a Pinterest board containing lots of different pictures in which you say, 'this is what I want'."
Fetim has responded with it's own innovations, such as their augmented reality (AR) application on solidfloor: "It allows you -the final consumer- to take a photograph of your room or your house. With our AR system, the consumer can put an entire assortment of flooring in that room. This is a real value add for our flooring retailers and installers." 
From the old distribution companies to the one Fetim is today, has been a massive step-change for Beerkens. When buying your items in store, you select the item and take it home, or have it delivered. When purchasing many of our items today, you're expected to have a full assortment offering online (the customer journey starts at home) and direct your consumer base to the most suitable retailer, who offers added value in their delivery." 
As a result, interfaced and well-connected edge applications are only going to grow in importance to Fetim in serving their retail customers. Given the rich library of available APIs and web services, connecting to its customers becomes less complicated. As Beerkens explains: "Whatever products or services we offer, we need to make sure it's also available in digitised form. Once it's digitised, it's connected, it's visual, and it gives us the ability to monitor it. It gives us the ability to go back and put the data in a data lake and start mining this data (structured or unstructured) with AI." 
It's one thing to have valuable management information and AI, but it must also offer value to our customers, according to Beerkens: "You must also have data integrity so your customers trust your products as well as data and that your information is secure and correct. This is why I am excited about Blockchain and smart contract opportunities. My recent completion of coursework to become a Blockchain analyst opens even more exciting opportunities.
Digitalisation has delivered measurable results for us because we're a global organisation active with lots of products in lots of countries. Stimulating channel integration and working together in each channel will benefit all parties and stakeholders. In meeting these demands, Infor is the right partner for us. It's an exciting future."