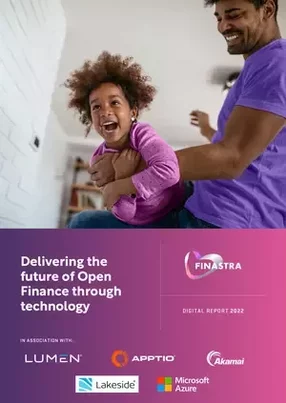 Finastra: Delivering the future of Open Finance through tech
Finastra's Chief Information Officer, Russ Soper, on how the company's commitment to 'open' benefits its customers, its people and the wider FS industry
Managing the enterprise systems for Finastra's global workforce of 9,000 employees, as well as overseeing hosting operations and client-facing technology, is just part of the daily remit of Russ Soper, the company's CIO. But, with an extensive career in technology in the financial services sector, Soper brings the skills and mindset required for such a role.
Soper, who began his role with Finastra three years ago, is no stranger to business-critical operations in the world of banking and finance. He began his career as a developer, moving into trading floor support for the Investment Banking arm of ABN AMRO where he grew his expertise in mission-critical Financial Services technologies.  
From there, he progressed through a variety of high-profile technology roles, serving as Americas CIO and later as Global Head of Infrastructure from London, UK, before moving to JPMorgan (JPM) to launch its Critical Infrastructure Operations capability; a program focused on driving "always on" capability for JPM's most critical platforms.  
Excited by its vision of the future of Open Finance, he joined Finastra in 2018 as Global Head of IT Operations, before his promotion to CIO in May 2019.
Russ's keen interest in harnessing technology to deliver better outcomes has seen him become a passionate advocate for technology for good. He is a regular speaker on how innovation can be leveraged to go beyond improving efficiency, collaboration and productivity, to progress emotional, physical and social wellbeing. 
Leading with a customer-first technology mindset
Soper describes how his formative career years shaped the technologist he was to become. "I sat alongside traders on the equities, fixed income and ADR desks," he said. "This was key in instilling a sense of urgency and a view on how crucial technology was to business processes – traders simply could not miss a trade. It also provided a very direct perspective on the customer experience. This is something I've carried ever since."
From there, he has continued to focus on the applications of technology within Financial Services, to mitigate business problems and improve the operations and experiences of his broad range of clients; a task, he says, that brings variety and personal reward at Finastra. 
Reflecting on his position, he says, "I'm not sure there is an average day, but regardless of the task, our primary focus is always finding ways to improve the customer experience at every step of their journey – whether the customer is a client or a colleague. It's about finding the balance between creating efficiency through streamlined operations, managing risk and compliance, and delivering innovation and better experiences that improve the day-to-day roles of our customers."
The pandemic further accelerated the need to deploy technologies to support a largely remote workforce. "Over the last 18 months, there was an immediate  need to support our employees to work from home. Almost 9,000 of our people found themselves in unfamiliar territory overnight. We had to fast-track ways to help them work, collaborate and find a digital balance in this modern, flexible working environment. That's one of the things I find fascinating about my role at Finastra - the variety and broad scope of projects, technologies and people I work with on a daily basis." 
This variety is, in part, driven by an industry that is continually evolving, both in  the way consumers, businesses, corporates and other banks engage with financial institutions, and the technology and security considerations to support this evolution. Infrastructure, says Soper, is a crucial element of delivering innovation at scale and pace. "Years ago, the options were relatively straightforward."
"Institutions manage their environments on-premises in their own data centre. The services aspect of the industry evolved, giving rise to a wave of outsourcing deals. And these have now evolved further still; private cloud, public cloud, hybrid models, multi-cloud. Financial Services is just one of the industries that has seen a tremendous shift. And for those who were still on the fence, the pandemic has only accelerated the need for digital transformation." 
The journey to Open Finance
So, how does a technology company stay ahead of the curve in a sector that is innovating and transforming at dramatic speed? The key, Soper believes, is a combination of expertise, innovation and collaborating with partners. Soper is proud of Finastra's vision – that the future of finance is open – and the bold moves that it makes to bring innovation, collaboration and growth to its customers through its technology and its culture. 
He says, "Ultimately, we provide a complete range of financial services solutions to customers around the world, ranging from Tier 1 multi-national institutions to local community banks and credit unions. Our mission is to unlock the potential of people, businesses and communities by empowering financial institutions and opening up the world of financial services. Open is the critical word here – the world of finance has changed and the emphasis is on connectivity, co-innovation and being part of an ecosystem to succeed."   
Finastra is the world's largest pure play financial services software company with over 8,600 customers and its solutions are used by 90 of the world's top 100 banks. As an entity, it is responsible for 8% of global FX trading, 6% of daily trade finance and 25% of all US wire payments.  
"Open Finance is the only way," continues Soper. "95% of innovation is likely happening outside of your company walls. The scale and speed of it means it's impossible to 'own' it all in-house. Think of the time spent developing an app based on machine learning, or a new wealth-management tool. You could spend a year building and testing, and millions branding and launching, or you could collaborate and plug-in or co-develop with a fintech partner. Collaboration is the solution - which means being open. Open platform, open APIs, open standards, open ecosystems – open banking was just the start of the movement and it's exciting to see our mission coming to life," Soper says.
He goes on to give three examples of how Finastra is championing Open Finance:
First, through its core systems, which are designed to be enhanced and built upon through open APIs. 

Secondly, through its open marketplaces – such as ICC TRADECOMM, an SME trade finance marketplace built in partnership with the ICC, designed to solve the SME funding gap by attracting alternative lenders.

And finally, through its open developer platform FusionFabric.cloud, which is home to around 200 fintechs and hundreds of APIs… and growing every day. 
It's moves like these that empower customers, Soper says, and gives them the keys to their own innovation roadmap. "We've moved on from a world where banks own every product or innovation. And as we move towards Banking as a Service and embedded finance, Open Finance will only become increasingly important."
Customer services and digital transformation
The way customers engage today compared to ten years ago has been transformed, and digital is at the heart of it all. From neo-banks, super-apps and hyper personalization to wholesale offerings as-a-Service, the technology underpinning this new world needs to be fast, secure, efficient and highly scalable, says Soper.  
Additionally, COVID has sped up digital adoption in multiple ways. Some analysts say cloud adoption was brought forward by five to seven years. Mobility and cloud became increasingly important as people needed accessible financial services in a remote world, he points out. 
"As an example, when bank branches were closed, people needed to find alternate ways to send money or pay bills. Managing on-premise technical infrastructure also became increasingly challenging during travel bans. Cloud meant you could achieve this from anywhere, whether it was provisioning new capacity, upgrades or deployments."
Indeed, Finastra's own operations have shifted significantly, he explains, "We've moved many of our products to the cloud, improving agility. The pandemic forced us to approach challenges differently, with digital as the only vehicle. For example, we had to reimagine our project delivery processes, which typically involved in-person meetings and onsite implementations. 
After reengineering many of our processes, we were able to deliver 400 implementations already in play at the start of the pandemic, without missing a beat. While there's no substitute for a face-to-face relationship, we've integrated these lessons as we evolve. If you can deliver 99% remotely and you or your customer no longer needs to travel, that adds tremendous flexibility." 
He notes that this aspect also cut down Finastra's carbon footprint significantly, which is a key part of the company's ESG mission, alongside social innovation and financial inclusion.
Strategic partnerships built on trust and expertise
With such a large-scale, global operation, Soper agrees that selecting the right partners and vendors to be a part of your ecosystem is key to your success. He describes the value of his relationships with several industry-leading companies that Finastra operates with.
"Microsoft is a key strategic partner for Finastra across a broad spectrum of areas, ranging from our journey to the cloud, to IPA (intelligent process automation), security and the employee experience," says Soper. 
He adds, "We're a cloud-first company. Azure provides the scale and geographic reach we need." Finastra's 9k employees also rely heavily on Teams for daily use and Finastra has embraced the full Office365 suite and Microsoft's cloud-native Sentinel. Finastra was Microsoft's US partner of the year in 2020. 
Apptio is another close ally, he says, "If you're running legacy platforms with limited elasticity, or if you haven't institutionalised certain operational rigor, it can be challenging to ensure you're operating as efficiently as possible in the cloud. Cloudability helps us ensure we run the right blend of commitment discounts, elastic workloads and optimise our financial efficiencies in the cloud."
"In financial services, trust is essential, and security is absolutely crucial. It's integrated into all of our processes, partnering with industry experts to ensure we maintain pace with best practices. Akamai is one of those key partners," says Soper. "We leverage Akamai's Global Business Intelligent Network with visibility to over 30% of global internet traffic, complementing Finastra's own operations."    
Lumen also plays a significant role. The company partnered with Finastra to modernise its network, evolving from single fixed bandwidth circuits to a scalable and resilient SD-WAN architecture designed to be 'always on'. "Lumen partnered with us to flex our capabilities, particularly during the pandemic and as our location strategy evolved. 
Reliable and scalable connectivity is absolutely crucial, as it underpins the increasingly interconnected world enabling digital collaboration. We're also modernising our UC&C portfolio, leveraging a cloud-based contact center fully integrated with Microsoft Teams," Soper says. 
Finally, empowering Finastra's employees is another area where digitisation has transformed the experience. Lakeside Software has given Finastra the foundation to drive an improved user experience. "I mentioned earlier how COVID created new challenges for people working remotely – Lakeside's Systrack enables us to be far more data-driven and proactive in detecting an issue before it affects the user experience," says Soper. "This is particularly helpful in modern flexible working environments, whether the employee is in the office, working from home or from a coffee shop."
An inspiring and technology-filled future
The evolution of financial services and the speed of change makes the industry incredibly dynamic, and an exciting place to work. For example, the acceleration and opportunities offered by Banking as a Service and embedded finance, which Soper sees as game-changers. 
Embedded finance is a movement that sees banking services moving away from traditional channels, to be offered in the right point of context for the user journey. This could be, for example, embedded buy-now-pay-later lending features on a merchant website, right through to embedding wholesale trading capabilities to Corporate Treasurers through agent banks. 
"This is a big area for us," Soper says, going on to explain that it relies on cloud and API connectivity. 
"Banks can offer their specialties - products or services - 'as-a-Service' to a far wider audience at a far lower cost. They can wholesale to other banks, or provide banking capabilities to the hundreds of fintechs on our platform - we connect those parties together." 
He adds, "FusionFabric.cloud connects buyers and sellers, manufacturers and distributors, so we see our role evolving to become the orchestrator in connecting these players. It's a really exciting time."