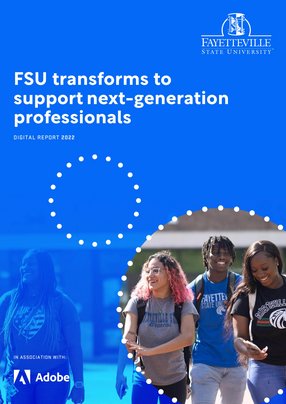 FSU transforms to support next-generation professionals
Dr.Hector Molina, Vice Chancellor for IT and Chief Information Officer at FSU, shares his experience transforming the institution with Adobe as its partner
Broadly speaking, what are the main aims of a state educational institution?
Put simply by Fayetteville State University (FSU), it is to 'provide students with the necessary education and resources to progress them into a career of their choosing'. In this day and age, the differentiating factor between adequacy and excellence among educational institutions is their ability to gain access to the right tools and services that, across any industry, enable the best possible outcomes.
FSU recognises this, striving for success on behalf of its students and driven by the passing of graduates into careers across various fields of expertise. But to achieve a higher graduate success rate requires a high level of education and a focus on applicable skills that will allow graduates to thrive in the work environment.
Not only is technology the tool that allows students to carry out their studies—particularly during times of disruption—but it equips them with a wealth of applicable digital skills, which are a basic necessity in our ever-increasing digital society.
So, who will set about procuring, testing, and rolling out digital products that enhance the student experience and set students up to prosper? As well as sharing a discussion about his time in the military, I was humbled to find out how the Vice Chancellor for Information Technology and Chief Information Officer at FSU, Dr. Hector Molina continues to be instrumental in facilitating the shift to digital for the benefit of the university, but more specifically for the students.
Since joining FSU in January 2022, Dr. Molina has welcomed the challenge of transforming the way the University operates to ensure that its student population receives excellent and equitable learning opportunities and are equipped for working life.
His first challenge as CIO was to tackle the problems arising from the COVID-19 pandemic—such as managing cybersecurity risks, ensuring student access to the right tools and technologies that facilitate student success, and the increased demand for learning resources and accessibility needs. Dr. Molina's role at FSU makes him indirectly responsible for many of the functions both within Information Technology Services Division and across its University serving more than 6,800 students. This includes managing and updating the organisation's digital infrastructure, securing students and professionals online, and formalising strategic partnerships to provide the right solutions for the university—not only to function, but to thrive.
Beyond the basic information technology (IT) activities, Dr. Molina explains how his role incorporates "how to strategise and help the university".
"I really do believe that IT should be a trusted partner. I don't think that people should look at IT as just a utility; we are really here to push the campus forward.
"My daily job is to make sure that the IT staff have what they need to be successful, but are also forward thinking about what our campus is going to need from a technology perspective," he explains.
The keyword throughout the entire discussion is 'success', which is something the team has ingrained in every decision it makes on behalf of the campus. But, like many organisations over the past few years, FSU has seen shifts in the way staff and faculty desire to work and students wish to learn. Dr. Molina also explains that COVID-19 reshaped the university's interactions with students, requiring a digital approach to delivering lectures, resources, and course delivery to allow for flexibility.
But digital learning in the eyes of FSU is no new concept. Dr. Molina explains that although COVID-19 influenced wider use of technology in education, the sentiments towards it were already there among many higher education institutions.
"We're almost at the tail end of the pandemic, and I think it has changed students' perception on receiving a college education," Dr. Molina says. "We had online learning before the pandemic and a lot of universities put some emphasis on that, but it really changed. A lot of students are making their decisions based on those technology capabilities and whether a university can provide them that same experience on or off campus."
This is where student retention comes back into the conversation, with digital adoption heralded as one of the key enablers of success in light of this trend.
Secure and inclusive access to digital
Aside from this, the IT team must also take into account the issue of student retention. It's a problem that not only plagues the university, but, more importantly, hinders the progress of potential graduates. While lecturers and professors are the first point-of-contact for alumni, without inclusive digital tools, teams are unable to deliver the curriculum in ways that cater for individuals with varying capabilities and education levels.
"A lot of our students come from Tier I or Tier II counties, which are the lower economic counties in our region. So, many students have limited skills, which could hinder their progress at college or university level," says Dr. Molina.
"Student retention, then, is a really big deal. We have to figure out how to keep them past their freshman fall semester, right into their spring semester and onto graduation."
This is one of many challenges that creates an exciting environment for the IT team—in the eyes of their CIO—as there are continual opportunities to develop current processes and meet the needs of an ever-changing digital environment. "Finding solutions for those various problems is what excites me," says Dr. Molina.
Strategy is where the CIO's head operates best and, to meet the needs of such a large campus, it's crucial for Dr. Molina to understand how all activities are carried out before he can look at "how to improve our networking infrastructure, whether you're talking about the physical wire that you plug into devices around campus or even wi-fi".
This is where a focus on cyber threats is crucial. Dr. Molina and the team double-down on FSU's approach to cybersecurity to ensure all devices that are used both on or off campus are secured to the best of the team's ability. Securing the campus is only partially achieved through the intervention of the IT team; it also requires the continuous education of our campus constituents.
Other services that are generally underrated by the masses must be maintained by FSU's IT team to the functionality of the hybrid classroom environment. Reliable wi-fi coverage and adopting programs that are more compatible with student devices help make their education more accessible, limiting any potential challenges.
"Investing strategically in solutions that allow accessibility, regardless of where our students, faculty and staff are, allowed us to pivot pretty easily," Dr. Molina explains.
Enhancing careers with digital literacy
One of the main conversations to be had—and one of the main reasons why FSU has been successful in its digital transformation—is around its partnership with Adobe, the provider of Creative Cloud solutions.
While many would see Adobe Creative Cloud as a solution solely built for 'creatives', application of the product range has really supported FSU's adjustment to increased digital application. Talking to Dr. Molina on the subject, he articulates just how critical the partnership was to the formation of the university's Creative Campus, and how the team defied convention to provide access to Adobe products to enhance student employability.
While the university itself has its own initiatives in place to provide students with programmes, such as paid internships, Adobe's Creative Cloud helps them to develop the skills to communicate in a business environment. This, according to Dr. Molina, gives them an edge, enabling them to produce sharp, professional-looking reports, presentations and other forms of media on software that is used by professionals.
"What Adobe allowed us to do is elevate the digital literacy of our students," says Dr. Molina. "Letting them use the tools and develop skills to create change and communicate content that's applicable to the future, but then also applicable to the industries they're targeting."
"Adobe Creative Campus' designation has really allowed us to level up what we offer our students. We're always looking for those tools that really, no matter what discipline they're in—whether it's business, humanities, or nursing—they can confidently use those tools. Those skills are going to translate beyond graduation. Beyond our campus."
The project shows the adaptability of the Adobe suite and how one of the leading software developers can mould its products to suit various applications in both professional and educational environments.
As FSU takes care of its students' futures, the university itself will undergo a significant transformation of both its physical infrastructure and an extension of its Adobe partnership, alongside other efforts to adopt digital solutions. In summary, ensuring the background solutions are in place to meet the requirements of students in the digital age.
"We're finding companies are coming up with creative ways to allow students to access the classroom from their living room. I expect to see this trend continue to grow. Where in the past it may have been unheard of to hone specific skills digitally, we'll see how that evolves."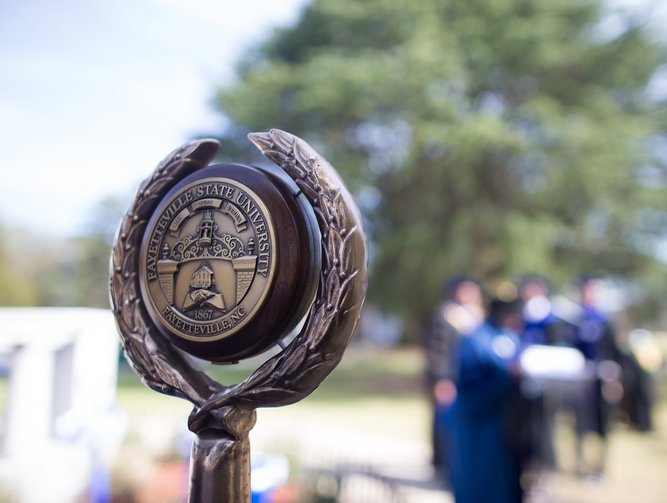 Fayetteville State University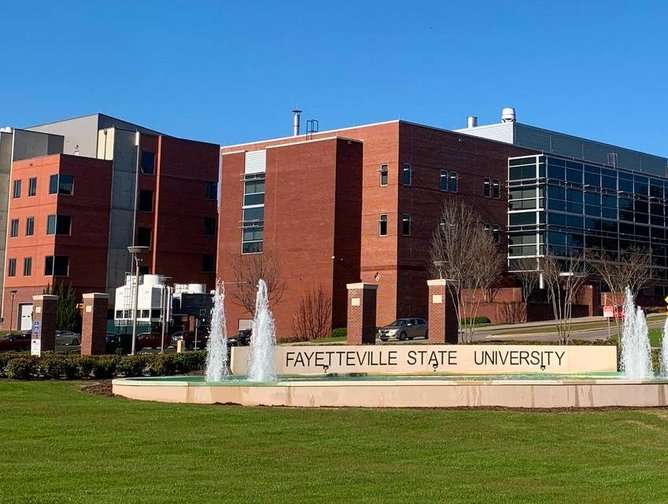 Fayetteville State University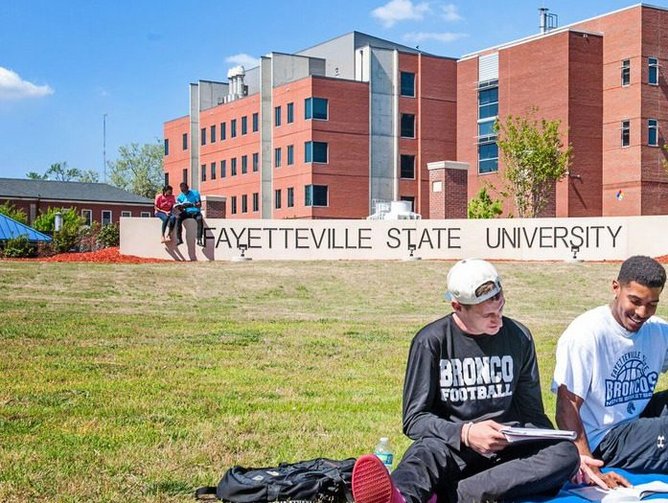 Fayetteville State University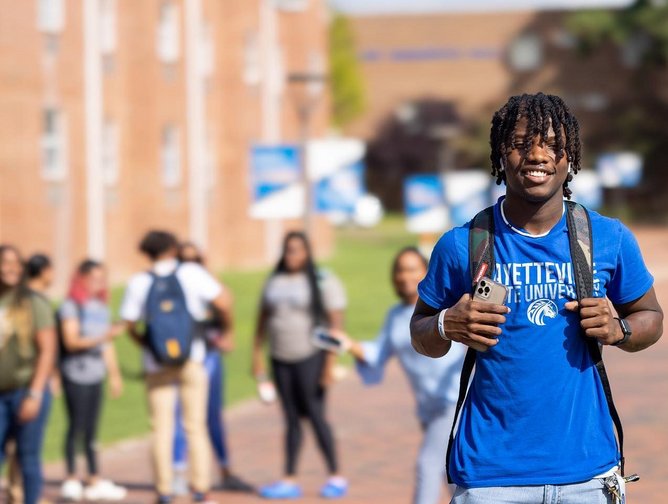 Fayetteville State University