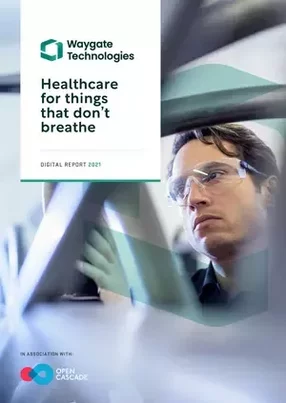 Healthcare for things that don't breathe
Arungalai Anbarasu tells us about Waygate Technologies' industrial inspections solutions and discusses the importance of diversity in STEM.
Arungalai Anbarasu is the Chief Technology & Strategy Officer at Waygate Technologies (WT), a world leader in industrial inspection solutions and non-destructive testing (NDT). Headquartered in Germany, it is a subsidiary of Baker Hughes, one of the largest energy technology companies globally. 
Anbarasu calls their line of work "healthcare for the industry". Everyone has an experience or has met someone who had an X-ray scan for a broken bone or an ultrasound to see if the baby in the womb is growing fine. "Being the healthcare of the industrial space essentially means that our patients are all things that don't breathe" she says. "Industrial inspection spans products from cell phones and circuit boards to wind turbines and aircraft engines, helping to make these products safe before they go to market. Yet as a consumer, you have probably never heard of us or of all the industrial inspection that goes into the car you drove this morning, or the smartphone you carry in your pocket. That is the way we want it - the most successful inspections are the ones you don't hear about." 
As global market leader, Waygate Technologies has a very broad portfolio of solutions covering industrial X-ray and CT systems, ultrasonic testing devices as well as borescopes – visual inspection solutions that are just a few millimetres in diameter but are capable of going into a jet engine on the wing of an airplane to search for tiny cracks. WT's core industries include aviation and space exploration, automotive, electronics and energy; and additionally, Anbarasu says, they are working on energy transition technologies like the EV battery business and hydrogen production.
Formerly named GE Inspection Technologies, the heritage of Waygate Technologies goes back over 125 years. Over the years GE became a specialist in designing and producing devices and instruments for monitoring and inspection, and several strategic acquisitions enabled the company to grow. It became part of the multinational Baker Hughes in 2017, merging its oil and gas business with the firm. 
In 2020 the company rebranded and changed its name to Waygate Technologies, after GE's divestment of its majority ownership in Baker Hughes in 2019. But despite the change Anbarasu says they retain the same company identity, purpose, and people. Additionally, Waygate Technologies won the Frost & Sullivan Best Practices Award for the Global Industrial Computed Tomography Solutions Market Leadership Award two years in a row, in 2019 and 2020. 
Anbarasu says that the breadth of what they offer has put them in a unique position, "to deliver market winning cross-modality insights to our customers. The world is moving away from data at single units of time, space, and modality." 
Their X-ray and CT capabilities give customers the potential to inspect assets ranging from tiny powder particles at resolutions of a nanometre, to parts that are the size of a small car. One example is the high energy CT system - the first of its size in the world - designed to detect sub-millimetre size defects in parts that are several metres in diameter. "With our Phoenix Powerscan HE, we recently commissioned one of the world's largest high energy CT cells in the world, a system that can inspect extremely complex additively manufactured parts with very high accuracy." 
WT's ultrasound capabilities are similarly versatile, with devices ranging from tiny thickness gauges that can fit into the palm of a hand, to machines that can test bars and rails over 10 metres long. 
More recently the company has developed advanced digital capabilities, accelerated by the pandemic. Their flagship digital offering is InspectionWorks, which Anbarasu says is "a holistic data-driven approach for industrial inspection solutions and NDT. It involves three steps: Acquiring data, Analyzing data, and Acting on insights to drive innovation."
"By connecting devices, software, and data analytics together, InspectionWorks today enables our customers to reduce their asset inspection time by over 75% on an average" Anbarasu explains. "The future is still brighter, as going forward, InspectionWorks will allow customers to acquire all of their data, from CT scans to ultrasound, to flow meters and temperature sensors; by analysing this data and finally by enabling actionable intelligence that will truly put Inspections to work!"
The Covid-19 pandemic created challenges, as Anbarasu says their key customers have struggled, which has had an impact on them. However, she adds there is a silver lining. "Covid has posed a positive aspect where digital transformation is accelerating in every industry. It is the new beginning for the digital revolution, from Industry 4.0 to industry post-Covid."
"Overall, if anything good has come out of Covid, it is the fact that in driving us further away from each other physically, it has brought a lot of us much closer together virtually.  In industrial inspection, this has led to the drive for data and for a larger level of remote collaboration. This coincidentally is precisely what is enabled by the suite of Waygate Technologies' digital offerings. " 
Through their partnership with Capgemini (Open Cascade) they have created digital solutions for customers, such as the company's Open Cascade platform for deliveries. "Open Cascade and Waygate Technologies have built a partnership to deliver 3-D data visualisation and inspection workflow management tools as a part of our InspectionWorks Insight data management system." ​
"They leverage the 3-D data visualisation platform to build a cloud deployable tool for us, so that customers can upload and manipulate 3-D data in the cloud."
Along with WT's core industries, the company has entered new markets such as medical devices, transportation, and pharma. "We continually strive to be partners to the customers who are indulging in new technologies like EV batteries, hydrogen and 3D printing" she says. "Inspection and NDT data is everywhere in every process and very powerful to the customer to drive productivity, quality, and safety. Also, considering the global reach of the company, we are very well positioned to serve unserved geographical locations."
Anbarasu is ranked as one of the top 50 most powerful women in technology by the National Diversity Council, one of the Top 100 Women in Technology by Technology Magazine and recognized with the International Achievers' Award 2021 by Government of India recognized - Indian Achievers Forum. Compared to when she was at the start of her career, she says there are many more women working in STEM (Science, Technology, Engineering, Mathematics) and joining graduate programmes, with a greater awareness of the existence of STEM roles now. "When I joined the Graduate Programme back then, I think I was the only girl on the team. Now when I look at graduate programmes there is usually a bit of a mix." 
"I also see the companies themselves having more programmes addressing diversity. When you try to do it ad hoc it's very difficult, but now I think there is far more awareness, and technology helps people come forward too. It's certainly much better than when I joined." 
It's important for the industry to be proactive in this area, she says, as it is good for business. "There is a lot of economic growth associated with balanced views" she says. "If you think about digital transformation for example, you're thinking about multiple phases of changes - strategic, technical, commercial, business and cultural. When you bring so many things into play you want diverse views, you will have more balanced views of problems and their solutions. Therefore, there are higher chances of making the right decisions. I truly believe there is value in having a mix, and not just a gender mix but a diversity of viewpoints"
"Promoting diverse talents in STEM also helps reduce the skill gap, because we don't have enough people in skilled jobs in STEM, and if you encourage more gender diversity, you reduce that gap."
To do this, organisations need gender diverse role models to encourage people to apply. Raising awareness of STEM careers in school is also key. "Talking about engineering, technical and science careers in the early years is very important, because then you're planting a seed and they will make a very organic choice." 
"When I was in school, I was not actively taught about STEM roles" she adds, "but my dad was an engineer so that's how I got to know about it. I think it's important that you create the environment to build that pipeline." 
Asked what advice she would give to young girls wanting to have a career in STEM, she remembers a time at a roundtable where she heard the quote of playwright George Bernard Shaw. "'The reasonable man adapts himself to the world; the unreasonable one persists in trying to adapt the world to himself. Therefore, all progress depends on the unreasonable man.'"
"If I replace 'man' with 'woman', I think the more women and girls start being unreasonable, the more progress we'll make.  And I am proud to be an unreasonable woman." 
Anbarasu encourages every young girl to be unreasonable within the boundaries of ethics and safety to take the first steps that will create progress for themselves and others. Being first is never easy she says, but it is fulfilling.